Crawl Space Cleanup and Restoration Services
Services for Cleveland, Columbus, Cincinnati and Akron Homeowners Include:
Animal, Raccoon, Squirrel or Rodent Removal and Decontamination Services
Bat or Bird Removal and Decontamination
Insulation Removal and Replacement
Crawl Space Damage Repair Caused by Animals, Birds or Water
Trash and Debris Removal Services
We provide professional crawl space remediation services to homeowners throughout the greater Cleveland metropolitan area.
Schedule a Crawl Space Inspection or Clean Out Service
Raccoon and Rodent Feces Cleanup and Decontamination Services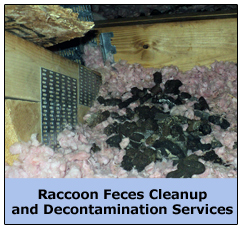 The crawl space is one of the most neglected areas of Cleveland homes.
We have been working in crawl spaces for over 30 years to remove animals and birds and to repair the damage they cause.
We remove and replace insulation that has been pulled down and contaminated with rodent droppings, urine, food caches, nesting materials and even rodent corpses.
Cleaning up a crawl space is a job best left to a professional.
The process starts with a call to 440-236-8114 to request a crawl space inspection. Once we have determined the extent of the problem, we can schedule your crawl space cleanout and remediation services.
We are experts at correcting health and safety issues that occur in crawl spaces. We correct problems that degrade the energy efficiency & air quality of your home – from feces to fungi.
After we clean up the space, we replace insulation and/or we seal up holes where rodents or other animals could access your crawl space in the future.
We take all necessary precautions to ensure the inside and outside of your home remain a clean, healthy environment from the time we arrive to the time we leave.
We understand that Cleveland homeowners would rather not spend their Saturday afternoon messing around in their crawl space trying to trap a raccoon or removing animal and bird droppings.
We are professionals and take great pride in solving problems for our customers, so give us a call at 440-236-8114 to request a crawl space inspection or to schedule a crawl space clean out.
How Much Does It Cost To Remove Birds From Vents In Ohio?
Prices to remove birds and bird nests from dryer vents and bathroom exhaust vents in Columbus, Cleveland, Cincinnati, Akron, Toledo, Zanesville, Canton, Youngstown, Findley, Marietta and other cities in Ohio start at $695 per vent. This fee includes cleaning out the vent and the installation of one cap.
In Ohio, call CWR at 440-236-8114 in Cleveland, 614-300-2763 in Columbus or 513-808-9530 in Cincinnati to schedule an inspection and to get a written quote for CRW to remove birds from vents.
Who Do You Call To Pick Up A Dead Raccoon In Ohio? 
Cottom's Wildlife Removal Remediates Crawl Spaces Infested By Bats
Who Do You Call To Pickup A Dead Deer Or Remove A Dead Animal In Ohio And How Much Does It Cost?
Posted On June 10, 2021 – Updated On June 15, 2021
How much does it cost to remove a dead deer? Deer carcass removal costs start at $395. In Ohio, call CWR at 440-236-8114 in Cleveland, 614-300-2763 in Columbus or 513-808-9530 in Cincinnati to get a quote for CRW to pick up a dead deer or dead animal. Prices to pick up a dead animal from your yard or property start at $125.
Ohio Division Of Natural Resources Wildlife District Offices
People should always avoid touching or handling sick or dead wild animals. Because Epizootic Hemorrhagic Disease (EHD) affects some white-tailed deer, the Ohio Department Of Natural Resources suggests that Ohioans report sick or dead deer to the Division of Wildlife. Sightings of sick or dead deer should be reported your local Ohio wildlife officer or wildlife district office.
We Get Rid Of Groundhogs In Ohio – Humane Trapping And Removal Services
Expert Wildlife Trapping & Animal Removal Services For Cleveland And Northern Ohio Homeowners And Businesses – Call 440-236-8114 24/7
Call 440-236-8114 day or night to schedule an inspection and to talk with a licensed and certified wildlife control expert. CWR pest control technicians are experts at raccoon, bat, skunk, squirrel, bird and mice trapping, removal and prevention in Cleveland, Ohio.