Wild Animal Control And Removal Services
Cottom's Wildlife Removal and Environmental Services provides animal removal, wildlife decontamination, damage repair and critter control services for Cleveland and Akron homes and businesses.
Mike Cottom's Wildlife Removal, a family owned business, has been effectively evict wildlife from homes since 1986. We are a a unique wildlife removal company based in Columbia Station, southwest of downtown Cleveland, Ohio. The business opened in 1986. The firm offers wildlife removal, trapping, repairs to siding and roofs, along with environmental services such as removal of biohazards in damaged insulation due to raccoons, bats or other wildlife. We also install new insulation to replace the damaged insulation. Our professional wildlife removal services and animal removal services are not free.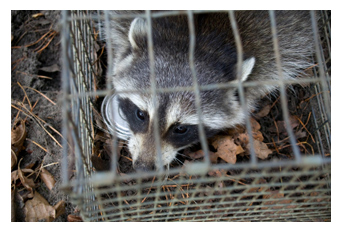 We are a family owned business. The owner, Mike Cottom gained valuable experience as an employee of the Ohio Division of Wildlife, the U.S. Department of Agriculture and thte Cleveland Metroparks. His invention, the "Cottom Gottom", is a unique multiple catch raccoon trap.
To read an article about Cottom's Wildlife Removal published online in the Cleveland Plain Dealer titled "Chuck Yarborough takes a swing at getting rid of bats: On the Job", click here.
Getting Started
Business Hours:
Monday through Friday: 8:00 am to 5:00 pm
Saturday and Sunday: By appointment
24 Hour Emergency Service: Upon Request
Credentials:
Licensed
Bonded
Insured
Certified by the National Wildlife Control Operators Association
Wildlife Removal Services
Environmental Services
Removal of soiled insulation
Removal of feces and biohazards from animals
Disinfect, deodorize and sanitize attics and crawlspaces
Replace insulation up to industry standards
Adding and capping of insulation in attics
Install wildlife barriers around decks and porches to prevent entry and nesting
Home Improvement Services
Cleanup of animal droppings, feces and biohazards from attics and crawl spaces
Insulation removal and replacement
Animal damage repair to roofs and siding
Exclusion services to prevent animals and rodents from entering a residence under a deck, chimney and vents
Repair of roofs and siding related to animal damage