Expert Wildlife Trapping & Animal Removal Services For Cleveland And Ohio Homeowners And Businesses
Call 440-236-8114 day or night or submit the form below to schedule an inspection and to talk with a licensed and certified wildlife control expert. We are experts at raccoon, bat, skunk, squirrel, bird and mice trapping, removal and prevention in Ohio.
Schedule An Inspection Or Request An Estimate From Ohio's Premier Wildlife Control Operator 
Complete the form below, call 440-236-8114 or  email info@mcwildlife.com if you want to hire a wildlife removal professional in Ohio that uses safe, animal friendly, humane and effective trapping and removal processes.
Wildlife Local Wildlife Control, Pest Control, Wild Animal Removal, Bird And Bat Removal Services In Cleveland, Cincinnati, Toledo And Columbus Ohio Since 1986
The Cottom's Wildlife Removal company has been providing expert wildlife control, animal removal, raccoon trapping, bat exclusion and damage repair services to residents of Columbus, Cincinnati, Cleveland, Northern Ohio and Cuyahoga County since 1986.
Wild Animal Control And Removal Services For Ohio Homeowners
Cottom's Wildlife Removal and Environmental Services provides animal removal, wildlife decontamination, damage repair and critter control services for Cleveland, Cincinnati, Columbus and Akron Ohio homes and businesses.
Mike Cottom's Wildlife Removal, a family owned business, has been effectively evict wildlife from homes since 1986. We are a a unique wildlife removal company based in Columbia Station, southwest of downtown Cleveland, Ohio. The business opened in 1986. The firm offers wildlife removal, trapping, repairs to siding and roofs, along with environmental services such as removal of biohazards in damaged insulation due to raccoons, bats or other wildlife. We also install new insulation to replace the damaged insulation. Our professional wildlife removal services and animal removal services are not free.
Ohio Squirrel Removal Company
Squirrel Trapping and Removal From Roofs, Yards, Attics, Walls, Chimneys and Soffits In Cleveland, Akron, Columbus And Cincinnati Ohio
The Cottom's Wildlife Removal company uses live trapping to get squirrels out of homes, attics, yards, eves, soffits, chimneys, roofs, sheds, garages, gardens and lofts on behalf of Ohio homeowners and businesses. The CWR service area includes Cleveland, Columbus, Cincinnati, Akron and other Ohio cities.
After we catch the pesky squirrels, we seal up their entry points to keep other squirrels from getting in. CWR pest control technicians know how to keep annoying squirrels away naturally and how to get rid of Eastern Fox Squirrels around the yard. We are also experts at getting rid of flying squirrels and how to get rid of squirrels from attics. We remove squirrel poop, rodent droppings and also disinfect and sanitize attics.
CWR Gets Rid Of Starlings In Cleveland, Columbus, Cincinnati, Toledo, Youngstown And Marietta Ohio
Expert Wildlife Trapping & Animal Removal Services For Cleveland And Northern Ohio Homeowners And Businesses – Call 440-236-8114 24/7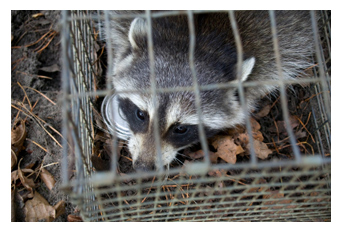 We are a family owned business. The owner, Mike Cottom gained valuable experience as an employee of the Ohio Division of Wildlife, the U.S. Department of Agriculture and thte Cleveland Metroparks. His invention, the "Cottom Gottom", is a unique multiple catch raccoon trap.
To read an article about Cottom's Wildlife Removal published online in the Cleveland Plain Dealer titled "Chuck Yarborough takes a swing at getting rid of bats: On the Job", click here.
Getting Started
Business Hours:
Monday through Friday: 8:00 am to 5:00 pm
Saturday and Sunday: By appointment
24 Hour Emergency Service: Upon Request
Credentials:
Licensed
Bonded
Insured
Certified by the National Wildlife Control Operators Association
Wildlife Removal Services
Environmental Services
Removal of soiled insulation
Removal of feces and biohazards from animals
Disinfect, deodorize and sanitize attics and crawlspaces
Replace insulation up to industry standards
Adding and capping of insulation in attics
Install wildlife barriers around decks and porches to prevent entry and nesting
Home Improvement Services
Cleanup of animal droppings, feces and biohazards from attics and crawl spaces
Insulation removal and replacement
Animal damage repair to roofs and siding
Exclusion services to prevent animals and rodents from entering a residence under a deck, chimney and vents
Repair of roofs and siding related to animal damage
How To Get Rid Of Skunks In Ohio
Who Do You Call To Trap A Skunk In Ohio?
CWR's Ohio wildlife removal experts get skunks, opossums, woodchucks and groundhogs out from under houses and out of yards in Cleveland, Columbus, Toledo, Athens, Dayton, Youngstown and Cincinnati, Ohio.
If you want to find out how to get rid of a skunk on your property in Ohio as quickly as possible and how much it costs to have skunks removed, call 440-236-8114 in Cleveland, 614-300-2763 in Columbus or 513-808-9530 in Cincinnati. The Cottom's Wildlife Removal company is one of the best skunk trapping and removal services in Ohio.
If you are alarmed that you saw a skunk around your home or yard – or soil that has been dug up, call a local CWR office in Ohio 24/7 to schedule our professional skunk trapping and control services and we will get rid of them. We can also install shed and deck barriers, skunk proof fences, skunk exclusion barriers and animal proof deck skirting to keep skunks away.
CWR Ohio wildlife removal experts get skunks, opossums, woodchucks and groundhogs out from under houses, sheds, porches and out of yards. We know how to get rid of skunks by using live cage traps.
Our proactive skunk removal professionals easily seal openings under stairs, decks, sheds and porches with aluminum flashing, concrete, wire mesh and sheet metal to "exclude" skunks to keep them from denning and living under our client's structures. We can also install "skunk fencing" to prevent unpleasant "skunk situations." CWR wildlife experts get groundhogs out of gardens, yards and holes.
DIY Skunk Removal In Ohio
Find out how to remove the smell of skunk spray, here. Learn how to get rid of skunk odor, here. Get tips on removing skunk smell from your house, here. Find out how to remove skunk smell from a dog, here. Find out the best way to get rid of skunks from your garden, here. Find out how to get rid of skunks permanently, here.
However, you many want to consider that the quickest and easiest way to remove a skunk or exclude it from your yard in Ohio is to hire the Cottom's Wildlife Removal company to do it for you. The cost of skunk trapping in Ohio is not that expensive.
In Ohio, contacting CWR to get rid of a skunk is a better option than shooting and killing a skunk in your yard. Read the Ohio Administrative Code, Rule 1501:31-15-03 about killing skunks, here.
In Ohio, it is illegal to fail to euthanize, or release on site, any nuisance skunk that is captured, trapped or taken. It is also illegal to take a skunk with the use of dogs outside of a structure during the closed season.
Get information about the skunk hunting season in Ohio, here. Download the Ohio Hunting And Trapping Regulations for 2020-2021, here.
Costs To Trap And Remove Skunks, Opossums And Groundhogs In Ohio
The cost to remove a skunk, opossum, groundhog or woodchuck that has been trapped by a homeowner starts at $95. This rate is for on-site visits that are within 40 miles of the CRW company headquarters in Columbia Station, Ohio. Different rates will apply based on the distance a CRW pest control technician will need to travel.
If a skunk, opossum or groundhog needs to be trapped by CWR, an on-site inspection costs start at $239. This fee will be applied to the total cost.
CWR Gets House Sparrows Out Of Roofs, Eaves, Awnings And Outdoor Signs For Ohio Homeowners And Businesses
House Sparrows are an invasive species to Ohio that cause property damage. They nest in areas under awnings and tiles at roof edges above fascia boards and soffits. The House Sparrow is one of the most adaptable and prolific bird species on Earth and they kill native birds.
The Cottom's Wildlife Removal company uses professional and humane sparrow control methods, sparrow repellents and sparrow deterrent techniques to trap, exclude and get rid of sparrows for homeowners and businesses throughout Ohio.
CWR pest management professionals get rid of sparrows that nest in commercial buildings and outdoor signage. We prevent small bird issues for retail store owners and protect outdoor signs from sparrow infestations. CWR bird control specialists know how to keep sparrows off exterior building signs and how to keep birds away from signs. CWR provides bird netting and bird spike installation services throughout the United States.
CWR bird control specialists use commercial bird netting and bird exclusion products to stop sparrows from entering eaves, roofs, awnings or other open areas. We also treat rafters, ledges, roofs, awnings and eaves with bird gel to keep sparrows from landing. We can even install "bird slopes" or eave closures under eaves, awnings and roofs to prevent sparrows from roosting or nesting.
The Cottom's Wildlife Removal company provides sparrow removal, sparrow exclusion, sparrow deterrent, sparrow damage control and sparrow trapping services in Cleveland, Cincinnati, Toledo and Columbus Ohio. CWR bird control specialists easily stop sparrows and starlings from nesting under eaves. Call 440-236-8114 if you want to know how to get rid of sparrows in your roof.
House Sparrows love to nest in, on, or near buildings. House sparrow nests clog or block drains, gutters and downspouts. Their nest (built by both parents) is made of material such as grass, weeds, twigs, trash, often lined with feathers. The noise can be annoying, especially because they start singing at the very first light. Their feces contain uric acid which is corrosive.
House sparrow droppings eat away at paint on cars and construction materials. Find out what to do about house sparrows, here.
The Cottom's Wildlife Removal Company Knows How To Permanently Get Rid Of Woodpeckers In Ohio
Woodpecker Removal, Woodpecker Deterrent, Woodpecker Repellent, Woodpecker Management, Woodpecker Control And Woodpecker Trapping Services Near Cleveland, Columbus And Cincinnati For Ohio Homeowners
If your house has caught the attention of woodpeckers, they may be looking for insects or a place to nest. Woodpeckers can damage wood siding and soffits on structures. These birds normally forage for insect prey on the trunks and branches of trees. Woodpeckers are adored visitors to our backyards. While woodpeckers may be nice to watch, they cause damage to your homes and trees so it is important to know how to get rid of woodpeckers.
CWR is an Ohio bird removal and bird next removal company that also removes feces and sanitizes infected areas. Cottom's Wildlife Removal provides bird removal, control, exclusion, cleanup, decontamination and damage repair services in Columbus, Cleveland, Toledo and Cincinnati, Ohio. Our bird control specialists remove and clean up animal and bird waste and feces from homes and businesses in Cleveland, Columbus, Cincinnati and other cities in Ohio. We provide environmental, disinfecting, sanitizing and decontamination services.
If you are looking for woodpecker removal services in Cleveland, woodpecker control services in Cincinnati, woodpecker removal services in Toledo or woodpecker pest control near you in Columbus, contact Cottom's Wildlife Removal company to permanently get rid of woodpeckers and to stop woodpeckers from pecking at your house or making holes in your cedar siding. If you want to effectively prevent woodpecker damage, call 440-236-8114.
CWR bird control specialists provide permanents solutions by installing safe and reliable products such as readymade artificial decoy owls with reflective eyes, woodpecker deterrent netting (3/4″ mesh), plastic woodpecker netting and wire mesh.
Please note that Cottom's Wildlife Removal company is NOT classified as a "woodpecker exterminator". There are penalties for killing woodpeckers they have special federal protection. All woodpeckers are protected under the Migratory Bird Treaty Act. (MBTA).  This law states: "No person may take (kill), possess, import, export, transport, sell, purchase, barter, or offer for sale, any migratory bird, or the parts, nests, or eggs of such bird except as may be permitted under the terms of a valid permit…"
When warranted, woodpeckers can be killed, but only under a depredation permit issued by the Law Enforcement Division of the US Fish and Wildlife Service (USFWS). Authorization by the relevant state wildlife agency also may be required before lethal control methods are initiated. Sound justification must be present for the issuance of depredation permits. Hazing woodpeckers does not require a permit. Download the Depredation Permit, here.
Application for a depredation permit for some species of woodpeckers may be an option, but should be considered as a last resort. Proper exclusion, harassment, and monitoring will be necessary to demonstrate that need. Permits will be issued only if non-lethal methods have previously been tried and failed. The applicant must show strong justification (i.e. where significant structural damage has resulted in an economic hardship).
You many need a pest exterminator to get rid of an underlying insect problem because woodpeckers like to peck on houses to feed on insects. Woodpeckers eat carpenter bees, termites, wood-boring beetles, carpenter ants, leafcutter bees and grass bagworms. Woodpeckers also hammer on homes in Ohio to create a nesting cavity, to store food or to attract a mate.
Why Are Woodpeckers Drumming On My Property?  [From The U.S. Fish and Wildlife Service]
Woodpeckers, sapsuckers, and flickers drum and drill on a variety of surfaces. Siding (aluminum or wood), trim boards, and wood boards on any kind of structure can be appealing to woodpeckers. The resulting damage can appear as simple dents (usually a line) or as large as 2-inch diameter holes. Woodpeckers drum and drill in their search for food, territorial and social displays, and to nest in the cavities created. Sapsuckers drill small holes for sap, while many other woodpeckers drill for woodboring insects such as carpenter bees, leafcutter bees, grass bagworms, etc. Drumming for territory or social reasons will most likely occur in the early spring at the start of the breeding season. Drilling for nest cavities usually occurs in the early spring, although some drilling occurs in the fall.
How Do I Keep Woodpeckers From Damaging My Property? [From The U.S. Fish and Wildlife Service]
The best way to stop woodpecker damage to personal property is to begin damage control as soon as you begin hearing drumming and continuing until well after the woodpecker leaves the area. Holes the bird has made should be filled and painted immediately. If a nest is already active, we recommend that control measures be postponed until the young leave the nest permanently, which is usually around midsummer, but can vary depending on the species. Physical exclusion is probably the most effective control method. Installing bird-netting from the outer eaves down the side of the building is typically effective at excluding most woodpeckers.
Other methods include:
• Frightening devices (models of owls and hawks, spinners, windsocks, etc.) can be used, although these devices have inconsistent success.
• Tactile deterrents are sometimes used with marginal success. However, some products can get on feathers and impair the bird's ability to fly and stay warm.
• Sound deterrents coupled with motion detection are another option. Typically this would involve playing the recording of a woodpecker distress call followed by a raptor call.
• Tying a burlap bag or other heavy fabric around a tree (particularly ornamental trees) can be effective at preventing sapsucker damage.
How To Repel And Deter Woodpeckers To Frighten Them Away
If you want to try to repel woodpeckers with smells and scents, peppermint oil may work. Other DIY ways to get rid of woodpeckers include woodpecker deterrent kits, spraying your house with woodpecker repellents and visual deterrents such as pinwheels, balloons, reflective tape and windsocks.
Because woodpecker damage in Ohio is considered a maintenance issue that is the responsibility of the homeowner, woodpecker damage is probably NOT covered by your home insurance (homeowner's insurance). Find out more about preventing woodpeckers from damaging your home, here.
Woodpeckers in Ohio are small to medium-sized birds that prey on insect species that dead trees attract and woodpeckers rely on the softening branches and trunks to excavate their nests.
Woodpeckers In Ohio
Woodpeckers In Ohio – 7 Species You've Got To See
Posted on YouTube On December 17, 2020 By Wild Bird Scoop [WildBirdScoop.com]
Common species of woodpeckers that CWR traps, deters, removes and controls in Ohio include Pileated Woodpeckers, Red-Headed Woodpeckers, Downy Woodpeckers, Red-Bellied Woodpeckers, Northern Flickers, Yellow-Bellied Sapsuckers, Red-Cockaded Woodpeckers and Hairy Woodpeckers.
The Downy Woodpecker can be found year round in Ohio and this small species of woodpecker the one of the most common types found in Ohio and the United States. They are frequently sighted in the Columbus, Ohio Metro Parks in the winter. They are speckled in black and white and are common visitors to backyard feeders in Ohio.