Wildlife Trapping, Removal, Nuisance Animal and Pest Control Services
Mike Cottom's Wildlife Removal and Environment Services has been trapping and removing nuisance wildlife from homes, businesses and buildings in Cleveland, Akron and Northeast Ohio since 1986. Counties we serve include Cuyahoga, Lake, Lorain, Geauga County, Trumbull, Median, Summit, Ashtabula and Portgage. We are licensed, bonded and insured to provide the following services. We provide professional animal and pest control services to prevent and correct problems in urban and suburban environments caused by undomesticated animals living in the wild.  Wildlife continuously encroaches onto, and into, human communities and buildings. We provide professional critter catching services for Northeast Ohio residents. Our trained technicians provide professional wildlife and nuisance animal control, relocation and management services for the cities of Cleveland and Akron.
Even coyotes are becoming a nuisance animal in Cleveland and Akron suburbs such as Pepper Pike, Berea, Lakewood, Olmsted Falls and Brook Park. In late 2017, a coyote killed a pet dog in Lakewood. We protect citizens in Cleveland and Northeast Ohio from mammals and bats that have rabies. Rabies is a virus that affects the nervous system of humans and other mammals, resulting in a fatal disease. In 2017, raccoons in Stark County tested positive for rabies. In 2016, a bat with rabies bit an Ohio woman.  If you suspect that a raccoon or other animal in the vicinity of your home has rabies, please call Cottom's Wildlife Removal right away. This is a dangerous disease and all precautions should be implemented.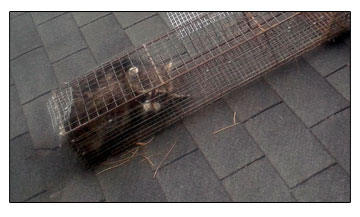 We provide professional nuisance animal trapping and wildlife removal services, pest control, critter catching, animal removal, raccoon removal, bird and bat removal services. We do not provide free raccoon removal services and are not affiliated with the City of Cleveland Pest Control or Cleveland's Division of Animal Care and Control. We are not affiliated with Critter Control or Ace Wildlife Services. Many of our satisfied customers think we are the best raccoon removal company in Cleveland and Akron.
Contact Our Wildlife Removal Company
Our Wildlife, Trapping And Odor Removal Services Include:  
Raccoon Removal and Control
Removal and Control of Critters, Squirrels, Groundhogs, Skunks, Birds, Bats, Rodents and Mice
Bat Removal
Squirrel Removal
Bird Control and Removal
Wildlife Control
Installing new insulation
Removing damaged and soiled insulation along with biohazards
Repairs to siding and roofs from animal damage
Trap and remove wildlife from homes and businesses
Chimney capping
Deck screening and exclusion
Rodent control and whole house exclusion to seal out rodents
Bird and bat removal from homes and businesses
Watch our video titled "How to Remove Raccoons in Your Attic in Cleveland, Ohio" on YouTube.