To Request Bird Removal, Pigeon Control, Bat Removal, Bird Nest Removal And Cleanup Services In Ohio Call 440-236-8114
Bird Control, Pigeon Removal And Bird Feces Cleanup Services In Cleveland, Akron, Cincinnati, Columbus And Other Ohio Cities
Email: info@mcwildlife.com
Bird Removal Company Headquarters Address: 26765 Royalton Rd, Columbia Station, OH  44028
Bird Removal Costs Start At $399+ In Ohio
Get information on professional pigeon removal, bat removal and attic cleanup services in Ohio, here.
How To Get Rid Of Bats In Ohio Using Exclusion Devices
YouTube Video Posted On November 1, 2021 Titled "How To Get Rid Of Bats In Ohio Using Exclusion Devices & By Sealing Your Home, Attic, Walls, Chimney"
In this video the bat control professionals at the Cottom's Wildlife Removal company of Ohio show you how to humanely get rid of bats by installing exclusion devices over entrances and how to seal up holes in your house, attic, chimney, vents, garage, soffits and roof.
How And When To Get Rid Of Bats In Houses, Attics, Walls, Chimneys, Roofs, Ceilings, Basements, Barns, Vents, Apartments And Garages In Ohio
YouTube Video: How & When CWR Removes Bats From Attics In Ohio, Costs, DIY, ODNR Laws, Exclusion, Bat Guano Cleanup
In this video, professional and humane bat removal specialists Mike Cottom Sr. and Jr. from Ohio show you how to get bats out of your house or attic. Learn how to remove bats from your chimney, walls, basement, roof or garage. In Ohio, call 440-236-8114 for a home and attic inspection or to request bat removal and bat guano cleanup services.
Complete The Form Below To Get More Information About Bird Removal, To Schedule An Inspection And To Get A Written Quote For The Work 
How Much Does It Cost To Remove Birds From Vents In Ohio?
Prices to remove birds and bird nests from dryer vents and bathroom exhaust vents in Columbus, Cleveland, Cincinnati, Akron, Toledo, Zanesville, Canton, Youngstown, Findley, Marietta and other cities in Ohio start at $795 per vent. This fee includes cleaning out the vent and the installation of one cap.
In Ohio, call CWR at 440-236-8114 in Cleveland, 614-300-2763 in Columbus or 513-808-9530 in Cincinnati to schedule an inspection and to get a written quote for CRW to remove birds from vents.
Bird Netting Installation, Bat Exclusion Netting Installation, Bird Spike Installation, And Bird Control Services For U.S. Businesses
Bird Removal, Pigeon Removal, Bird Nest Removal, Feces Removal, Geese Removal, Bat Removal, Sanitizing And Cleanup Services In Cleveland, Akron, Cincinnati, Columbus And Other Ohio Cities
Contact a professional bird removal company in Ohio if you need birds, bats, starlings, geese, woodpeckers, sparrows or pigeons removed from a structure. The Cottom's Wildlife Removal company removes bird nests and bat colonies for Ohio homeowners and businesses. CWR bird control technicians know how to get birds out of vents.
We Get Birds And Bird Nests Out Out Of Attics, Chimneys, Dryer Vents, Roofs, Garages, Soffits And Houses For Ohio Residents And Businesses
We get birds out of houses, chimneys, warehouses, retail signs, attics, garages, barns, dryer vents, roof vents, roofs, gutters, soffits, eves, basements and lofts. Find out what the Humane Society Of The United States has to say about birds, here.
If you need a professional bird removal and animal control company in Ohio to get rid of birds and bird nests in your house or vents, call Cottom's Wildlife Removal company to schedule an inspection and to get a written quote for the work. Removing birds or bats in Ohio can cost as little as $399.
Cottom's Wildlife Removal humanely removes birds and bird nests from vents, fans, chimneys, attics, homes and businesses in Columbus, Cleveland, Cincinnati, Akron and other Ohio towns.
Learn How To Remove Bats In Ohio Using Bat Valves, One-Way Bat Doors, Bat Cones And Bat Exclusion Devices And By Sealing Your Home, Attic, Walls, Vents And Chimney
If you have bats in a building, learn how to safely exclude them, here. The idea behind the exclusion method is to create a one-way door the bats use to exit at sunset. However, they can't get back in when they return before sunrise to roost. If you had bats in your home over the summer, September and October are the best months for conducting a bat exclusion according to the Ohio Division of Wildlife.
Bat Removal And Bat Control Services In Cleveland, Columbus And Cincinnati, Ohio
CWR Provides Professional Bat Removal Services, Bird And Bird Nest Removal Services, Wildlife Removal Services, Attic Squirrel Removal Services, Attic Raccoon Removal Services, Squirrel Trapping Services, Attic Animal Removal Services, Wild Animal Exclusion Services And Nuisance Animal Damage Repair Services For Ohio Homeowners
To Request Humane Attic Squirrel Removal Services Or Squirrel Exclusion Device Installation Services From A Local Contractor Near You In Your Neighborhood In Ohio Call 440-236-8114 To Schedule A Home And Attic Inspection
To humanely gets wild animals, raccoons, squirrels, mice, bats or birds out of your house and to keep them from from getting back into your house or attic, call 440-236-8114 to request professional wildlife exclusion and nuisance animal trapping services from the Cottom's Wildlife Removal company of Ohio. CWR pest control technicians install heavy duty exclusion devices, bat valves, wire mesh, stainless steel screens, flashing, caulk, vent covers, netting and chimney caps in homes throughout the state of Ohio.
Cottom's Wildlife Removal & Environmental Services is a full-service wildlife removal, wildlife trapping, pest control, exclusion (animal proofing), wildlife removal and nuisance animal damage repair company. To talk with some of the top wildlife experts in Ohio, you can call us at 440-236-8114 or you also call the Ohio Division of Natural Resources to talk with your local county wildlife officer at 1-800-WILDLIFE (800) 945-3543. You can email the ODNR at wildinfo@dnr.state.oh.us.
You can schedule wildlife exclusion services or wildlife removal services with a contractor near you in Ohio, here.  Book an appointment for a nuisance animal damage management inspection service for an Ohio home, building or business, here.
Our professional crews exclude raccoons, squirrels, mice, bats and birds to keep them permanently out of attics, walls, roofs, soffits, ceilings, garages, sheds, basements and chimneys. CWR's ethical wildlife control experts know how to humanely trap and remove uninvited fur-bearing free-loaders.
Bat Removal, Bat Attic And Home Inspections, Bat Guano Removal, Bat Proofing And Bat Exclusion Costs In Ohio
Costs for bat inspections, bat removal, bat feces cleanup, bat sanitizing, bat guano decontamination, bat cleanup and bat exclusion services in Ohio start at $399. Rates for bat exclusion and bat proofing in Ohio start at $1,495. Bat guano removal costs start at $895 in Ohio.
Typical costs to remove bats from a home and to seal the entire house to prevent their return range from $2,000 to $5,000. August, September and October are ideal months to exclude bats from homes in Ohio.
Costs to remove a single bat from a house in Ohio starts at $399. The average cost of bat removal and bat exclusion for a one story house is $1,495 to $3,000, $1,995 to $8,000 for a two story house and $2,995 to $40,000 for a commercial building or church. Bat guano removal, decontamination and sanitizing start at $895 in Ohio. The cost to remove bats in walls starts at $1,495. Costs to get bats out of attics start at $1,495. Costs to remove bat guano from walls starts at $895.
If you see signs of a bat infestation and you live in Columbus or Central Ohio, call a professional pest-control company such as Cottom's Wildlife Removal at 614-300-2763 for an assessment. Bat infestation assessments in Columbus and Central Ohio cost $399. If you live in Cleveland or Northern Ohio and have a problem with bats, call 440-236-8114. If you live in Cincinnati or Southern Ohio and need to get rid of bats, call 513-808-9530.  CWR pest control technicians will humanely remove the bats from the attic and seal it up to protect against future bat infestations.
Bats are normally removed by using a valve system that enables bats to fly out of the house but not come back into the residence. The valve system requires that all entry points are sealed prior to the installation of bat valves. Services also include an initial inspection, sealing of soffits, caulking of brick face gaps, screening of ridge vents, screening of louver vents, screening of roof vents, sealing of chimney gaps, installing and removing bat valves.
The bat exclusion experts at the Cottom's Wildlife Removal company pay close attention to detail when they are bat proofing a home in Ohio in order to ensure that the roof or attic is totally secured and sealed tightly. If you have bats in your house, roof or attic, find out what to do, here. Excluding a bat colony from a home, attic or roof in Ohio should never take place between May and August.
Hire The Best Bat Control Company In Ohio
It is recommended that Ohio homeowners call a specialty bat control company to inspect their home if they see a bat inside a living space.
CRW is a local (Ohio only) bat control service that does not exterminate bats or use live traps to catch bats. The wildlife professionals at CRW will not kill your bats. Rather, bats are safely removed from homes and buildings in Cleveland, Columbus, Toledo, Dayton, Canton, Mansfield, Hamilton, Springfield, Lancaster and Cincinnati, Ohio through the wise use of bat exclusion processes and devices.
Despite being well known for their pest control abilities, bats remain understudied and misunderstood, and their numbers have been on the decline for various reasons. Now research is showing that these mammals may be invaluable to farmers. The fate of bats is hanging in the balance. That could have very real consequences for us.
CRW bat control "wizards" use multiple bat exclusion processes, one-way bat doors (bat valves), bat exclusion devices, funnels (cones), netting and tubes to get bats out.
The 6 bat removal masters (pictured here) that work at the Cottom's Wildlife Removal company certainly know the tricks to getting rid of bats in houses. One secret trick to get rid of a single bat in a living space is to open a window or door, eureka!
These 6 gentlemen are very well educated for performing bat exclusion, bat eviction, bat venting and bat poop cleanup services. Alex, Kyle, Nathan, Mike, Tyler and Jason know how to clean environments contaminated with bat droppings in residential and commercial structures. CRW bat control specialists know how to minimize the potential for transmission of white-nose syndrome (WNS) when handling bats. They take all the necessary precautions when handling bat waste. CRW bat control technicians can see the signs and damage caused by various species of bats. CWR bat control technicians use the best protective particulate respirator masks when removing bat droppings from outside houses, attics, walls and cars. Learn more about acceptable management practices for bat eviction and structural remediation, here.
Behold, The Benefits Of Ohio's Bat Population
Posted On Farm and Dairy On August 27, 2021
Written By Barbara Mudrak
The little brown bat is one of the bat species listed as endangered in Ohio, and one of the 12 species susceptible to white-nose syndrome, a fungus that has killed more than 5 million bats in North America since 2006. However, studies show that little brown bats are changing their hibernation habits, sleeping alone instead of in clusters. The National Science Foundation says this may help them fend off the fungus and avoid extinction.
Bats have been getting a bad rap for hundreds, maybe thousands of years.
A Greek playwright referred to a bat from hell coming to suck a camel's blood in 417 B.C. Bram Stoker cemented their connection to evil when he had Dracula turn into a bat — among other things — in his 1897 novel.
Essential
But contrary to the myths that have built up around them, bats don't attack humans or get tangled in their hair, and vampire bats don't suck blood, just lick it. Instead, bats are essential to many ecosystems ranging from rainforests to deserts and are a boon to agriculture.
Bats disperse seeds and pollinate hundreds of species of plants. And because some of them eat roughly their own body weight in insects every night, they reduce crop damage and the need for pesticides.
According to the U.S. Fish & Wildlife Service, bats eat enough harmful insects to save this country's corn industry $1 billion a year. While many bat species eat insects, some feed on nectar and pollinate high-value crops like peaches, bananas, cloves and agave, a key ingredient in tequila.
Still, other species eat fruit and thus disperse seeds. Scientists say they may account for 95% of the seed dispersal responsible for early growth in recently-cleared rainforests.
Further benefits
Funded by the National Science Foundation, scientists have been studying other ways that bats benefit humans. For instance, their use of echolocation — emitting high-frequency sounds that bounce off objects, allowing them to navigate and find prey in the dark — inspired sonar and ultrasound.
Bats are the only mammals that can fly on their own power, not relying on air currents. Unlike those of birds and insects, bats' wings fold when they fly, like a human hand, which allows them to do a 180 with just three flaps. Studying the structure and dexterity of their wings may someday help improve the maneuverability of aircraft.
Bat researcher and neuroscientist Seth Horowitz says even the much-maligned vampire bat may help us in new ways. As they lick the blood that results from puncturing an animal's skin with their tiny canines, they emit a substance that prevents the blood from clotting. Studying this substance may lead to new ways to prevent or treat blood clots in humans, he said.
Ohio bats
In a video for The Ohio Bat Working Group, Marne Titchenell, Extension Wildlife Program Specialist with The Ohio State University's College of Food, Agricultural and Environmental Sciences, describes "A Year in the Life of an Ohio Bat."
Bat Habitat and Life Cycle by Marne Titchenell, The Ohio State University Extension
Video Posted On YouTube On January 7, 2021 by the School of Environmental and Natural Resources (SENR.OSU.edu)
From April through September, bats need somewhere to sleep or "roost" during the day. After all, they're nocturnal and fly around and eat all night, she said.
For the hoary bat — the largest bat species in Ohio — and silver-haired and Eastern red bats, that means hanging upside down in the canopy of a tree. Because they prefer to socially isolate when they snooze, they are called solitary bats.
Other species like to roost in big groups called colonies. If their resting place is in a forest, they'll sleep in hollows or holes in trees, or under bark that has pulled away from the trunk. The larger groups are made up of females and are called maternity colonies, while males form smaller bachelor colonies.
However, bats that hang together don't limit themselves to trees. They can also form colonies under bridges, in the eaves of buildings or barns, or in attics. More on that later.
The colonial species that hang out in Ohio include little brown bats, big brown bats, Northern long-eared bats and Indiana bats. Of the four, all but big brown bats are on the state's endangered list, Titchenell said.
Bats mate in the fall but don't give birth until the following year. Females are able to delay fertilization so that the young, called pups, will be born when insects are available.
The pups are born in May and June and are pretty chunky, about 20 to 30% of the mom's body weight. She puts a lot of energy into nursing them until they can fly and catch insects on their own, which takes at least a month. The females only have pups once a year. They can have between one and three, but the number is more often one. That's because bats can live up to 30 years, "so they don't have to have so many young per year. They can take their time," Titchenell explained.
Ohio bats hibernate from October through March, she said. The solitary bats are more likely to migrate further south to do that and some, like the hoary bat, may travel long distances, even to Mexico or Central America.
Colonial bats may migrate, but don't travel as far. Some stay in Ohio, hibernating in caves, abandoned mines and crevices in cliff walls, she said.
Dangers to bats
Some bats want their own space and hibernate alone, while others gather in huge clusters for their winter naps. That's not a good thing when it comes to white-nose syndrome, a fungus that has killed an estimated five million bats in North America since it was first documented in a popular tourist cave in New York in 2006. Since the fungus comes from Europe, scientists think a visitor brought it to the cave on clothing or equipment.
As bats hibernate, the fungus grows on their muzzles, wings and other body parts, causing skin lesions and, ultimately, death. Studies show that casualties in populations of solitary sleepers level off at some point, but not in populations that hibernate in clusters.
As if white-nose syndrome isn't bad enough, those charged with counting the casualties of wind turbines are finding more bats than birds, especially so-called tree bats. Scientists so far have found no explanation.
Meanwhile, other bat populations are suffering because of loss of habitat or other environmental changes, including declines in insect populations.
Great efforts are being made to conserve bats, including getting a better handle on their numbers and locations. From 2011 to 2020, staff and volunteers with the Ohio Department of Natural Resources Division of Wildlife did acoustic surveys to monitor bat populations in the wake of white-nose syndrome. This year, their methods were changed to follow the standards of the North American Bat Monitoring Network or NAbat, which is designed to monitor 47 bat species on the continent of North America, sending statistics to an international database.
House bats
Since bats are protected in Ohio, it's important to know what you can do — and when — if you discover a colony of bats in your attic. There are ways to evict them, like bat cones that allow them to go out but not back in. Or, you can make an exclusion device out of mesh netting.
"But it's important that you don't close them up, or prevent nursing moms from coming back in and feeding their pups," said Erin Hazelton, Wind Energy Administrator for the ODNR Division of Wildlife.
In fact, it's illegal in Ohio to exclude bats between May 16 and July 31, when females might be caring for offspring. That is, unless the Division of Wildlife gives permission.
"If they're in the house, that's a different story," Hazelton said. "We don't ask people to live with bats. They can have rabies, although the incidence is very low."
The Ohio Department of Health says if you do find a bat in the house and wonder if it has come in contact with people or pets, call your local health department and an animal control agency so the bat can be captured and tested.
"Our bats need help," Hazelton stressed. There are things that homeowners and landowners can do, like building bat boxes where bats can roost and females can have pups. The internet is full of instructions, she said.
Sarah Stankavich, a wildlife technician with the DOW who is also part of the Ohio Bat Working Group, made a video on creating a bat garden. In it, she suggests planting native flowers that bloom during the late day or night such as blue vervain, goldenrod, evening primrose and phlox. Bats also like herbs such as mint, marjoram, rosemary, chives and lemon balm, she said.
Bats don't land to drink, so they need an unobstructed source of water, like a small pond or pool. A birdbath will do, as long as it is full.
Stankavich advises maintaining large trees, especially if they have cavities or loose bark for roosting, and, if possible, having some natural (unmowed) lawn. Don't get rid of raked leaves in the fall, but keep them in piles; bats, butterflies, beetles and moths all benefit from leaf litter, she said.
The Ohio Bat Working Group, which has a Facebook page, and Bat Conservation International are good sources of information. They also have more ideas for those who want to help bats be more than doppelgangers for Dracula.
Co-Existing With Bats In Ohio
Bats come out in Ohio and are active March through September. Some Ohio residents call the Cottom's Wildlife Removal company to ask if one bat in their house means they have more.
CWR bat control experts advise our clients that there is a good chance there are more bats in the walls or attic, if one is seen inside the house. Bats rarely fly in through open doors and their presence on a wall or ceiling is probably an indication of a minor or major bat infestation.
A thorough inspection is recommended to find out if there are more bats in the house.
Humans and bats can live in peace with each other. Bats are flying mammals that are found in nearly every habitat throughout Ohio.
Ohioans should not fear bats simply because they enter attic spaces, construction gaps and wall voids looking for shelter. Most bites occur happen when people try to grab a bat with their bare hands.
The Little brown bat is Ohio's most common species of bat. Two Ohio bat species live in houses and attics; the Big brown bat and the Little brown bat.
In Ohio, bats normally hibernate from late October to early April in caves, houses, walls, barns, churches, bridges, abandoned mines, cracks in large rock outcroppings or attics and buildings.
Bats in Cleveland, Ohio include the Eastern Red Bat, the Big brown bat, the Northern Long-Eared bat, the Little brown bat and the Tri-colored Bat.
The Hoary bat is the largest bat found in Ohio and most widespread American bat. The Hoary bat can weigh up to 35 grams.
In Ohio however, the Little brown bat population size has declined dramatically due to habitat loss and a deadly disease (fungus) known as White-nose Syndrome (WNS).
The deadly white-nose syndrome has been found on bats in Cuyahoga and Geauga County parks in Ohio.
Some colonies of brown bats removed in Ohio by licensed wildlife control specialists at CWR may total a dozen or more.
Bats are mammals that use adapted forelimbs as wings to fly and they are more maneuverable than birds.
The Ohio Division of Natural Resources classifies bats as a nuisance species. Some of the most common species of bats that the Cottom's Wildlife Removal company gets out of attics and homes in Ohio are colonial bats such as Big brown bats, Little brown bats and Mexican free-tailed bats.
According to Barbara French, a biologist with Bat Conservation International, many people have a few bats in their attic and never know it. But a large colony of bats can become a noise or odor nuisance. Bats should not be allowed to enter interior living quarters.
Speaking of…Orphaned & Injured Wildlife
Uploaded By City of Mentor, Ohio On April 19, 2021 [CityOfMentor.com]
What do you do when you encounter an orphaned or injured animal? We're joined by Jamey Emmert, Communications Specialist with the Ohio Department of Natural Resources with answers to some common questions. Want to know more? Call ODNR's Wildlife hotline at 1-800-WILDLIFE \ (800) 945-3543.
Learn How To Keep Birds Out Of Attics And Gable Vents – Tightly Install Stainless Steel Mesh Screens To Keep Birds From Going In Through Small Holes
Birds are extremely beneficial and valuable to mankind due to the outstanding pest control and seed dispersal work they perform. However, at certain times and in certain locations, birds and bats can also become pests and a nuisance.
Learn about the methods that CRW bird control technicians, such as Mike Cottom Jr. and Mike Cottom Sr., use to eliminate or deter pest birds from landing, nesting and roosting. These methods are used for birds considered pests, such as geese, nuisance black birds, woodpeckers, feral pigeons, grackles, gulls, house sparrows and crows, here. CWR uses a wide variety of non-lethal techniques and humane exclusion devices to fix pigeon problems, minimize bird dropping health risks and correct bat infestation hazards.
These products include anti-roosting stainless steel bird spikes, electric bird shock systems and tracks, bird slides, 2″ mesh pigeon nets, bird wire systems, bird netting, transparent bird repellent gels, Scare Bird Garden Stakes, super sonic outdoor sound devices and visual bird deterrents. CWR bird control professionals in the United States never uses harmful polybutylene gels. Download an informative PDF guide to retail sources for products to resolve wildlife conflicts from The Humane Society of the United States, here.
To contact a highly trained bird control service that uses non-lethal, safe, humane, effective and proactive methods near you, call 440-236-8114 to schedule an inspection and to get a written estimate. CWR certified bird removal specialists are experts in safe and effective bat exclusion, pigeon control and bird removal methods used to get birds and bats out out of attics, chimneys, signs, warehouses, dryer vents, roofs, garages and soffits. The PMPs (Pest Management Professionals) at CRW are experts at using different exclusion tricks and repellent strategies to move and remove birds.
If you need a professional bird removal and animal control company in Ohio to get rid of birds and bird nests in your house or vents, call Cottom's Wildlife Removal company. To schedule an inspection, to request bat exclusion services or get costs for bird damage management services, bird dropping removal and sanitizing, contact the Cottom's Wildlife Removal company at 440-236-8114 in Cleveland or Northern Ohio, 614-300-2763 in Columbus or Central Ohio or 513-808-9530 in Cincinnati or Southern Ohio.
Bird Removal Near Cleveland, Columbus, Springfield, Zanesville, Toledo, Akron, Lakewood, Cincinnati, Hamilton, Marietta, Canton And Youngstown
CRW also provide bird control services to prevent them from damaging roofs, attics, eves and other structures. We remove bird nests and also decontaminate and disinfect areas where birds left urine, parasites and feces. CWR also provides bat removal services for Ohio homeowners.
CWR bird removal experts get rid of bird infestations, remove birds from attics, get birds out of lofts, remove birds from vents and get rid of birds above doors. We are also experts at residential and commercial bird proofing and bird exclusion projects. Get a phone number for a local wildlife rescue and wildlife rehabilitation service or center near you in Ohio, here.
CWR professional wildlife control operators are also proficient at removing and cleaning up animal feces, bat guano, and bird waste from attics, homes and businesses in Cleveland, Columbus, Cincinnati and other cities in Ohio. We provide environmental, disinfecting, sanitizing and decontamination services. Bat guano removal rates start at $895+.
Cottom's Wildlife Removal & Environmental Service provides bird netting installation, bird barrier installation, bird spike installation and bird control services to companies throughout Ohio and all over the United States.
Request Humane Bat Removal, Bat Control And Bat Exclusion Services In Ohio To Get Rid Of Bats – From $399+
Bird Netting Installation, Bat Exclusion Netting Installation, Bird Spike Installation, Bat Removal, Pigeon Removal And Bird Control Services For U.S. Businesses
Bird Netting Installation And Bird Control Services For U.S. Facilities | Commercial And Residential Bat And Pigeon Removal | Bird Netting Installation Fees From $2+ Per Square Foot
Cottom's Wildlife Removal & Environmental Service provides bird netting installation, bat netting installation, bird barrier installation, bat exclusion services, bird spike installation and bird control services to companies and homeowners throughout Ohio and the United States. CWR also provides bat removal and bat guano cleanup services to homeowners and businesses in Columbus, Cleveland and Cincinnati, Ohio.
Our professional bird control product installers eliminate bird problems and get rid of roosting pigeons. We work with commercial, manufacturing and industrial firms from Los Angeles to NYC.
The Cottom's Wildlife Removal Company Is A U.S. Based Bird Netting Installation Contractor, Bird Netting Installation Company And Bird Spike Installation Service
If you are looking for a bird netting installer near you, CWR is an affordable local (U.S. only) bird control product installer. The technicians that work at CWR are trained by the experts in bird control, "pigeon proofing" and "bird work". CWR is a wildlife and pest control company that knows how to effectively install heavy duty bird netting, properly install aviary control nets, quickly attach bird spikes and safely configure bat exclusion netting. If you want to keep birds off your property, house or business, call 440-236-8114 to request a written quote and plan from CWR to keep pest birds out.
Bird B Gone, Inc. offers the largest network of authorized bird control installers in the Nation. Bird-B-Gone, Inc. is the world's leading manufacturer of professional bird control products including bird netting, anti-bird spikes, visual bird deterrents and bird repellents. They have installers in every state that have been trained on all aspects of bird control, from bird behavior to which products to use for your particular bird problem. Bird B Gone authorized product installers in the United States have successfully completed rigorous training at Bird B Gone University and are certified to install their professional grade bird deterrents. To learn more about bird control and bird control product installers in your area, choose your state, here.
On May 4, 2021 the Pelsis Group, a global manufacturer of pest control products, today announced that it acquired Bird-B-Gone the world's leading manufacturer of humane bird deterrents designed to solve bird problems in commercial, industrial and residential settings.
Our company helps to mitigate and eliminate problems caused by avian life in cities from southern California to New England, from the Great Lakes to the Gulf of Mexico. Even though the number of birds has declined by over 3 billion over the past half-century, birds and their droppings still cause psittacosis, histoplasmosis and other diseases.
CWR Gets House Sparrows Out Of Roofs, Eaves, Awnings And Outdoor Signs For Ohio Homeowners And Businesses
House Sparrows are an invasive species to Ohio that cause property damage. They nest in areas under awnings and tiles at roof edges above fascia boards and soffits. The House Sparrow is one of the most adaptable and prolific bird species on Earth and they kill native birds.
The Cottom's Wildlife Removal company uses professional and humane sparrow control methods, sparrow repellents and sparrow deterrent techniques to trap, exclude and get rid of sparrows for homeowners and businesses throughout Ohio.
CWR pest management professionals get rid of sparrows that nest in commercial buildings and outdoor signage. We prevent small bird issues for retail store owners and protect outdoor signs from sparrow infestations. CWR bird control specialists know how to keep sparrows off exterior building signs and how to keep birds away from signs. CWR provides bird netting and bird spike installation services throughout the United States.
CWR bird control specialists use commercial bird netting and bird exclusion products to stop sparrows from entering eaves, roofs, awnings or other open areas. We also treat rafters, ledges, roofs, awnings and eaves with bird gel to keep sparrows from landing. We can even install "bird slopes" or eave closures under eaves, awnings and roofs to prevent sparrows from roosting or nesting.
The Cottom's Wildlife Removal company provides sparrow removal, sparrow exclusion, sparrow deterrent, sparrow damage control and sparrow trapping services in Cleveland, Cincinnati, Toledo and Columbus Ohio. CWR bird control specialists easily stop sparrows and starlings from nesting under eaves. Call 440-236-8114 if you want to know how to get rid of sparrows in your roof.
House Sparrows love to nest in, on, or near buildings. House sparrow nests clog or block drains, gutters and downspouts. Their nest (built by both parents) is made of material such as grass, weeds, twigs, trash, often lined with feathers. The noise can be annoying, especially because they start singing at the very first light. Their feces contain uric acid which is corrosive.
House sparrow droppings eat away at paint on cars and construction materials. Find out what to do about house sparrows, here.
CWR pigeon control specialists quickly get rid of pigeons from houses, balconies and outdoor signs in Columbus, Cleveland, Cincinnati, Akron and other Ohio towns.
We install decoy owls and hawks, anti-roosting spikes and commercial gel repellents, repellents, poisons, parallel wires, bird netting and lasers to keep perky pigeons off our customer's property. We also remove pigeon poop and sanitize infested areas.
We remove pigeons from barns, gardens, warehouses, trees, sheds, outbuildings, roofs, attics, eaves and chimneys for Ohio homeowners and businesses.
About CWR Bat Removal And Bat Exclusion Services In Ohio
Bat exclusion involves using netting or tubes at entry points, which allows bats to drop down and fly away but which prevent re-entry. Exclusion devices are left in place for a week, so that the bats give up. After the bats are gone, plugging, sealing and caulking work is done.
Bird And Bat Inspections And Bat Exclusion Costs In Ohio
Costs for bat inspections, bat removal, bat feces cleanup, bat sanitizing, bat guano decontamination, bat cleanup and bat exclusion services in Ohio start at $399. Rates for bird exclusion, bat exclusion and bat proofing in Ohio start at $1,495.
The bat exclusion experts at the Cottom's Wildlife Removal company pay close attention to detail when they are bat proofing a home in Ohio in order to ensure that the roof or attic is totally secured and sealed tightly. If you have bats in your house, roof or attic, find out what to do, here. Excluding a bat colony from a home, attic or roof in Ohio should never take place between May and August.
To keep bats out, the Cottom's Wildlife Removal company seals cracks and openings with heavy-duty bat control screen mesh, aluminum flashing, sheet metal, expandable foam, caulk, stainless steel hardware cloth, chimney caps, flue guards, adhesive sealants, 3/8″ polyethylene knotted mesh, bat netting and other bat exclusion products.
CWR Gets Rid Of Starlings In Cleveland, Columbus, Cincinnati, Toledo, Youngstown And Marietta Ohio
CRW Performs Geese Control, Geese Removal, Conflict Management And Damage Prevention Services In Ohio
To some people in Ohio, Canada geese are considered to be one of nature's more enjoyable visual sights. However, cemetery managers, golf club owners, pond owners, homeowners, farmers, park employees often view geese as a serious problem.
CRW performs geese removal services in Ohio and manages problems caused by urban Canada Geese. CRW works with commercial and residential customers in Ohio to keep geese away. CRW's professional geese management services use hazing techniques to humanely and safely drive migratory Canada geese and nuisance geese off golf courses, park lawns, residential lawns and cemetery property. Download the "Nuisance Geese Brochure" from the Ohio Department Of Natural Resources, here.
Managing Nuisance Canada Geese
Posted On YouTube On May 8, 2018 By OhioDNR [OhioDNR.gov]
Geese Are Protected In Ohio
Canada geese, goslings, nests and eggs are protected by Federal laws and laws in the State of Ohio. Geese that are fed will lose their fear of humans and attack adults, children and pets during the nesting season (March through June). DO NOT FEED GEESE.
Non-lethal scare and hazing tactics, which do not harm the geese, are allowed. These tactics include pyrotechnics, dogs, barriers, a grid on the pond, laser pointers (at night), distress calls, or grape-flavored repellents such as Flight Control.
By 1979, Canada geese were successfully nesting in half of Ohio's counties. Today, they can be found breeding in all 88 counties. Clearly, the combined efforts of wildlife managers across the country were tremendously successful. Populations of Canada geese in Ohio are currently estimated at around 100,000 individuals.
If non-lethal tactics have been used in the past, without success, the Division of Wildlife may issue a lethal permit to allow the landowner to destroy nests, conduct a goose roundup, or shoot geese. These permits can only be used March 11 through August 31. Hunting in the fall, outside city limits, is also a good method to reduce the goose population, feed people and further scare the geese away.
Ohio landowners should consult with their county wildlife officer or contact the nearest district office for assistance.
Canada geese have many natural predators. Raccoons, skunks, foxes, crows, and snakes prey on their eggs; snapping turtles, foxes, bobcats, hawks, coyotes, and raccoons prey on goslings; and coyotes, bobcats, and people prey on the adults.
Geese generally start breeding at three years of age. Nest construction and egg-laying begins in late March or early April, depending upon latitude. Geese tend to nest on islands, muskrat houses, or nesting platforms that are surrounded by water. Such sites offer additional security, although the male guards the female and the nest, protecting his territory from other geese and predators.
Geese lay 4 to 8 eggs; incubation begins when the last egg is laid and lasts about 28 days. Hatching occurs from late April through mid-May. About mid-June, adult geese shed (molt) all of their long flight feathers to grow new ones. They are flightless for 30-45 days.
What Can Be Done To Remove Geese In Ohio Without A Permit?
A permit is not required to merely scare, repel, or herd Canada geese, provided no attempt is made to confine the birds. Nests that do not contain eggs may be removed, however caution should be given before removing a nest as Canada geese only lay one egg a day and will cover their eggs to keep them hidden until all eggs are laid and the female begins incubating (i.e. sitting on) the eggs. If, despite your efforts utilizing the following techniques, further control is needed, a special permit is required from the Ohio Division of Wildlife. Contact the nearest wildlife district office listed, here.
Humane Wildlife Solutions In The Buckeye State Capital
Humane Wildlife Removal Services In Columbus, Ohio
The Cottom's Wildlife Removal Company Knows How To Permanently Get Rid Of Woodpeckers In Ohio
Woodpecker Removal, Woodpecker Deterrent, Woodpecker Repellent, Woodpecker Management, Woodpecker Control And Woodpecker Trapping Services Near Cleveland, Columbus And Cincinnati For Ohio Homeowners
If your house has caught the attention of woodpeckers, they may be looking for insects or a place to nest. Woodpeckers can damage wood siding and soffits on structures. These birds normally forage for insect prey on the trunks and branches of trees. Woodpeckers are adored visitors to our backyards. While woodpeckers may be nice to watch, they cause damage to your homes and trees so it is important to know how to get rid of woodpeckers.
CWR is an Ohio bird removal and bird next removal company that also removes feces and sanitizes infected areas. Cottom's Wildlife Removal provides bird removal, control, exclusion, cleanup, decontamination and damage repair services in Columbus, Cleveland, Toledo and Cincinnati, Ohio. Our bird control specialists remove and clean up animal and bird waste and feces from homes and businesses in Cleveland, Columbus, Cincinnati and other cities in Ohio. We provide environmental, disinfecting, sanitizing and decontamination services.
If you are looking for woodpecker removal services in Cleveland, woodpecker control services in Cincinnati, woodpecker removal services in Toledo or woodpecker pest control near you in Columbus, contact Cottom's Wildlife Removal company to permanently get rid of woodpeckers and to stop woodpeckers from pecking at your house or making holes in your cedar siding. If you want to effectively prevent woodpecker damage, call 440-236-8114.
CWR bird control specialists provide permanents solutions by installing safe and reliable products such as readymade artificial decoy owls with reflective eyes, woodpecker deterrent netting (3/4″ mesh), plastic woodpecker netting and wire mesh.
Please note that Cottom's Wildlife Removal company is NOT classified as a "woodpecker exterminator". There are penalties for killing woodpeckers they have special federal protection. All woodpeckers are protected under the Migratory Bird Treaty Act. (MBTA).  This law states: "No person may take (kill), possess, import, export, transport, sell, purchase, barter, or offer for sale, any migratory bird, or the parts, nests, or eggs of such bird except as may be permitted under the terms of a valid permit…"
When warranted, woodpeckers can be killed, but only under a depredation permit issued by the Law Enforcement Division of the US Fish and Wildlife Service (USFWS). Authorization by the relevant state wildlife agency also may be required before lethal control methods are initiated. Sound justification must be present for the issuance of depredation permits. Hazing woodpeckers does not require a permit. Download the Depredation Permit, here.
Application for a depredation permit for some species of woodpeckers may be an option, but should be considered as a last resort. Proper exclusion, harassment, and monitoring will be necessary to demonstrate that need. Permits will be issued only if non-lethal methods have previously been tried and failed. The applicant must show strong justification (i.e. where significant structural damage has resulted in an economic hardship).
You many need a pest exterminator to get rid of an underlying insect problem because woodpeckers like to peck on houses to feed on insects. Woodpeckers eat carpenter bees, termites, wood-boring beetles, carpenter ants, leafcutter bees and grass bagworms. Woodpeckers also hammer on homes in Ohio to create a nesting cavity, to store food or to attract a mate.
Why Are Woodpeckers Drumming On My Property?  [From The U.S. Fish and Wildlife Service]
Woodpeckers, sapsuckers, and flickers drum and drill on a variety of surfaces. Siding (aluminum or wood), trim boards, and wood boards on any kind of structure can be appealing to woodpeckers. The resulting damage can appear as simple dents (usually a line) or as large as 2-inch diameter holes. Woodpeckers drum and drill in their search for food, territorial and social displays, and to nest in the cavities created. Sapsuckers drill small holes for sap, while many other woodpeckers drill for woodboring insects such as carpenter bees, leafcutter bees, grass bagworms, etc. Drumming for territory or social reasons will most likely occur in the early spring at the start of the breeding season. Drilling for nest cavities usually occurs in the early spring, although some drilling occurs in the fall.
How Do I Keep Woodpeckers From Damaging My Property? [From The U.S. Fish and Wildlife Service]
The best way to stop woodpecker damage to personal property is to begin damage control as soon as you begin hearing drumming and continuing until well after the woodpecker leaves the area. Holes the bird has made should be filled and painted immediately. If a nest is already active, we recommend that control measures be postponed until the young leave the nest permanently, which is usually around midsummer, but can vary depending on the species. Physical exclusion is probably the most effective control method. Installing bird-netting from the outer eaves down the side of the building is typically effective at excluding most woodpeckers.
Other methods include:
• Frightening devices (models of owls and hawks, spinners, windsocks, etc.) can be used, although these devices have inconsistent success.
• Tactile deterrents are sometimes used with marginal success. However, some products can get on feathers and impair the bird's ability to fly and stay warm.
• Sound deterrents coupled with motion detection are another option. Typically this would involve playing the recording of a woodpecker distress call followed by a raptor call.
• Tying a burlap bag or other heavy fabric around a tree (particularly ornamental trees) can be effective at preventing sapsucker damage.
How To Repel And Deter Woodpeckers To Frighten Them Away
If you want to try to repel woodpeckers with smells and scents, peppermint oil may work. Other DIY ways to get rid of woodpeckers include woodpecker deterrent kits, spraying your house with woodpecker repellents and visual deterrents such as pinwheels, balloons, reflective tape and windsocks.
Because woodpecker damage in Ohio is considered a maintenance issue that is the responsibility of the homeowner, woodpecker damage is probably NOT covered by your home insurance (homeowner's insurance). Find out more about preventing woodpeckers from damaging your home, here.
Woodpeckers in Ohio are small to medium-sized birds that prey on insect species that dead trees attract and woodpeckers rely on the softening branches and trunks to excavate their nests.
Woodpeckers In Ohio
Woodpeckers In Ohio – 7 Species You've Got To See
Posted on YouTube On December 17, 2020 By Wild Bird Scoop [WildBirdScoop.com]
Common species of woodpeckers that CWR traps, deters, removes and controls in Ohio include Pileated Woodpeckers, Red-Headed Woodpeckers, Downy Woodpeckers, Red-Bellied Woodpeckers, Northern Flickers, Yellow-Bellied Sapsuckers, Red-Cockaded Woodpeckers and Hairy Woodpeckers.
The Downy Woodpecker can be found year round in Ohio and this small species of woodpecker the one of the most common types found in Ohio and the United States. They are frequently sighted in the Columbus, Ohio Metro Parks in the winter. They are speckled in black and white and are common visitors to backyard feeders in Ohio.

How Expensive Is Bird Removal, Bird Nest Removal And Bat Removal In Ohio?
Removing birds or bats in Ohio can cost as little as $399. Costs to remove a single bat from a house in Ohio starts at $399. The average cost of bat removal and bat exclusion for a one story house is $1,495 to $3,000, $1,995 to $8,000 for a two story house and $2,995 to $40,000 for a commercial building or church. Bat guano removal, decontamination and sanitizing start at $895 in Ohio. The cost to remove bats in walls starts at $1,495. Costs to get bats out of attics start at $1,495. Costs to remove bat guano from walls starts at $895.
If you see signs of a bird infestation, bat infestation or a bat colony, call a professional pest-control company such as Cottom's Wildlife Removal at 440-236-8114 in Northern Ohio, 614-300-2763 in Central Ohio and 513-808-9530 in Southern Ohio for an assessment. Bat infestation inspections in Cleveland cost $399. Assessments in Columbus and Central Ohio cost $399.
CWR pest control technicians will humanely remove the birds and bats from the attic and seal it up to protect against future bat infestations. Costs for bat exclusion and bat proofing services start at $1,495 for homes in Ohio. Costs to remove bat guano in Ohio start at $895+.
Bats can live in the attic of a house or in walls for over 6 months without water or food. Don't try to kill a bat in your house. Bats hibernate in Ohio during the winter months when insects are inactive. CWR wildlife experts get bats out of houses in Columbus, Cleveland, Cincinnati, Strongsville, Lakewood, Hilliard, Reynoldsburg, Youngstown, Athens, Cambridge, Powell, Marion, Toledo, Mount Vernon, Canton, Ashtabula, Picqua, Portsmouth, Dayton, Springfield and other Ohio cities.
If the bird or bat is in plain site when a CWR bat control technician arrives at a residence and it can be easily removed, the cost is $399 in Cleveland and $399 in Columbus or Cincinnati. CWR home inspectors check for bats and to find their entry point. Bats in a house can make you sick. It is dangerous to have bats in your attic because they dangerous diseases.
If you find one bat in your house, there could be more in the attic or walls. CWR bat control experts use exclusion to remove bats from houses. Bats can squeeze through a hole the size of a quarter or a crack as small as a half an inch.
If the bird or bat is in plain site when a CWR bat control technician arrives at a residence and it can be easily removed, the cost is $399 in Cleveland, Columbus and Cincinnati. CWR home inspectors check for bats and to find their entry point. Bats in a house can make you sick. It is dangerous to have bats in your attic because they dangerous diseases.
Who Gets Birds Out Of Vents In Ohio?
Prices to remove birds and bird nests from dryer vents, bathroom exhaust vents and fans in Cleveland, Columbus, Cincinnati and other Ohio cities start at $795 per vent. This fee includes cleaning out the vent and the installation of one cap.
Bird Control, Bird Nest Removal and Decontamination Services For Ohio Homeowners And Businesses Include:
Service call to a homeowner's residence
Inspection of roofs, eves, attics, garages, chimneys and other areas where problems may be occurring.
Removal of birds such as chimney swifts, pigeons, starlings, house sparrows, gulls and bats with various handling tools.
Cottom's Wildlife Removal serves homeowners that have problems with woodpeckers. Because of Federal regulations, woodpeckers can not be killed or trapped and must be deterred from damaging homes. If you have detected woodpeckers damaging your house, give us a call to request an inspection. There are a number of ways we deter woodpeckers from damaging homes. We also provide damage repair services for homeowners in Ohio that have had their house damaged by woodpeckers.
Trapping of birds using sophisticated traps and techniques.
Repair of damage caused by birds such as roofs, vents, fans, chimney components, siding, insulation, drywall.
Removal of bird feces, bird droppings, nesting materials, soiled attic insulation and damaged drywall.
Extermination of parasites and mites that come from birds that infest homes, roofs and attics.
Replacement of attic insulation, drywall, wiring, shingles, roofing, siding facia boards, gutters and other damaged areas.
Cottom's Wildlife Removal & Environmental Service provides bird netting installation services and bird control services to companies throughout Ohio and the entire United States.
Bird Netting Installation Costs And Prices To Install Pigeon Spikes
Bird netting installation rates start at $2 per square foot.  To request a quote, call 440-236-8114. Our cost to install large bird nets at commercial buildings, industrial properties and retail buildings in the United States normally exceeds $1,500.
The cost for the installation of exclusion netting to stop birds from getting into gas station roofs normally start at $2,200. Rates for large bird control product installation projects for U.S. food warehouses, airports and loading bays at distribution centers normally exceed $5,000 and can go as high as $50K.
Travel expenses are not included in these fees. Contact us for information on the cost to install pigeon spikes, bird removal costs and bird nest removal costs. We remove birds from houses, attics and businesses.
Professional And Affordable Bat Removal And Bat Guano Cleanup Services For Ohio Homeowners
Cottom's Wildlife Removal Gets Birds And Bats Out Of Houses, Attics, Walls, Chimneys, Roofs, Garages And Business In Ohio
Costs for bird removal, bat inspections, bat removal, bat feces cleanup, bat guano decontamination and bat exclusion services in Ohio start at $399. To schedule an inspection and a service visit complete the form below or give us a call.
Email: info@mcwildlife.com
Company Headquarters Address: 26765 Royalton Rd, Columbia Station, OH  44028
Contact Us
Nuisance Species: Roosting Birds [Information From The Ohio Department Of Natural Resources]
Sparrows, starlings and pigeons are the most troublesome of the birds commonly found in the urban environment. When these birds congregate in large numbers their droppings can create a foul-smelling, unsightly mess.
Netting can effectively be used to exclude birds from virtually any kind of structure and from roosting or nesting in trees. The net will not entangle birds. Netting may be draped across the front of buildings; fasten it tightly from above windows to below the ledge to discourage perching.
Most birds prefer to perch on flat surfaces. Surfaces with an angle of 60 degrees or greater cause birds to slide off when they try to land. Wood or metal sheathing cut at an angle can also be added to the problem area. Another deterrent is to install porcupine wire on ledges and rails where birds roost. Thinning tree branches will remove perch sites and reduce a source of wind protection, which may force the birds to move to another site. Combinations of noise (AM/FM radio, wind chimes, firecrackers, banging pots and pans) and visual stimuli (colored flags, reflective tape, revolving lights, balloons, replicas of hawks and owls) used persistently can evict birds. Control measures should be initiated as soon as the problem is identified.
Flight to Freedom
Posted On YouTube On May 14, 2012 By The Humane Society of the United States [HumaneSociety.org]
The HSUS Animal Rescue Team along with The Humane Society of Greater Dayton helped rescue more than 100 parrots and other birds from deplorable conditions in Moraine, Ohio.
Wildlife Rehabilitators
Posted On YouTube On January 12, 2018 By OhioDNR [OhioDNR.gov]
Who Do You Call When You See An Injured Animal In Ohio?
Learn what you can do if you believe a wild animal in Ohio is orphaned or injured, here. The goal of wildlife rehabilitation is to provide professional care to sick, injured, and orphaned wild animals so ultimately they can be returned to their natural habitat. Wildlife rehabilitation is the treatment and care of injured, orphaned, or sick wild animals so that they can be released back to the wild. Find out if wildlife trapping and wildlife relocation is the best option, here.
Some concerned citizens in Ohio want to know who to call for injured wildlife. If the animal has bleeding, broken bones or another obvious injury – you can bring the animal to Ohio Wildlife Center's Hospital during open hours. See rescue and transport instructions.
Ohio wildlife officials rescue injured bald eagles. Wildlife lovers in Cleveland, Columbus, Toledo, Dayton, Canton, Athens, Marietta, Ashtabula and Cincinnati search online for a local wildlife rehabilitator near them to take care of an ill, injured or orphaned animal. Get phone numbers for a wildlife rescue service or wildlife rehabilitation center near you in Ohio, here. Wildlife rescue services are available near Cleveland, Columbus, Cincinnati, Dayton, Dublin, Toledo, Akron, Canton, Troy, Lima, Mansfield, Zanesville and Lake County.
CWR Cleans Attics After Raccoons, Squirrels, Bats, Birds, Mice And Rodents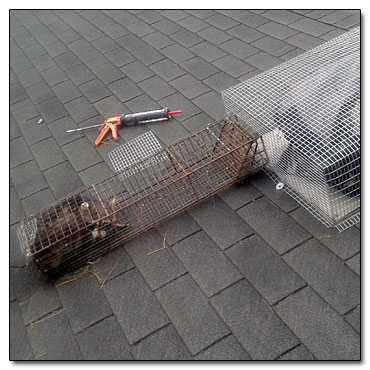 Although kids in Ohio think that raccoons look like cute cuddly bandits because of their signature black masks, adults know all to well that they are well adapted to urban living, are expert thieves and can be a nuisance – and a potential health hazard.
Before you try to clean an attic after a raccoon infestation, you have to first get rid of raccoons and keep them out. You can hire a professional raccoon removal and exclusion service such as the Cottom's Wildlife Removal company or do-it-yourself.
Please do not use an attic fogger, bug bomb or a smoke bomb to get rid of raccoons because it is not humane. The most humane way to get rid of raccoons in an attic or chimney is to use a one-way door and exclude them from returning.
Learn how you sanitize an attic after rodents, here. Get a quote for raccoon attic cleanup costs, here. Request raccoon cleanup services, here. Find out about attic cleanup and decontamination, here. Schedule a time to have your attic inspected for raccoon damage, here.
Schedule a time for attic cleanup services near Cleveland, Columbus or Cincinnati, Ohio, here. Find out how to clean up after a raccoon, here.
Watch a video from the Humane Society of the Unites States to learn how to humanely get raccoons out of an attic, here. Get tips on cleaning an attic after a raccoon, here (PDF).
The hollow smoky compartments in chimneys are similar to burned out hollow trees which are popular with pregnant raccoons. The raccoon removal and attic cleanup experts at the Cottom's Wildlife Company are proficient at removing raccoons from chimneys in Ohio homes. CWR raccoon removal specialists get raccoons out of roofs, attics, yards, chimneys, garages, walls, garbage and out from under decks in Cleveland, Columbus and Cincinnati.
The professionals at the Cottom's Wildlife Removal firm have been cleaning up attics after raccoons, removing bat guano from attics and getting rid of animal feces in attics in Ohio homes since 1986. CWR pest control technicians also provide rodent dropping cleanup, sanitizing and disinfecting services for Ohio homeowners.
After raccoons have invaded an attic, odor removal services are frequently requested by CWR customers. For animal feces removal and attic cleanup services in Columbus, Ohio please call CWR at 614-300-2763.
CWR wildlife damage management specialists safely repair attics, soffits, gutters, siding, shingles, roofs, chimney caps and vents for Ohio homeowners. Get more information about attic repair and decontamination services in Ohio, here.
Spray any urine, droppings, and nesting materials with either a bleach and water solution (1 parts bleach to 9 parts water) or a household disinfectant prepared according to the label instructions for dilution and disinfection time. Soak well. This will inactivate any virus. Use a paper towel or rag to pick up the materials and dispose of them. Read more here.
Raccoon Latrines: Identification and Clean-up – CDC [PDF]
Fill a bucket with hot, soapy water. Feces and material contaminated with raccoon feces should be removed (using a shovel or inverted plastic bag) and burned, buried, or bagged and placed in the trash to be sent to a landfill. Use a damp (but not wet) sponge to wipe the area. Read more here (PDF).
Ohio Division Of Natural Resources Wildlife District Offices
People should always avoid touching or handling sick or dead wild animals. Because Epizootic Hemorrhagic Disease (EHD) affects some white-tailed deer, the Ohio Department Of Natural Resources suggests that Ohioans report sick or dead deer to the Division of Wildlife. Sightings of sick or dead deer should be reported your local Ohio wildlife officer or wildlife district office.
Found An Orphaned Or Injured Baby Wild Animal? [Information From The Humane Society Of The United States]
How to tell if baby animals are orphaned, injured or perfectly fine—and what to do if they need your help
It's common to see baby wild animals outside during spring, as a new generation makes its way into the world. Baby wild animals might seem like they need our help, but unless the animal is truly orphaned or injured, there is no need to rescue them. These tips can help you decide whether to take action.
Signs that a wild animal needs your help
The animal is brought to you by a cat or dog.
There's evidence of bleeding.
The animal has an apparent or obvious broken limb.
A bird is featherless or nearly featherless and on the ground.
The animal is shivering.
There's a dead parent nearby.
The animal is crying and wandering all day long.
If you see any of these signs, find help for the animal. If necessary, safely capture and transport them to the appropriate place for treatment.
Tips for birds, rabbits, squirrels and other species
Whether an animal is orphaned and needs your help depends on their age, species and behavior. Babies of some species are left alone all day and rely on camouflage for protection, while others are tightly supervised by their parents. Read on for descriptions of what's normal for each species.
Baby birds
If baby birds are clearly injured or in imminent danger, contact a licensed wildlife rehabilitator. If featherless or nearly featherless baby birds have fallen from their nest but appear unharmed, put them back in the nest if you can do so without danger to yourself. (It is a myth that birds will abandon their young if a person touches them.)
Fully feathered birds: If the original nest was destroyed or is too high to reach, hang a small, shallow wicker basket close to where the original nest was. Woven stick baskets from garden stores or supermarket floral departments work well; they resemble natural nests and allow rain to pass through so the birds won't drown. Adult birds won't jump into anything they cannot see out of, so make sure the basket is not too deep. Put the fallen babies into the new nest and keep watch from a distance for an hour to make sure the parent birds return to the new nest to feed their chicks. Watch closely, because parent birds can be quite stealthy. If they definitely do not return, contact a licensed wildlife rehabilitator.
Nearly or mostly featherless birds: These birds will become too cold in a makeshift nest, so you must place them in the original nest. If that's not possible, take them to a licensed wildlife rehabilitator. Remember that baby birds do best when raised by their parents or other birds, so try to reunite them with their parents before calling a rehabilitator.
Fledglings: Birds with fully feathered bodies, but short or non-existent tail feathers may be fledglings (adolescent birds who have left the nest). You might see them hopping on the ground, unable to fly. This is normal; birds learn to fly from the ground up! Fledglings might remain on the ground for a few days or even a week, supervised and fed by their parents a few times each hour before they get the hang of flying. You can tell if the fledglings are being fed by watching from a distance to see whether a parent bird flies over to them, usually a few times an hour. You can also look for white-grey feces near the fledgling. Birds defecate after being fed, so the presence of fecal material means that the birds are being cared for. Be sure to keep cats indoors and dogs leashed until the fledglings are old enough to fly. If you are positive that the parents aren't returning to feed the babies, contact a licensed wildlife rehabilitator.
Baby rabbits
Rabbits at least four inches long with open eyes and erect ears and who hop well are independent from their mother and should be allowed to fend for themselves. Uninjured baby rabbits in an intact nest should also be left alone. Although they might look abandoned because their mom isn't around, mother rabbits visit their dependent young only a few times a day to avoid attracting predators. If the nest has been disturbed, lightly cover it with natural materials you find around the nest, like grass, fur or leaves and follow these steps:
Keep all pets out of the area.
Avoid touching the babies, because foreign smells may cause the mother to abandon their young.
Use yarn or string to make a tic-tac-toe pattern over the nest to assess whether the mother is returning to nurse their young. Check back 24 hours later.
If the yarn or string was moved aside, but the nest is still covered with fur, grass or leaves, the mother has returned to nurse the babies.
If the "X" remains undisturbed for 24 hours, contact a licensed wildlife rehabilitator.
Baby squirrels
A squirrel who is nearly full-sized, has a full and fluffy tail and can run, jump and climb is independent. However, if a juvenile squirrel continuously approaches and follows people, their mom is probably gone. In this case, you should contact a rehabilitator because the baby is very hungry and needs care.
There are a few cases where you might need to intervene:
A baby squirrel falls from a nest.
A nest falls from a tree.
A felled tree contains an intact nest.
If the baby and/or their nest fell from the tree today, give the mother squirrel a chance to reclaim their young and relocate them to a new nest. If the baby is uninjured, leave them where they are, leave the area, keep people and pets away and monitor them from a safe distance.
If it's chilly outside or the baby isn't fully furred, place them in a shoebox with something warm underneath (like a heating pad on a low setting or a hot water bottle). Be sure to put a flannel shirt between the baby and the heating device, or they could overheat. Do not cover them with anything or the mother might not be able to find them.
If the babies are not retrieved by dusk, take these steps:
Wearing thick gloves, gather the squirrels and place them inside a thick, soft cloth, such as a cloth diaper or fleece scarf or hat.
Place one of the following items beneath the cloth: A chemical hand warmer inside a sock, a hot water bottle (replace the hot water every 30 minutes) or a heating pad set on the lowest setting. (If the heating pad has no cover, put it inside two pillowcases so the babies don't overheat.)
Place the baby squirrels, cloth and warmer inside a small cardboard box or carrier. Call a wildlife rehabilitator.
Baby deer
People often mistakenly assume that a fawn (baby deer) found alone is orphaned. If the fawn is lying down calmly and quietly, their mother is nearby and they are OK. A doe only visits and nurses their fawn a few times a day to avoid attracting predators. Unless you know that the mother is dead, leave the fawn alone.
Although mother deer are wary of human smells, they still want their babies back. If you already handled the fawn, quickly return the fawn to the exact spot where you found them and leave the area; the mother deer will not show herself until you are gone.
If the fawn is lying on their side or wandering and crying incessantly all day, they probably need help. If this is the case, contact a licensed wildlife rehabilitator.
Baby foxes
Fox kits will often appear unsupervised for long periods while their parents are out hunting for food. They will play like puppies around the den site until the parents decide they're old enough to go on hunting trips. Then they will suddenly disappear. Observe the kits from a distance; if they seem energetic and healthy, leave them alone. If they appear sickly or weak, or if you have reason to believe both parents are dead, contact a licensed wildlife rehabilitator.
Baby opossums
Baby opossums are born as embryos, barely larger than a bee, and spend about two months nursing in their mother's pouch. When they get to be about three to four inches long and start riding around on their mother's back, they may fall off without the mother noticing. As a general rule, if an opossum is over seven inches long (not including the tail), they're old enough to be on their own. If they're less than seven inches long (not including the tail), they are orphaned and you should contact a licensed wildlife rehabilitator.
Baby raccoons
If a baby raccoon has been alone for more than a few hours, they are probably an orphan. Mother raccoons don't let their young out of their sight for long. Put an inverted laundry basket over the baby (with a light weight on top so they cannot push their way out) and monitor them until well into the nighttime hours (raccoons are nocturnal, so the mom should come out at night to reclaim her baby). You can also put the cub in a pet carrier and close the door. Instead of latching it, prop it closed with an angled stick. When the mother returns, she'll run in front of the carrier, push over the stick and the door will pop open.
If the mother does not return, contact a licensed wildlife rehabilitator. In spring and summer, people often set traps in a misguided effort to resolve garbage and other "nuisance" issues. Unfortunately, this approach leads to trapped and killed mothers who leave their starving young behind. If anyone in your neighborhood is setting traps, persuade them to use more humane and effective methods instead.
Baby skunks
If you see a baby skunk (or a line of baby skunks, nose-to-tail) running around without a mother in sight, they could be orphaned. Skunks have poor eyesight, so if something scares the mother and they run off, the babies can quickly lose sight of them.
Monitor the situation to see if the mother rejoins their young. If the babies are on the move, put on gloves and slowly place a plastic laundry basket (with lattice sides) over the babies to keep them in one spot and make it easier for the mother to find them. Do not put a weight on top of the laundry basket.
If the mother returns to her young, she will flip up the basket and get them. If she has trouble doing this, you should lift the basket to let them out. Remember that skunks are very near-sighted, so fast movements can startle them into spraying. If you move slowly and speak softly though, you will not get sprayed. Skunks warn potential predators by stamping their front feet when they're alarmed, so if the mother doesn't do this, you're safe to proceed. If no mother comes to retrieve the young by dawn, contact a licensed wildlife rehabilitator.
Finding help for the animal
Once you're sure the animal needs your help, call a wildlife rehabilitator for assistance. If you're unable to locate a rehabilitator, try contacting an animal shelter, humane society, animal control agency, nature center, state wildlife agency or veterinarian.
Capturing and transporting the animal
Never handle an adult animal without first consulting a wildlife professional. Even small animals can injure you. Once you've contacted someone who can help, describe the animal and their physical condition as accurately as possible.
Unless you are told otherwise, here's how you can make an animal more comfortable for transport while you're waiting for help to arrive:
Put the animal in a safe container. For most songbirds, a brown paper bag is fine for transport. For larger birds or other animals, use a cardboard box or similar container. First, punch holes for air (not while the animal is in the box!) from the inside out and line the box with an old T-shirt or other soft cloth. Then put the animal in the box.
Put on thick gloves and cover the animal with a towel or pillowcase as you scoop them up gently and place them in the container.
Do not give the animal food or water. It could be the wrong food and cause them to choke, trigger serious digestive problems or cause aspiration pneumonia. Many injured animals are in shock and force-feeding can kill them.
Place the container in a warm, dark, quiet place—away from pets, children and all noise (including the TV and the radio)—until you can transport the animal. Keep the container away from direct sunlight, air conditioning or heat.
Transport the animal as soon as possible. Leave the radio off and keep talking to a minimum. Because wild animals aren't accustomed to our voices, they can become very stressed by our noises. If they're injured or orphaned, they're already in a compromised condition. Keep their world dark and quiet to lower their stress level and help keep them alive.
What To Do About Pigeons [Information From The Humane Society Of The United States]
When pigeon flocks grow too large, use these humane methods to control their numbers
From a pigeon's perspective, city living can't be beat. Food and water are readily available. Predators are rare. Plus, there's plenty of free housing. Pigeons find our window ledges, rooftops, bridges, and warehouses to be ideal substitutes for the natural ledges in cliff sides that they have always used as roosting, nesting, and sheltering sites.
When flocks grow too large and become a nuisance, killing the birds is often the first plan of action. But killing pigeons doesn't work, and there are better, non-lethal ways to fix a pigeon problem.
Three steps to humanely solve a pigeon problem
You may just need one or a combination of all three techniques, depending on the size of the pigeon population you're dealing with.
Stop feeding the pigeons (intentionally or not)
Most conflicts with pigeons can be tied at one point or another to feeding, intentionally or otherwise.
Pigeons get fed plenty of handouts and garbage, but there are also well-intentioned pigeon lovers who regularly feed the birds. This does the pigeons more harm than good as the pigeons begin to gather in large numbers, often leading to inhumane and ineffective attempts to reduce their numbers.
When such troubles arise, the best thing for the birds is to reduce feeding gradually over several weeks. The flock will gradually disperse until the remaining number of birds matches what the area can naturally support.
Unintentional food sources
Even when not feeding on purpose, we humans are messy, leaving leftovers and dropped crumbs everywhere. Pigeons hang around town squares, public parks, and other trafficked areas to help themselves to what we leave behind, especially when convenient roosting and nesting sites are nearby. To discourage pigeons from gathering, food attractants need to be cleaned up regularly.
In suburban neighborhoods, too, homeowners may mistakenly feed pigeons or they may be providing food for pigeons inadvertently when feeding their backyard birds by tossing seed on the ground, rather than putting it in birdfeeders. To discourage pigeons visiting your yard, change the type, amount, and timing of feeding. If most of the pigeons fail to move elsewhere, you'll need to stop feeding all birds for a couple weeks. (Don't worry; the birds won't starve.) When you resume feeding, only put out seed in birdfeeders and keep the ground below them cleaned up.
Prevent roosting and nesting
Pigeons look for flat surfaces for roosting and nesting. Encourage them to do these things elsewhere by making flat surfaces unavailable to them. With the correct application of the right product, roosting structures can be rendered virtually pigeon-free.
There are a variety of devices that can be used to change flat nesting spots into inaccessible spaces and prevent pigeons from roosting in areas where they're not wanted. We suggest the following, all of which can be ordered from birdbarrier.com or 800-NO-BIRDS.com:
Attach wood or metal sheathing (Birdslides) at a 45- to 60-degree angle over window ledges and other flat surfaces to keep pigeons from landing.
Install "bird wires" to keep pigeons off ledges, railings, awnings, and rooftops.
Use netting to keep pigeons out of large areas.
NEVER use polybutylene gel. Sticky gel repellents made from polybutene can harm all birds and any animal that comes in contact with it. The HSUS strongly recommends that these dangerous repellents be avoided at all costs. The feathers of any bird who comes into contact with the dense, sticky gel will become damaged, interfering with their ability to fly and to stay water-proofed.
These gel repellents are not selective. Other birds are likely to land on the gel, get stuck, and die a slow death. The polybutene gels are particularly harmful to smaller species.
Limit flock size with pigeon birth control
As year-round nesters, a pair of pigeons can raise a dozen or more young each year. If pigeons have plenty of food and space, their numbers can quickly increase. Fortunately, a bird contraceptive is available that limits growth of pigeon flocks.
Ovocontrol bird food is "birth control" for pigeons. Innolytics, LLC
Known as OvoControl, pigeon contraception comes in the form of a kibble-type food, which causes birds who eat it regularly to lay eggs that fail to develop. In March 2010, OvoControl received landmark general-use approval by the Environmental Protection Agency. Visit ovocontrol.com to learn more about the product and how you can implement an OvoControl program.
Combined with exclusion and other humane measures to discourage roosting and nesting, OvoControl effectively reduces hatching rates in pigeons, thereby limiting flock sizes and diminishing problems associated with large numbers of pigeons.
Business owners who pledge to use OvoControl instead of lethal methods can download our free signage and educational materials. In Hawaii, where pigeons can be a major problem, businesses that have started OvoControl programs have seen a noticeable decrease in pigeon numbers.
Pigeon droppings and public health
Disease risk from pigeon droppings is often used to justify killing pigeons, but fresh bird droppings have not been shown to present a health risk.
People may fear that pigeons roosting or nesting nearby, or more specifically the droppings that accompany such sites, are a health threat. These fears usually focus on histoplasmosis, a fungus that grows in dropping-enriched soil, and on diseases caused by Cryptococcus and Salmonella. However, there is little evidence linking pigeons directly to human infections.
Histoplasmosis fungus is common in the eastern and central U.S. As many as 80 percent of people tested in these areas prove to have already been exposed to the fungus without knowing.
According to the Centers for Disease Control, fresh bird droppings on surfaces such as sidewalks and windowsills have not been shown to present a health risk. People should avoid contact with any animal droppings, of course, and ordinary good hygiene, such as washing hands and leaving shoes at the door, are adequate prevention if you accidentally come into contact with animal droppings.
Why killing pigeons doesn't work
Killing, by any means, isn't just cruel; it fails to solve the root cause of the problem, leading to an endless cycle of killing.
The misleadingly marketed Avitrol brand poison is used to kill pigeons. Promoted as a "flock frightening agent" or "repellent", it is in fact a nervous system poison. Birds who consume it suffer convulsions and die. It is not only traumatic for the birds to die this way, but also for any people—especially children—who witness or try to help the dying birds.
Users claim that the distressed behavior of poisoned birds frightens other flock members away. Yet any "frightening" effect of Avitrol on surviving birds is very short-lived, because remaining birds return quickly and reproduce. Taking a small subset out of the population really doesn't accomplish much other than opening up niche space for other birds to fill. The end result of the use of Avitrol or other lethal pigeon control methods is an endless cycle of unnecessary killing.
The HSUS also opposes the common practice of trapping and removing pigeons. Trapped birds are typically killed, and if not killed immediately, may be used in cruel pigeon shoots or live the remainder of their lives in permanent confinement. The removal of birds without getting at the cause of the conflict is a woefully inadequate approach to problem management.
What To Do About Crows [Information From The Humane Society Of The United States]
Crows in the trash, crows in roosts—these unmistakable black birds are now common residents of city and town
Crows may be intelligent because, like us and other smart species, they are very social. The groups of crows in your backyard are extended families who share food and look out for each other. Some young crows help their parents care for younger siblings before breeding themselves. Crows work together to mob a threatening predator or another crow attempting to move in on the group's territory.
A crow family can eat 40,000 grubs, caterpillars, armyworms and other insects in one nesting season. That's a lot of insects many gardeners and farmers consider pests. These good environmental citizens also transport and store seeds, thus contributing to forest renewal. And their habit of eating carrion makes them part of nature's cleanup crew.
What attracts crows to urban areas?
American crows use almost any combination of woodland, farmland, orchard or suburban neighborhood. Like other common urban wild neighbors, they thrive in the habitat we create. Crows increased and spread when Europeans colonized North America. As agriculture and urbanization spread, so did crows.
Crows' sociability can be hard on human neighbors where large winter roosts form in cities and towns. Crows from colder places migrate to join crows who live near the roost year-round. Communal roosts offer protection. But the noise and mess of a large winter roost in town make for hard feelings among human neighbors. Fortunately, these conflicts can be resolved humanely.
Animal Proof Trash Cans on Amazon.com
Common conflicts and solutions
For all conflicts with crows, making the area where they are unwelcome less attractive to them will help. Trash, food waste in open compost, pet food and food put out for other wild species are all attractive to crows. Especially important: Keep crows out of food sources.
Secure trash.
Cover compost or only compost yard waste; leaving out food scraps.
Feed pets indoors or monitor them if fed outdoors and promptly remove food when they finish eating.
Feed small songbirds with feeders that exclude large birds and clean up spillage under feeders promptly and regularly.
Crows are omnivores (eats both plant and animal foods) and will sometimes come to eat one food, such as insects, but then stay around or return to eat another, such as garden produce. You won't be able to remove all potential crow food sources, but if you remove the easy meal, the crows may decide to look elsewhere.
Because crows are so smart, you'll need to use a variety of techniques simultaneously and start the control program before birds become accustomed to feeding or roosting where you do not want them. Convincing them to leave once they are settled in is more difficult.
Crows in trash
Keeping crows out of trash is easy: Consistently use intact and secure trash containers with tight-fitting lids. Trash bags or overfilled bins will invariably attract crows, who easily open the bags to retrieve what they want.
Crows visit trash by day; trash that is scattered overnight is the work of others—dogs or, perhaps, raccoons—but may be unjustly blamed on the crows who the homeowner sees in the morning eating the leftovers after the real culprits are gone. No matter who gets in the trash, simply putting lids on is enough to keep out crows.
Large winter roosts—the conflicts
Crows began abandoning rural roosts for towns and cities in the 1960s. Now many crows commute to the country, visiting cornfields and pastures to forage by day before returning in late afternoon to urban roosts.
Some crow roosts formed at the edge of urban areas for years and has been simply engulfed by spreading development. But that's not the case for all roosts. Some towns have been adopted by large crow roosts, even some old downtown areas.
Why have crows made this shift? Mainly because we create excellent crow habitat with ample food nearby. Other factors that may contribute:
Crows aren't shot in urban areas.
Groups of tall trees are more common than in farmland.
Our buildings and paving make cities warmer than rural areas.
Artificial lighting may make crows feel safer from owls, their main nocturnal predator.
The same roost locations have been used for decades or longer. One in New York has been used for over 125 years. Roosts can host from a few hundred birds to hundreds of thousands.
Crows form large roosts in late fall and stay until early spring when they return to their breeding territories. These winter roosts can be especially large in places where northern migrants augment local crow populations. Northern locations in the United States and Canada may have large roosts only in the summer and fall because these birds migrate south for the winter. There are some year-round roosts in California.
People complain about the mess and noise around urban roosts. Droppings on walkways and vehicles are an aggravation. The crows' loud cawing and calling at roosts tend to be noisiest right before dawn—even on weekends.
Large crow roosts—the solutions
Humane harassment can move crows who roost in undesirable locations. The jury is still out on when this works best, but we feel it is when roosts are just beginning to form for the season, before crows are well settled in. Roosts are also easier to relocate when they are just being established at a new location—before the crows have spent many seasons using the same spot. So, start as soon as it's clear there's going to be a conflict.
Successful programs combine techniques. Used together, each of these techniques reinforce the others to convince crows the roost location is unsafe:
Recorded crow distress calls.
Pyrotechnics (loud noisemakers that sound like fireworks).
Lasers designed to harass birds.
Hanging effigies (fake models) of dead crows (never the real thing)—a few fake Halloween décor crows prove surprisingly effective.
One community moved a neighborhood roost by just having people out on the sidewalks with noisemakers at dusk for the better part of a week. Apparently, the crows did not like the party-going human neighbors every night.
Reducing outdoor lighting may make the area less attractive to crows. Turn off outdoor lights, use lights aimed towards the ground, or use a motion-trigger that only turns on lights when someone enters the area. While recognizing the value of mature trees, selective thinning and pruning trees can reduce crow use.
For a more in-depth guide, download Pennsylvania State University's Managing Urban Crow Roosts [PDF].
Pushed from their roost, crows generally move to the nearest similar site. There will still be crows in the community, just not in the objectionable roost location. Allow the crows a roost site with a stand of tall trees in the same general area as the site where they are unwelcome and do not harass them there so they will leave a problem site more readily.
Crows in gardens
Crows are sometimes blamed for garden damage caused by other animals. Crows hanging around to eat insects and grubs may or may not also help themselves to fruits and vegetables. On balance, the benefits from crows eating insects, grubs and waste grain may outweigh a little damage.
You can ban crows from small gardens.
Drape bird netting over the plants or suspend it from a framework built around the plants.
Protect seedlings with fabric row covers.
Protect ripening corn by placing a paper cup or bag over each ear after the silk has turned brown.
Set Mylar® streamers strategically throughout the garden.
Stretch cord, fishing line, or fine wire above gardens in a grid or parallel lines—at least a little higher than the gardener's hat for safety. The stakes supporting tomatoes can support the wire. Reflective tape or other highly visible material will help both birds and gardeners see and avoid the lines.
As long as crows have enjoyed our tasty crops and produce, we have been trying to frighten them away. What have we learned?
Birds can't hear ultrasonic sounds. Devices supposed to scare birds away with ultrasonic sounds don't work.
Birds are not fooled by plastic owls and inflatable snakes for long.
Effigies (fake models) that move realistically may work for a little while.
Crows avoid effigies of dead crows (never the real thing). Halloween décor crows, hung upside down with the wings spread, usually work.
Highly reflective Mylar® tape or bird tape, hung in streamers or twisted and strung to make a temporary fence can frighten crows away.
Devices with reflective surfaces that spin or flap in the breeze can frighten crows. Buy them or make yourself—string up aluminum pie tins or discarded CDs around vulnerable plants or tie helium-filled Mylar party balloons around your garden.
Playing recorded crow distress calls disperses crows.
Farmers use gas-powered exploders and pyrotechnics. But these are too noisy unless your garden is far from neighbors. They may also be restricted or forbidden by local authorities.
A garden hose with a motion sensor becomes an oscillating sprinkler triggered by an animal's arrival. The surprise of a sudden spray will frighten crows initially—until they learn there is no real harm.
All frightening devices work better when used consistently, moved around so crows don't get used to them and combined with other devices.
Competition with other backyard birds
Food put out to attract songbirds will also be attractive to crows. Backyard birdfeeders who want to attract only smaller birds can simply use feeders that exclude larger birds.
Public health and crows
West Nile virus: Crows became associated with West Nile virus when health authorities used them as an "indicator" species. Crows and their relatives are especially sensitive to this disease. Once infected, very few crows survive. So, authorities asked the public to report dead crows so they would know when West Nile appeared in a new area. West Nile virus is now found throughout the lower 48 states and Puerto Rico.
Unfortunately, many people got the mistaken impression that crows give people West Nile, which is not the case. Mosquitoes spread West Nile virus. Health authorities recommend controlling mosquito populations and avoiding mosquito bites to prevent West Nile virus.
Histoplasmosis: Dropping accumulation under roosts can encourage histoplasmosis fungus to grow in the soil. When disturbed, spores can become airborne and people can breathe them in. Most people have no apparent ill effects. A few develop respiratory disease and a very few develop disease of other organs.
Histoplasmosis fungus is common in the eastern and central US. As many as 80 percent of people tested in these areas prove to have already been exposed without knowing.
People diagnosed with this disease typically work where bird or bat droppings have accumulated over a period of years (poultry farmers, contractors clearing old buildings) or explore caves where bats lived. Despite the very small risk of harm to people, histoplasmosis has been used to justify killing crows where the nuisance of large roosts annoys people.
Why poison is not the answer
A few communities looking for a quick fix to crow roost nuisance killed crows with slow-acting poison DRC-1339. Killing crows doesn't cause the survivors to leave town. It merely allows more of the next season's young to survive due to less competition for resources. Changes in crow numbers are very short term.
DRC-1339 kills by damaging the kidney and heart. Poisoned birds die slowly over about one to three days. It is inhumane to the crows, who are killed merely for being inconvenient. And the poison may sicken or kill other animals (called non-target animals). Crows hide food for later. Any animal can find and eat these caches, not just crows.
Lancaster, Pennsylvania, was one such community that reached for a quick fix. Local people and bird lovers nationally voiced their strong objections to poisoning crows. Penn State researchers looked at what happened after the poisoning and found that it did not work.
Local officials abandoned plans to poison again the next year and worked with local crow lovers to start a humane harassment program instead. Volunteers from the ranks of local people who condemned the poisoning assist with the seasonal harassment work.
In its first season, the program successfully moved the large downtown roost from its prior problematic site. The crows shifted to a more industrial area; a less problematic site. By the end of its second season, the program moved crows out of most of the city to roosts outside Lancaster.
Wildlife Relocation Options In Ohio
Wild animal babies in Ohio are unintentionally orphaned and too often die of starvation, because their mother is trapped and removed. People and wildlife can peacefully coexist in most situations. However, there may be times when conflicts arise. Get a phone number for a local wildlife rescue, permitted wildlife rehabilitation services or a wildlife rehabilitation center near you in Ohio, here. Hire a wildlife removal professional in Ohio that uses humane and effective practices to remove raccoons, bats, groundhogs, birds and skunks. Download the "Humane Wildlife Conflict Resolution Guide" from The Humane Society of the United States, here.
Conservation Effort From Clearcreek Elementary Students Provides Bat Houses For Local Park
Published by Dayton 24/7 Now on March 6, 2021
Written By Tiffany L. Denen
LEBANON, Ohio (WKEF/WRGT) — After a months-long project, Clearcreek Elementary first-grade students gathered at Lebanon Armco Park on Saturday on a very special conservation mission.
Starting in Fall 2020, the first-grade students began learning all about bats and how important they are to the environment. "They learned that bats are not the scary creatures that we have a tendency to think about them as," explained their teacher, Laura Parlett. Two in the students in particular, Rian and Declan, were thrilled to share some of the knowledge they had learned, explaining that they eat bugs "which are very bad". Parlett added that she had been teaching her students about how bats are seed dispersers and also help keep the insect population down.
After learning about bats and how important they are, the students wanted to help out and make a difference, so the school reached out to see if any nearby parks needed any bat houses – and the students were thrilled to donate them. "The students took it to the next level and did a conservation action by getting bat houses built," explained Melissa Proffitt, the education and communications specialist for Warren County Soil and Water Conservation District.
Throughout Ohio, there are ten different species of bats, six of which hibernate in the area through the cold winter months. Now that spring is starting to return, they will be coming out of their hibernation caves and looking for roosts and shelters. The new bat houses are going to help give bats that shelter that they need, especially during the time of year when they need it most. Plus, as Proffitt pointed out, it helps reduce the human wildlife conflicts. "People will sometimes get bats in their attics or in their barns where they don't want the, so having a bat house – an alternative structure – that we do want the bats in really helps to reduce those conflicts," she said.
Thanks to the effort of the students, Lebanon Armco Park has 19 new bat houses hung on poles around the property. And the Warren County Park District Nature Programs is inviting people to come visit as part of a scavenger hunt and see if they can find them all. "Just make sure to look with your eyes but please do not disturb," said Proffitt.
Thanks to the effort of the students, Lebanon Armco Park has 19 new bat houses hung on poles around the property. And the Warren County Park District Nature Programs is inviting people to come visit as part of a scavenger hunt and see if they can find them all. "Just make sure to look with your eyes but please do not disturb," said Proffitt.
The Cottom's Wildlife Removal company of Ohio is trying to help protect bats in Ohio and to spread awareness – and so can you. Learn what is being done and how you can help protect bats and their habitats!
With terrifying threats like White Nose Syndrome, bats face a tremendous fight for survival. Populations are declining worldwide at an alarming rate – some species are becoming so rare they are hardly ever seen at all. Bats need all the help they can get and Conserve Wildlife Foundation (CWF) offers some simple ways to get involved and make a difference.
Since there are so many different threats facing bats, there are also many ways that they can be helped through conservation initiatives. Organizations all over the world are working to protect groups of bat species in different regions; the most effective methods of conservation will vary depending on the region and the biggest issues there.
The reduction of habitat loss is key to saving bats. Bat surveys should be undertaken before altering an area of forest of caves, and this should be implemented around the world on a local scale. Initiatives are also underway to reduce harmful tourism activities in bat caves and encourage the use of bat boxes in forests and gardens.
Bats are legally protected. Legal protection of bats varies widely around the globe. In the U.K. and most European countries, all bat species and their roosts are protected – including bats who have roosted in buildings – by domestic and international legislation. In North America, bats have protections in their natural environments and some laws protect bats when they occupy a home or building. However, several species of conservation concern such as little brown bats and Florida bonneted bats might be found in man-made structures.
Be sure to check with your local wildlife agency about restrictions on timing or method of removal.
We need bats if we want healthy and diverse ecosystems filled with a variety of organisms. Many bats feast on insects, some pollinate plants, and some bats spread seeds, too.
Try some of these ideas to help conserve bats.
Learn more about bats. One of the most important things you can do to help bats is to learn more about them and share what you learn with your friends and family. Check out these fun Bativities for some ideas. Bat Conservation International and BatWeek.org both provide a lot of information about bats and ways you can help.
Use iNaturalist. With an app on your smartphone, you can take part in citizen science by observing bats in a park or in your own backyard. Learn more about iNaturalist and add your own observations.
Build a bat house. Bats are running out of good places to roost, rest, and raise young. A backyard bat house will provide shelter they desperately need in your neighborhood or community. In national parks, staff work to protect natural habitat for bats to live in instead of building bat houses. Learn more.
In Parks
Stay out of caves when directed. The bats at risk for WNS often hibernate or raise young in caves. They need to be undisturbed so they can rest and raise their young. Also, it is actually unlawful to enter most caves on public lands.
Decontaminate before going in a cave. It may be possible for humans to spread WNS from one cave into another. Be sure to listen to rangers' directions for cleaning (or leaving behind) your shoes, backpack, and gear before entering a cave.
Tell a ranger if you see bats acting strangely. Rangers can take steps to protect both bats and people if a bat is behaving in an unusual way.
And no matter where you are, you can celebrate Bat Week in October every year!
March through September is the active time for bats in Ohio. Learn about monitoring and protecting Ohio bats.
A great way to help bat populations in Ohio is to build a bat house and count the number of bats that use the house. Being mindful and minimizing the disturbance of bat habitats or places that bats are known to hibernate helps their over-all population and ecosystems. A big factor that increases bat populations is to avoid the possible spread of White Nose Syndrome by people. Bats slowly reproduce, female bats typically have one pup at a time, so it is important for us to do whatever we can to protect our bats.
Bat roost monitoring surveys are used to identify locations where bat maternity colonies are roosting and determine the approximate size of the colonies. The data helps to understand where the bats are living and how the populations are changing. Little brown bats used to be the most common species of bats in Ohio; their population has declined by as much as 99% according to winter hibernacula counts.
If you have a colony of bats in your house, normally in the attic, it would be good a time to call a professional company to come to your house and carry out an exclusion. The most popular and recommended form of exclusion is a one-way door. This allows for the bats to leave on their own, as they would to forage at night, and then they would not able to get back into the house. When installing a one- way door, it is advised that you also bat-proof your house. Bat-proofing is a way to close off all possible entrances in a house. Due to the small areas that bats can fit into, it is best to have a professional do this.
If a bat is in your house and you have any question about whether the bat has been in contact with people or pets, you will want to have the bat captured and tested. Call your local health department and animal control agency for assistance. If professional assistance is not available, please follow the steps described in this video to safely capture the bat and save it for testing.
It is important to know that bats are protected in Ohio. Bat species are listed on both state and federal endangered species lists. Some bat species in  Ohio are listed on both state and federal endangered species lists. Federally listed threatened and endangered bat species are of importance to caves and mines. Six North American bats are listed as endangered under the Endangered Species Act of 1973.  All of these federally listed species are dependent upon caves or abandoned mines during all or part of the year.
These include the Florida Bonneted Bat, Gray bat, Indiana bat, Ozark Big-Eared Bat, Virginia Big-Eared Bat, Lesser Long-Nosed Bat and the Mexican Long-Nosed Bat.
Four species — the tri-colored bat, the little brown bat, the Indiana bat and the northern long-eared bat — are on Ohio's endangered list. The northern long-eared bat is federally listed as a threatened species under the Endangered Species Act. The Indiana bat was added to the U.S. list of endangered and threatened wildlife and plants on March 11, 1967 due to drastic declines in the species' population. Under the Endangered Species Act, listing protects the Indiana bat from take (harming, harassing, killing) and requires Federal agencies to work to conserve it.
New Bat Protection Rules Backed By Ohio Energy Group, Environmentalist Organization
Published by Ideastream Public Media on January 18, 2016
Written by Brian Bull
New federal rules will go into effect next month to protect a bat species ravaged by a fungal disease over the past decade. And two Ohio groups back the protections issued by the U.S. Fish & Wildlife Service.
With 30 states including Ohio reporting White Nose Syndrome, the quandary has been how to protect bat populations while not overly restricting development and forestry practices.
The new regulations make it illegal to harass, harm, or kill bats in affected areas. They also ban tree-removal within a quarter mile of such areas, and protect trees where young bats roost in June and July.
Shawn Bennett with the Ohio Oil and Gas Association (OOGA), supports the new federal rules. He says they allow – under certain conditions — for clearing land for pipeline development, among other energy activities.
"In Ohio, industries will still be required to do bat surveys to ensure they are not impacting areas where bats reside, and the rule still will not allow for oil and gas industries or any others to clear trees during summer months if near known roost sites."
The Great Lakes Chapter of the National Wildlife Federation, also backs the rules. The NWF's Frank Szollosi says bats devour many pests harmful to crops in the state.
"White Nose Syndrome itself is across all of Ohio's 88 counties," says Szollois. "It's important not just to oil and gas, real estate developers, but I would think that Ohio agriculture would be supportive of efforts to protect a species that provides such incredible ecosystem services to farmers."
But other industry and environmental groups aren't as receptive. The Independent Petroleum Association of America says the rules will drive up costs and hurt production, while the Center for Biological Diversity says it may challenge the regulations in court as insufficient protection for the mammals.
White Nose Syndrome disrupts the hibernation cycle of several species of bats, which has caused many to starve in the winter months. The northern long-eared bat has been particularly hit, with mortality rates hitting 90 to 100 percent of those affected, including those in Summit County's Liberty Park.
The new regulations take effect February 16th.
Ohio Bat Working Group
Communication and collaboration between bat-minded people.
Coexisting with Bats
Bats are critical to the health of natural ecosystems and human economies around the world, providing seed dispersal, pollination, and pest control services. Unfortunately, bats are often viewed in a negative light, stuck in a stigma that has been created and reinforced by literary and cinematic culture. In truth, bats are harmless and highly beneficial, and coexistence between bats and humans is critical to maintain the ecosystem services bats provide.
Like most wild animals, bats prefer to be left alone and avoid human contact. However, there are times when bats and humans cross paths and conflict or questions arise. The below resources are provided to help in such situations.
Bats in Buildings
The most effective solution to remove unwanted bats from a building is exclusion. This method involves placing one-way exclusion devices over the main access point(s) of the building. In Ohio, it is unlawful to perform an exclusion between May 16-July 31 if there are 15 or more bats inside a structure. A colony of 15 or more bats is likely a maternity colony (females with young), so exclusion is restricted in order to protect flightless bat pups. In situations where human health and safety is at risk, a property owner/designee may seek written authorization from the Chief of the Division of Wildlife to perform an exclusion during the restricted period. Visit here for more information.
What to do if you find a bat:
During the summer, bats are out flying almost every night hunting insects. Seeing bats flying around at dusk and throughout the night, especially under lights, is normal behavior. If you find a bat on the ground that appears sick, injured, or in need of care, contact a wildlife rehabilitator. Wildlife rehabilitators are trained professionals that care for wildlife until they can be returned to the wild.
Ohio Wildlife Rehabilitators in Ohio
Bats and Diseases
Bats are meticulous groomers and should never be mistaken for dirty animals. However, bats, like most mammals, can contract the rabies virus (though few ever do). Bats are also not alone from other wild animals in being a potential source of human disease. Please visit the below sites for more information on bats and diseases.
Rabies (the following information is from the Centers for Disease Control and Prevention)
Bats and Covid-19
Bats and histoplasmosis (the following information is from the Centers for Disease Control and Prevention)
10 Ways to Be A Friend to Bats [Information From The U.S. Fish and Wildlife Service – Midwest Region Endangered Species]
Be a citizen scientist. Reduce pesticide use. Join a bat conservation organization. Your steps can make a difference.
Be a bat ambassador!
Reduce pesticides
Promote natural bat habitat
Protect water quality
Put up a bat house
Be a citizen scientist
Avoid disturbing bats
Safely remove or exclude bats
Help out
Find out more
1. Be a bat ambassador!
Learn more about bats, and share what you learn with family or friends. Bats get a bad rap and we need your help dispelling myths about bats and helping people learn about these fascinating and beneficial animals. Spread the word … bats aren't scary!
2. Reduce pesticides
All of the bats that live in the Midwest eat insects – a single bat can eat up to 3,000 insects in a night! Bats are primary predators of night-flying insects, including many pest species. Feed a hungry bat by minimizing the use of pesticides in your lawn and garden.
3. Promote natural bat habitat
Around your home leave dead and dying trees where they don't create a hazard … these are favored roosting sites for bats.
4. Protect water quality
Protect streams and wetlands to provide clean water sources and good foraging areas for bats.
5. Put up a bat house.
Instructions can be found on Bat Conservation International's website at www.batcon.org/resources/getting-involved/bat-houses
6. Be a citizen scientist.
Many Midwestern States have bat-related citizen science projects. Examples are acoustic bat monitoring and summer bat roost counts. Contact the natural resource agency in your state to learn what is available.
7. Avoid disturbing bats.
Stay out of caves and mines where bats are hibernating in winter. If a bat is disturbed during hibernation, it may arouse and become active. This increased activity can lead to starvation if the bat's fat reserves are used up before winter is over.
8. Safely remove or exclude bats
If a bat accidently flies into your home, try to remove it safely without harming the bat. If bats take up residence in your home, use humane methods to exclude the bats. If you contact a professional to help with bat exclusion, be sure to ask them if they use humane methods. Safe removal methods can be found on the Organization for Bat Conservation website at batconservation.org/learn/bat-in-your-house/. Safe and humane exclusion methods can also be found on their website at batconservation.org/learn/nuisance-bats/.
9. Help out
Join an organization that focuses on bat conservation.
10. Find out more
Find out more about white-nose syndrome, a disease that has killed millions of bats, and help to avoid possible spread of WNS by humans.
Endangered Bat Species In Ohio Means No Tree Cutting
If you want to cut down a tree, April to October is probably the wrong time to do so.
Published by the Tribune Chronicle on April 25, 2021
Written by Nathanael Hawthorne
If you want to cut down a tree, April to October is probably the wrong time to do so.
That is according to Sarah Stankavich, bat survey coordinator with the Ohio Department of Natural Resources.
Various endangered species of bats are using trees to nest during that time, she said. By cutting down trees, it could be detrimental to the already dwindling species that call Ohio home.
Four species — the tri-colored bat, the little brown bat, the Indiana bat and the northern long-eared bat — are on the state's endangered list. The northern long-eared also is on the federal endangered list.
From April 1 until Oct. 1, ODNR encourages that trees not be chopped because it not only removes the bats' habitat, but it could kill bats sleeping in the trees. If a tree is cut and bats are killed, ODNR can go after those in violation, Stankavich said.
"If someone cuts down a tree and harms these species, we could pursue restitution charges against that person. It's kind of 'cut at your own risk,'" she said.
Stankavich said 10 species of bats are found in Ohio.
Expert Wildlife Trapping & Animal Removal Services For Cleveland And Northern Ohio Homeowners And Businesses – Call 440-236-8114 24/7
Call 440-236-8114 day or night to schedule an inspection and to talk with a licensed and certified wildlife control expert. CWR pest control technicians are experts at raccoon, bat, skunk, squirrel, bird and mice trapping, removal and prevention in Cleveland, Ohio.
Ohio Wildlife Information And Wildlife Services
Division of Wildlife | Ohio Department of Natural Resources
A department of incredible diversity, ODNR owns and manages more than 800,000 acres of land, including 75 state parks, 24 state forests, 138 state nature preserves, and 150 wildlife areas.
The Division of Wildlife's mission is to conserve and improve fish and wildlife resources and their habitats for sustainable use and appreciation by all.
Customer Service
1-800-WILDLIFE (945-3543)
wildinfo@dnr.ohio.gov
Monday – Friday 8AM – 5PM EST
Report a Wildlife Violation
1-800-POACHER (762-2437)
Report online
State Headquarters
2045 Morse Road
Building G
Columbus, OH, 43229
1-800-WILDLIFE (945-3543)
Ohio Division of Wildlife On Facebook
Information On Wildlife Services In Ohio From The ODNR
The Ohio Department of Natural Resources (ODNR) is the Ohio state government agency charged with ensuring "a balance between wise use and protection of our natural resources for the benefit of all." Ohio wildlife officials rescue injured bald eagles.
ODNR regulates the oil and gas industry, the mining industry, hunting and fishing, and dams, while maintaining natural resources such as state parks, state nature preserves, state wildlife areas, state forests, and state waterways. It was created in 1949 by the Ohio Legislature.
In May of 2021, the Ohio Department of Natural Resources and the Department of Mental Health kicked off Mental Health Awareness month by pairing up to create a new initiative called "Thrive Outside."
The ODNR Division of Wildlife stocked more that 40 million sport fish in Ohio's waters in 2020, including channel catfish, walleye, steelhead, saugeye, muskellunge, brown trout, rainbow trout, blue catfish, and hybrid striped bass.
In addition, ODNR licenses all hunting, fishing, and watercraft in the state and is responsible for overseeing and permitting all mineral extraction, monitoring dam safety, managing water resources, coordinating the activity of Ohio's 88 county soil and water conservation districts, mapping the state's major geologic structures and mineral resources, and promoting recycling and litter prevention through grant programs in local communities.
Wildlife Services State Offices – USDA APHIS
U.S. Department Of Agriculture – Animal and Plant Health Inspection Service
Wildlife Services State Director: Andrew J. Montoney, Ohio
4469 Professional Parkway
Groveport, OH 43125
Phone: 614-993-3444
FAX: 614-836-5597
Toll-Free Number: 1-866-4USDAWS
(1-866-487-3297)
Andrew.j.montoney@aphis.usda.gov
www.aphis.usda.gov/wildlife-damage/
USDA Resolves Wildlife Conflicts in Ohio
Every day, the Wildlife Services (WS) program in Ohio helps citizens, organizations, industries, and Government agencies resolve conflicts with wildlife to protect agriculture, other property, and natural resources, and to safeguard human health and safety. WS' professional wildlife biologists and specialists implement effective, selective, and responsible strategies that value wildlife, the environment, and the resources being protected. WS manages wildlife damage according to its public trust stewardship responsibilities as a Federal natural resource management program. The program supports the North American Model of Wildlife Conservation, based on the principle that wildlife resources are owned collectively and held in trust by Government for the benefit of present and future generations.
WS oversees a multitude of programs and projects within Ohio to resolve human/wildlife conflicts. WS works on airports to prevent aircraft-wildlife collisions. WS conducts disease surveillance to monitor wildlife diseases that threaten the health of people, pets, livestock, and wildlife. WS provides leadership and is a member of the Ohio Rabies Taskforce, and works year-round to stop raccoon variant rabies (RVR) from spreading westward and to eliminate the disease from the State.
Ohio's livestock producers and crop farmers rely on WS' expertise in resolving conflicts with wildlife such as coyotes, black vultures, feral swine, and blackbirds. As a member of the Great Lakes Restoration Initiative Task Force, WS-Ohio works to reduce predation on threatened species of turtles, manage mute swans to support trumpeter swan introduction and eliminate feral swine populations to protect natural resources and agriculture in the Lake Erie Region of Ohio. WS works with local communities to reduce wildlife conflicts in urban areas.
Download the full report in PDF format,  here.
The Ohio Wildlife Center offers humane pest control and animal rehabilitation services while fostering awareness and appreciation for Ohio's native wildlife through rehabilitation, education and wildlife health studies.
Ohio Wildlife Center
Education & Administration
Business calls only. Scheduled programs.
6131 Cook Rd
Powell, Ohio 43065
614-734- 9453
Ohio Wildlife Center's Hospital
Animal Admissions
2661 Billingsley Rd
Columbus, Ohio 43235
614-793-9453
Mon-Fri, 9am – 5pm
Sat-Sun 9am – 3pm
The state's largest, donation-supported Wildlife Hospital with on-site veterinary care, treating more than 6,000 patients each year representing more than 150 species from more than 60 of Ohio's 88 counties.
A 20-acre outdoor Education Center with more than 50 Animal Ambassadors that greet visitors during our public events, camps and group programming.
SCRAM! Wildlife Control, a fee-for-service solution for human-wildlife conflicts to assist central Ohio home and business owners with access to humane wildlife eviction and exclusion services. SCRAM! has operated since 2001.
Wildlife assistance for the public via social media and phone for step-by-step guidance with wildlife issues and questions.
Volunteer and internship opportunities – more than 250 volunteers annually participate in volunteer services in animal care, education programming, events and administrative support.
U.S. Fish and Wildlife Service | Ohio Field Office
Midwest Region – Ohio Ecological Services Office
4625 Morse Road, Suite 104
Columbus, OH 43230
phone: 614-416-8993
e-mail: ohio@fws.gov
www.fws.gov/midwest/ohio/
The service works with public and private entities to conserve and restore Ohio's endangered species, migratory birds, wetlands, and other important fish and wildlife resources.
The Ohio Field Office is the home of the Fish and Wildlife Service, Ecological Services Division, for the state of Ohio. They cover projects on or affecting all the land and water within Ohio as well as the western basin of Lake Erie.
The mission of the Fish and Wildlife Service is "working with others, to conserve, protect and enhance fish, wildlife, and plants and their habitats for the continuing benefit of the American people." The Ohio Field Office uses that mission statement to guide all their our activities.
Ohio Wildlife Field Guides And Backyard Wildlife [Download PDFs From The Ohio Department Of Natural Resources]
This list of mammals of Ohio includes a total of 70 mammal species recorded in the state of Ohio. Of these, three (the American black bear, Indiana bat, and Allegheny woodrat) are listed as endangered in the state; four (the brown rat, black rat, house mouse, and wild boar) are introduced; two (the gray bat and Mexican free-tailed bat) are considered accidental; and eight (the American bison, elk, fisher cougar, Canada lynx, gray wolf, American marten, and wolverine) have been extirpated from the state. Read more here.
Raccoons In Ohio [From The Ohio Department Of Health]
Raccoons can be found throughout the state and in all habitat types, with the majority being found in northwestern and central Ohio along rivers and streams bordering farmland habitats. They have also moved into suburban and urban areas and can live almost any place where there is food for them to eat and a den to serve as shelter. Many of them live, temporarily at least, in drain tiles and sewer systems. Raccoons defecate in communal sites called latrines. They are nocturnal and are up and about during the dark hours of the night. Even though raccoons do not really hibernate, they can sleep for days, and even weeks at a time, during the cold winter months. Read more here.