Call 614-300-2763 To Request Humane Groundhog Trapping And Removal Services In Columbus And Franklin County, Ohio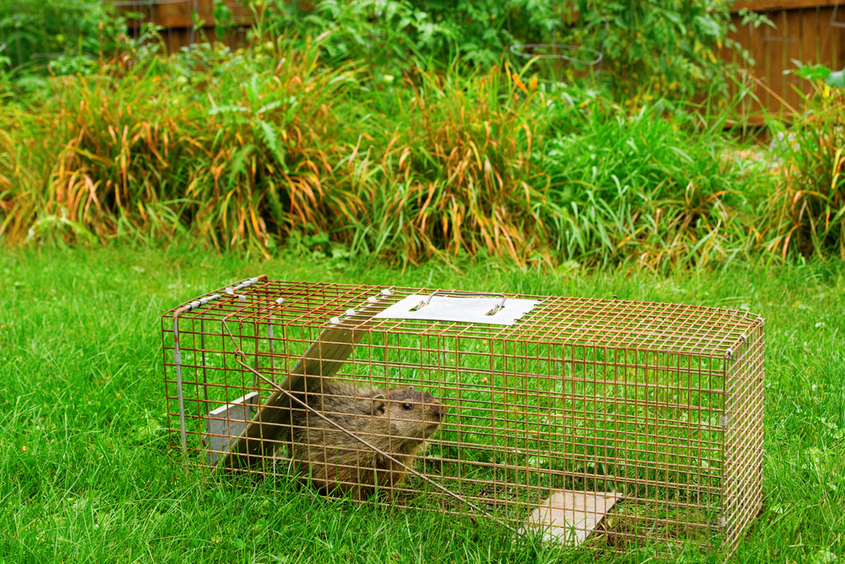 Call 614-300-2763 to schedule an inspection of your yard and property. After the inspection has been completed, the CWR groundhog removal specialist will provide you with a quote for your approval, to complete the work.
Call 614-300-2763 To Get Rid Of Groundhogs Under Sheds And In Backyards In Columbus, Ohio
Because of their diet and their habit of burrowing, groundhogs are considered a nuisance by homeowners, gardeners and farmers in Columbus and Central Ohio. They eat garden vegetables and their burrows undermine the foundations of buildings. In Ohio, nuisance groundhogs can be live-trapped legally by Cottom's Wildlife Removal company. The large holes they dig in yards, which can be 8-12 inches in size, can become a problem. Learn how to deal with nuisance groundhog on your property and how to prevent damage, at the Ohio Department Of Natural Resources website.
How CWR Traps Groundhogs In Yards In Columbus, Dublin, Westerville And Grove City, Ohio
The Cottom's Wildlife Removal company effectively uses live groundhog traps to remove groundhogs from yards. Common types of bait used are fruits such as cantaloupe and vegetables such as beans and peas.
If the nuisance groundhogs have been feeding on vegetables or melons in a garden, these same vegetables and fruits can also be used as bait for the trap. CWR gets groundhogs out of yards, houses, buildings, holes, gardens, garages, trees, crawl spaces and even car engines – and also from under decks, patios, sheds and houses. Although some Ohioans find it hard to believe, groundhogs even climb trees to eat apples and other fruits.
CWR Knows How To Trap Groundhogs In Columbus, Springfield, Zanesville, Marion And Chillicothe, Ohio
The Cottom's Wildlife Removal company knows how to trap and get rid groundhogs. In Columbus, Worthington, Upper Arlington, Newark and Lancaster, Ohio nuisance groundhogs, or woodchucks, can be live-trapped and relocated with permission of the landowner. The Ohio Division of Wildlife licenses nuisance trappers, such as the Cottom's Wildlife Removal company, that can be hired to remove problem groundhogs for a fee.
Call 614-300-2763 To Get Rid Of Groundhogs In Your Yard Or Garden Safely And Humanely
Fencing And Groundhog Exclusion Barriers To Keep Groundhogs Out
Pesky groundhogs can do real damage to a home garden or yard. Here are some solutions to get rid of groundhogs safely and humanely, or you can call the professionals at the Cottom's Wildlife Removal company.
Wildlife exclusion specialists from CWR can place fencing around your vegetable garden or groundhog exclusion barriers underneath your porch or deck to keep groundhogs out. Because groundhogs can jump over, or tunnel under short fences, to get into gardens, CWR groundhog exclusion experts install tall fences and buries fences 12 inches underground to protect gardens.
If you want to "fence out" digging animals such as groundhogs, typically two by three-inch fencing, galvanized or plastic-coated for resistance to the weather, will work to exclude groundhogs. Barriers and dig protection devices can be purchased at Lowes.
CWR's professional trappers keep groundhogs out of gardens for folks that live in Columbus, Lockbourne, Canal Winchester, Gahanna, Lincoln Village, Marysville, West Jefferson and New Albany, Ohio.
To Request Animal Control And Wildlife Removal Services In Columbus And Central Ohio Call 614-300-2763
How To Get Rid Of Groundhogs Under Your Shed
You can call the Cottom's Wildlife Removal company at 614-300-2763 to get rid of groundhogs under your shed. You can also try some of natural ways to get rid of groundhogs. Some experts suggest putting windchimes or lawn windmills near your shed. Because groundhogs stay away from vibrations in the ground, you can try putting a vibrating sonic device near your shed.
Groundhog Removal Services Near You In Columbus And Central Ohio
If you live in Columbus or Central Ohio, and were searching online for "groundhog removal near me", "groundhog removal Columbus", "groundhog removal cost", "groundhog removal columbus, ohio", "groundhog trappers near me" or "groundhog removal services near me", you have found your answer. CWR traps and removes groundhogs for people that live in the city of Columbus, Columbus suburbs and all across Central Ohio. Call 614-300-2763 for an estimate for groundhog removal services.
Contact The Cottom's Wildlife Removal Company To Get Rid Of Groundhogs In Columbus, Ohio
Business Hours: 8AM-8PM Monday Through Sunday – Call 24/7
Email: info@mcwildlife.com
Company Headquarters Address: 26765 Royalton Rd, Columbia Station, OH  44028
About Groundhogs
One day a year, Feb. 2, the groundhog goes from backyard pest to weather-prognosticating superstar. Find out five things you may not know about groundhogs, here. Buckeye Chuck became Ohio's official groundhog in 1979.
The groundhog, also known as a woodchuck, is a rodent belonging to the group of large ground squirrels known as marmots. The groundhog is a lowland creature of North America; it is found throughout Ohio. The groundhog is also referred to as a groundpig, whistlepig and land beaver. Groundhogs are an extremely intelligent animal forming complex social networks, able to understand social behavior, form kinship with their young, understand and communicate threats through whistling, and work cooperatively to solve tasks such as burrowing.
Very often, the dens of groundhogs provide homes for other animals, including skunks, red foxes, and cottontail rabbits. The fox and skunk feed upon field mice, grasshoppers, beetles and other creatures that destroy farm crops. In aiding these animals, the groundhog indirectly helps the farmer. In addition to providing homes for itself and other animals, the groundhog aids in soil improvement by bringing subsoil to the surface.
Information About Trapping And Controlling Groundhogs In Columbus, Ohio
Groundhogs can be successfully trapped in Ohio. Live traps should have a front of at least 10 by 10 inches, and be at least two feet long. Place the trap either at the burrow entrance, in major travel lanes, or at the site of damage. You can also place guide logs on both sides of the trap, to help funnel the groundhog into the trap. A trap should also be covered with dark canvas or grass, to conceal it.
For bait, consider using apple slices, carrots with tops, cantaloupe pieces, lettuce, cabbage or fresh peas. Replace the bait daily and remove any wilted pieces. After the animal is trapped, it should be humanely destroyed or transported at least 10 miles away and released into suitable habitat, where it will not cause damage to another landowner.
Who Do You Call To Remove Wild Animals In Columbus, Ohio?
Call 614-300-2763 for emergency wildlife removal services and humane wild animal control services for homeowners and businesses in and near Columbus, Ohio. You can call 24/7 if you need emergency wild animal removal services and your property is located in Central Ohio.
Groundhogs [Video]
Posted On YouTube On April 21, 2021 By OhioDNR (Ohio Department Of Natural Resources)
Buckeye Chuck or Punxsutawney Phil: Who is more accurate? [Video]
Posted On YouTube On February 2, 2021 By WBNS 10TV (10TV.com)
Columbus is the state capital and the most populous city in the U.S. state of Ohio. With a population estimated at 898,553 in 2019, it is the 14th-most populous city in the U.S., the second-most populous city in the Midwest after Chicago, and the third-most populous state capital. Columbus is the county seat of Franklin County; it also extends into Delaware and Fairfield counties. It is the core city of the Columbus, OH Metropolitan Statistical Area, which encompasses ten counties. The metropolitan area has a 2019 estimated population of 2,122,271, making it the largest entirely in Ohio.
CWR Provides Professional Groundhog Removal Services, Wildlife Removal Services, Attic Squirrel Removal Services, Attic Raccoon Removal Services, Squirrel Trapping Services, Attic Animal Removal Services, Wild Animal Exclusion Services And Nuisance Animal Damage Repair Services For Columbus, Ohio Homeowners
To Request Humane Attic Squirrel Removal Services Or Squirrel Exclusion Device Installation Services From A Local Contractor Near You In Your Neighborhood In Central Ohio Call 440-236-8114 To Schedule A Home And Attic Inspection
To humanely gets wild animals, raccoons, squirrels, mice, bats or birds out of your house and to keep them from from getting back into your house or attic, call 440-236-8114 to request professional wildlife exclusion and nuisance animal trapping services from the Cottom's Wildlife Removal company of Ohio. CWR pest control technicians install heavy duty exclusion devices, bat valves, wire mesh, stainless steel screens, flashing, caulk, vent covers, netting and chimney caps in homes throughout the state of Ohio.
Cottom's Wildlife Removal & Environmental Services is a full-service wildlife removal, wildlife trapping, pest control, exclusion (animal proofing), wildlife removal and nuisance animal damage repair company. To talk with some of the top wildlife experts in Ohio, you can call us at 440-236-8114 or you also call the Ohio Division of Natural Resources to talk with your local county wildlife officer at 1-800-WILDLIFE (800) 945-3543. You can email the ODNR at wildinfo@dnr.state.oh.us.
You can schedule wildlife exclusion services or wildlife removal services with a contractor near you in Ohio, here.  Book an appointment for a nuisance animal damage management inspection service for an Ohio home, building or business, here.
Our professional crews exclude raccoons, squirrels, mice, bats and birds to keep them permanently out of attics, walls, roofs, soffits, ceilings, garages, sheds, basements and chimneys. CWR's ethical wildlife control experts know how to humanely trap and remove uninvited fur-bearing free-loaders.