Wildlife Removal, Animal Control And Raccoon Trapping Services In Strongsville, Ohio
Contact The Cottom's Wildlife Removal Company For Humane Wildlife Control, Effective Bird/Bat Exclusion And Reliable Nuisance Animal Trapping Services In Ohio
Complete The Form Below To Contact The Cottom's Wildlife Removal Company To Humanely Remove Or Exclude Wild Animals, Bats Or Birds From Your Home, Property Or Business In, And Near Strongsville, Ohio
"*" indicates required fields
Raccoon Trapping, Squirrel Removal, Bird And Bat Control, Wild Animal Exclusion, Skunk Cleanup, Attic Decontamination and Damage Repair Services for Strongsville, Ohio Families and Businesses
Cottom's Wildlife Removal traps raccoons, squirrels and other animals that have gained entry into attics, homes, buildings and businesses in Strongsville, Ohio. Because Strongsville is located next to the Cleveland Metroparks, raccoon problems are a common occurrence.  The 2,400 acres of green space and wooded areas in and around Strongsville are typical breeding grounds for raccoons.  Strongsville, Ohio is a great place to live. Just ask any raccoon in Strongsville.
Unfortunately, attics and buildings can also be breeding grounds for raccoons. Raccoons frequently enter homes through chimneys and roofs. When raccoons get into attics, they leave behind a mess. We cleanup attics, decontaminate infected areas, seal entry holes and repair damage to roofs, attics and chimneys.
The Strongsville Department of Animal Control serves over 40,000 people who live in Strongsville.  However, this community service does not provide raccoon trapping and removal services.
If you suspect that a raccoon or a family of raccoons has taken up residence in your home or building, call 440-236-8114 to schedule an inspection.
Contact Us
Services Offered
Additional Information For Strongsville Families
The Strongsville Department of Animal Control
Animal Control Officer: Chuck McCleary
Phone: (440) 580-3180
Website: https://www.strongsville.org/departments/animal-control
Email Address: animal.control@strongsville.org
The Ohio Department of Natural Resources Division of Wildlife offers advice on how to keep raccoons from becoming a problem.  Raccoons can become pests in an urban setting such as Strongsville, Ohio. Click here for a quick rundown on how to keep these animals out of your yard and your garbage cans, and what to do if one ventures inside your home or gets stuck in your chimney.
CWR Cleans Attics After Snakes, Raccoons, Squirrels, Bats, Birds, Mice And Rodents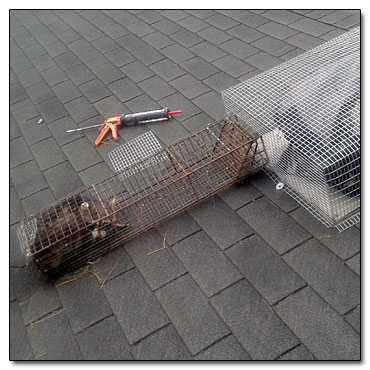 Although kids in Ohio think that raccoons look like cute cuddly bandits because of their signature black masks, adults know all to well that they are well adapted to urban living, are expert thieves and can be a nuisance – and a potential health hazard.
Before you try to clean an attic after a raccoon infestation, you have to first get rid of raccoons and keep them out. You can hire a professional raccoon removal and exclusion service such as the Cottom's Wildlife Removal company or do-it-yourself.
Please do not use an attic fogger, bug bomb or a smoke bomb to get rid of raccoons because it is not humane. The most humane way to get rid of raccoons in an attic or chimney is to use a one-way door and exclude them from returning.
Learn how you sanitize an attic after rodents, here. Get a quote for raccoon attic cleanup costs, here. Request raccoon cleanup services, here. Find out about attic cleanup and decontamination, here. Schedule a time to have your attic inspected for raccoon damage, here.
Schedule a time for attic cleanup services near Cleveland, Columbus or Cincinnati, Ohio, here. Find out how to clean up after a raccoon, here.
Watch a video from the Humane Society of the Unites States to learn how to humanely get raccoons out of an attic, here. Get tips on cleaning an attic after a raccoon, here (PDF).
The hollow smoky compartments in chimneys are similar to burned out hollow trees which are popular with pregnant raccoons. The raccoon removal and attic cleanup experts at the Cottom's Wildlife Company are proficient at removing raccoons from chimneys in Ohio homes. CWR raccoon removal specialists get raccoons out of roofs, attics, yards, chimneys, garages, walls, garbage and out from under decks in Cleveland, Columbus and Cincinnati.
The professionals at the Cottom's Wildlife Removal firm have been cleaning up attics after raccoons, removing bat guano from attics and getting rid of animal feces in attics in Ohio homes since 1986. CWR pest control technicians also provide rodent dropping cleanup, sanitizing and disinfecting services for Ohio homeowners.
After raccoons have invaded an attic, odor removal services are frequently requested by CWR customers. For animal feces removal and attic cleanup services in Columbus, Ohio please call CWR at 614-300-2763.
CWR wildlife damage management specialists safely repair attics, soffits, gutters, siding, shingles, roofs, chimney caps and vents for Ohio homeowners. Get more information about attic repair and decontamination services in Ohio, here.
How To Keep Raccoons From Becoming a Problem
Raccoons are well adapted to urban living. Raccoon damage typically involves raiding gardens, upsetting trash cans and taking up residence in chimneys, attics or other unwanted areas. Control is not difficult, but requires persistence. Garden fruits and vegetables can be very appealing and accessible to raccoons. For smaller garden plots, a single strand of electric fence can be strung eight inches above the ground. An inexpensive radio that is turned on, placed under a garbage can and left in the garden overnight, will also often discourage raccoons from approaching. The easiest solution for garbage can raids is to store the cans inside the garage or a shed overnight. Raccoons may also be repelled by coating the outside of the can with a weak solution of cayenne pepper in water or by placing a small dish of ammonia in the bottom of an empty can. Uncapped chimneys are appealing nest den sites to raccoons. When this occurs they may be evicted by noise, combined with bright lights or a pan of ammonia sealed in the fireplace. Once the raccoon vacates the chimney, install a chimney cap. Identify and seal other attic entries after evicting the raccoon. Overhanging tree limbs provide easy access to your roof. Inspect your house and trim tree limbs where needed.  Occasionally raccoons will enter a house through a pet door. Since they can cause considerable damage if panicked, it is advisable to quietly open windows and doors through which the animal may exit and close doors that provide access to other parts of the house, before leaving the room. Wait quietly for the animal to escape. Raccoons can transmit rabies, canine distemper, and parvovirus to domestic animals and humans. You should avoid any raccoon that is active during daylight hours, has lost its fear of humans, or appears uncoordinated, confused or listless. If you encounter such an animal, report these observations to the District Office; if exposed to a potentially sick animal, contact your local Health Department and/or your personal physician. Nuisance or sick raccoons may be trapped without a permit, but it is illegal to live trap and relocate them to a new area. In order to prevent the possible spread of raccoon diseases in Ohio, all live trapped raccoons must be released again on the homeowner's property or humanely euthanized. Consult Strongsville Animal Control Officer Keaton @ 580-3180 for more information.
Who Do You Call To Pickup A Dead Deer Or Remove A Dead Animal In Ohio And How Much Does It Cost?
How much does it cost to remove a dead deer? Deer carcass removal costs start at $895. In Ohio, call CWR at 440-236-8114 in Cleveland, 614-300-2763 in Columbus or 513-808-9530 in Cincinnati to get a quote for CRW to pick up a dead deer or dead animal. Prices to pick up a dead animal from your yard or property start at $399.
Ohio Division Of Natural Resources Wildlife District Offices
People should always avoid touching or handling sick or dead wild animals. Because Epizootic Hemorrhagic Disease (EHD) affects some white-tailed deer, the Ohio Department Of Natural Resources suggests that Ohioans report sick or dead deer to the Division of Wildlife. Sightings of sick or dead deer should be reported your local Ohio wildlife officer or wildlife district office.
Insurance Coverage and Raccoon Damage Repair Information
Does Homeowners Insurance Cover Animal Damage?
04/24/18
Information Provided by Allstate Insurance Company
Raccoon and Squirrel Removal Insurance Coverage Information
04/24/18
Information Provided by Cottom's Wildlife Removal
Does Homeowners Insurance Cover Raccoon Damage?
04/24/18
Information Provided by Esurance
Types of Roof Damage
04/24/18
Information Provided by Nationwide Mutual Insurance Company
Allstate Raccoon Mayhem Commercial
04/24/18
Video Provided by YouTube
Vermin, Rodents, Raccoons and Other Homeowner Wildlife Issues
04/24/18
Information Provided by Baily Insurance
About Strongsville, Ohio
Strongsville is a city in Cuyahoga County, Ohio, United States, and a suburb of Cleveland. As of the 2010 census, the city population was 44,750. Strongsville officially became a township in 1818, a village in 1923, and was ultimately designated a city in 1961. Founded by settlers arriving in the newly purchased Connecticut Western Reserve, the city was named after John Stoughton Strong, the group's leader. Many of the main streets in the city are named after other principal figures and landowners from the city's history, e.g. Howe, Drake, Shurmer, Whitney. In the mid-19th century, the Pomeroy House, then called The Homestead, was a stop on the underground railroad. Alanson Pomeroy, the home owner and a prominent Strongsville resident, concealed runaway slaves on his property. From this residence in Strongsville, the runaway slaves were taken to boats on Rocky River for passage to Canada. In 1853, John D. Rockefeller's family moved to Strongsville. John D. Rockefeller, an American oil industry business magnate, is widely considered the wealthiest American of all time. At the time, Rockefeller was only a child. On April 11, 1965, an F4 tornado hit Strongsville. The city has a total area of 24.64 square miles The east branch of the Rocky River enters Strongsville from North Royalton and exits into Berea. Valley Parkway parallels the river's northwesterly course. This portion of the Cleveland Metroparks, named Mill Stream Run, includes Bonnie Park and Ranger Lake. Abutting the Rocky River, the recreation area offers visitors a pavilion, picnicking facilities, two small ponds, and several sport fields. Bonnie Park serves as a hub for hiking, bridle, and paved multi-purpose trails.  A 2009 report showed that Strongsville led Cuyahoga county in the number of crashes caused by animals. Coyotes have caused Strongsville residents to be on high alert in the past.  Strongsville permits bow hunters to shoot deer under an ordinance City Council approved.