Basement Cleaning And Sanitizing Services For Ohio Homeowners From $895+ | Crawl Space Cleanouts And Debris Removal
Cottom's Wildlife Removal provides professional basement cleanup services. Costs in Ohio to cleanup animal feces and decontaminate a building, attic or basement after a bird, bat, raccoon, squirrel or mice infestation start at $895. August, September and October are ideal months to exclude bats from basements and crawl spaces in homes in Ohio.
Our basement cleanup company help homeowners and landlords in Cleveland, Columbus, Cincinnati, Akron, Northeast Ohio, Southern Ohio and Central Ohio areas to cleanup and restore basements and crawl spaces that have been damaged by raccoons, mice, rodents, neglect, water and floods.
Our professional crawl space and basement cleaning company is based in Cleveland, Ohio. Our waste management technicians clean out and remove mildewed clothes, junk, trash, garbage, debris, rubbish, old furniture and rodent waste from below ground rooms such as basements, crawl space and bottom floors. We then then transport the junk and garbage to nearby landfills.
Our basement cleanup service is affordable and reliable. While some people prefer to cleanup their basement on their own, it often helps to have an additional resource such as our company that can provide the manpower, tools, trucks and water damage control equipment.
If you are interested in an estimate for the price of a basement cleanup service or would like to schedule an inspection or cleanup service, please contact us.
CWR Cleans Attics And Crawl Spaces After Raccoons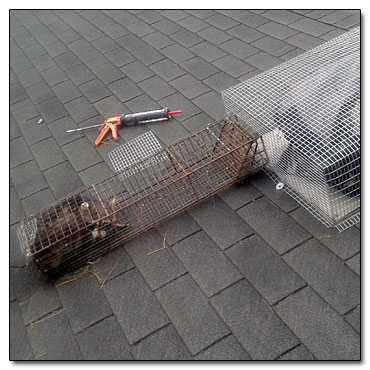 Although kids in Ohio think that raccoons look like cute cuddly bandits because of their signature black masks, adults know all to well that they are well adapted to urban living, are expert thieves and can be a nuisance – and a potential health hazard.
Before you try to clean an attic after a raccoon infestation, you have to first get rid of raccoons and keep them out. You can hire a professional raccoon removal and exclusion service such as the Cottom's Wildlife Removal company or do-it-yourself.
Please do not use an attic fogger, bug bomb or a smoke bomb to get rid of raccoons because it is not humane. The most humane way to get rid of raccoons in an attic or chimney is to use a one-way door and exclude them from returning.
Learn how you sanitize an attic after rodents, here. Get a quote for raccoon attic cleanup costs, here. Request raccoon cleanup services, here. Find out about attic cleanup and decontamination, here. Schedule a time to have your attic inspected for raccoon damage, here.
Schedule a time for attic cleanup services near Cleveland, Columbus or Cincinnati, Ohio, here. Find out how to clean up after a raccoon, here.
Watch a video from the Humane Society of the Unites States to learn how to humanely get raccoons out of an attic, here. Get tips on cleaning an attic after a raccoon, here (PDF).
The hollow smoky compartments in chimneys are similar to burned out hollow trees which are popular with pregnant raccoons. The raccoon removal and attic cleanup experts at the Cottom's Wildlife Company are proficient at removing raccoons from chimneys in Ohio homes. CWR raccoon removal specialists get raccoons out of roofs, attics, yards, chimneys, garages, walls, garbage and out from under decks in Cleveland, Columbus and Cincinnati.
The professionals at the Cottom's Wildlife Removal firm have been cleaning up attics after raccoons, removing bat guano from attics and getting rid of animal feces in attics in Ohio homes since 1986. CWR pest control technicians also provide rodent dropping cleanup, sanitizing and disinfecting services for Ohio homeowners.
After raccoons have invaded an attic, odor removal services are frequently requested by CWR customers. For animal feces removal and attic cleanup services in Columbus, Ohio please call CWR at 614-300-2763.
CWR wildlife damage management specialists safely repair attics, soffits, gutters, siding, shingles, roofs, chimney caps and vents for Ohio homeowners. Get more information about attic repair and decontamination services in Ohio, here.
Spray any urine, droppings, and nesting materials with either a bleach and water solution (1 parts bleach to 9 parts water) or a household disinfectant prepared according to the label instructions for dilution and disinfection time. Soak well. This will inactivate any virus. Use a paper towel or rag to pick up the materials and dispose of them. Read more here.
Raccoon Latrines: Identification and Clean-up – CDC [PDF]
Fill a bucket with hot, soapy water. Feces and material contaminated with raccoon feces should be removed (using a shovel or inverted plastic bag) and burned, buried, or bagged and placed in the trash to be sent to a landfill. Use a damp (but not wet) sponge to wipe the area. Read more here (PDF).
How Much Does It Cost To Remove Birds From Vents In Ohio?
Prices to remove birds and bird nests from dryer vents and bathroom exhaust vents in Columbus, Cleveland, Cincinnati, Akron, Toledo, Zanesville, Canton, Youngstown, Findley, Marietta and other cities in Ohio start at $795 per vent. This fee includes cleaning out the vent and the installation of one cap.
In Ohio, call CWR at 440-236-8114 in Cleveland, 614-300-2763 in Columbus or 513-808-9530 in Cincinnati to schedule an inspection and to get a written quote for CRW to remove birds from vents.
Expert Wildlife Trapping & Animal Removal Services For Cleveland And Northern Ohio Homeowners And Businesses – Call 440-236-8114 24/7
Call 440-236-8114 day or night to schedule an inspection and to talk with a licensed and certified wildlife control expert. CWR pest control technicians are experts at raccoon, bat, skunk, squirrel, bird and mice trapping, removal and prevention in Cleveland, Ohio.
Who Do You Call To Pick Up A Dead Raccoon In Ohio? Consider Calling The Cottom's Wildlife Removal Company 
Humane Wildlife Solutions In The Buckeye State Capital
Humane Wildlife Removal Services In Columbus, Ohio
Who Do You Call To Pickup A Dead Deer Or Remove A Dead Animal In Ohio And How Much Does It Cost?
How much does it cost to remove a dead deer? Deer carcass removal costs start at $895. In Ohio, call CWR at 440-236-8114 in Cleveland, 614-300-2763 in Columbus or 513-808-9530 in Cincinnati to get a quote for CRW to pick up a dead deer or dead animal. Prices to pick up a dead animal from your yard or property start at $399.
Ohio Division Of Natural Resources Wildlife District Offices
People should always avoid touching or handling sick or dead wild animals. Because Epizootic Hemorrhagic Disease (EHD) affects some white-tailed deer, the Ohio Department Of Natural Resources suggests that Ohioans report sick or dead deer to the Division of Wildlife. Sightings of sick or dead deer should be reported your local Ohio wildlife officer or wildlife district office.