Roof, Eve, Soffit, Siding and Chimney Repair
Roofs, eves, soffits, vents, siding, vents, fascia, gutters, roof sheathing, rafters, drip edges, flashing, insulation, underlayment and chimneys are frequently damaged by invading raccoons, squirrels, mice, birds and bats when they enter a home, building or roof. We repair homes, buildings and businesses that have been damaged by wildlife, animals and birds. Annoying squirrels and raccoons often create entry holes in roofs and attics by chewing or clawing. We repair and patch squirrel and raccoon entry holes and also catch the critters.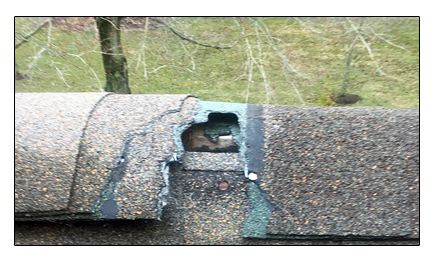 Repair Services For Homeowners in Cleveland and Akron
Homeowners need to have these problems corrected and the damaged building materials repaired. Once the critters have been removed and/or excluded from the building, Cottom's Wildlife Removal handymen repair the damage caused by invading wildlife.  In the Cleveland and Akron area, many types of animals and birds can be a nuisance to businesses and homeowners. Cottom's Wildlife Removal service offers commercial and residential roofing and siding repair to correct the damages caused by raccoons, birds, bats and other pests.  We are experts at repairing aluminum siding and various types of metal and shingle roofs. We service the greater Cleveland and Akron, Ohio areas. We solve wildlife invasion problems.
Cottom's Wildlife Removal Provides the Following Repair Services
Roof repair
Soffit repair
Fascia Repair
Siding repair
Rafter repair
Eve repair
Vent repair
Fan repair
Chimney repair
Roofing felt, roof sheathing and underlayment repair
Shingle repair
Animal entry hole repair
Raccoon hole repair
Squirrel hole repair
Fixing holes in the attic or roof
Installation of wire mesh to exclude bats