Wildlife Damage Management, Wildlife Control and Damage Assessment Inspections For Ohio Homeowners
To Schedule Wildlife Control Or A Damage Assessment Inspection, Call 440-236-8114 Or Complete The Form Here Or Email Info@mcwildlife.com.
Wildlife Damage Management, Animal And Critter Exclusion Services, Critter Control And Wildlife Exclusion Costs For Homeowners And Businesses In Columbus, Cleveland, Akron, Dayton, Cincinnati, Ashtabula, Marietta, Youngstown, Canton, Strongsville, Lakewood And Other Ohio Communities
It is important to control damage to your home caused by wildlife. Our technicians inspect homes throughout Ohio to help homeowners and commercial property owners prevent wildlife, animals, raccoons, bats, squirrels, mice and birds from entering their homes and attics, leaving fecal matter and urine behind and causing damage. CWR technicians identify and close up entry points and repair damage to homes and businesses caused by nuisance animals.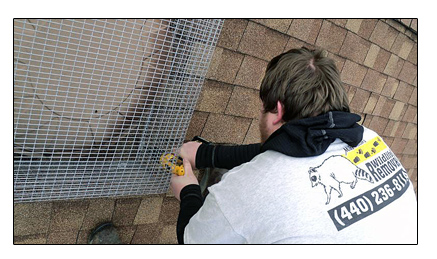 CWR technicians are also animal exclusion experts that help homeowners and business owners to ensure that wildlife and nuisance animals do not enter or re-enter a home, commercial property, structure or building. CWR technicians are experts at installing chimney caps to prevent raccoons and birds from entering falling in or nesting.
If you hear scratching noises in your attic or walls, call Cottom's Wildlife Removal to schedule an inspection. If you have questions about animal exclusion insurance, wildlife exclusion costs or wildlife exclusion supplies, call 440-236-8114. If you would like to request critter exclusion services or animal removal services please call 440-236-8114.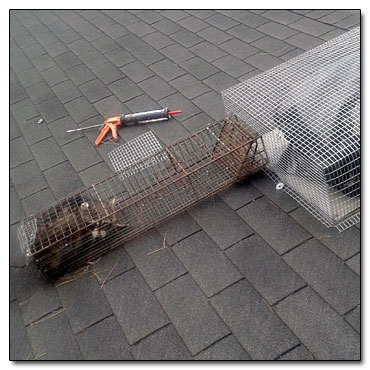 Cottom's Wildlife Removal inspects homes, attics and buildings for the presence (past or present) and habitation of raccoons, squirrels, mice, rodents, animals, birds, wildlife and pests and the damage they can cause.
Inspections of houses, attics, business and buildings can be scheduled to determine the extent of problem that needs to be resolved and controlled.
During an inspection, we try to determine if raccoons, bats, birds or other nuisance animals or pests have infested a structure. We also try to figure out if cleanup and decontamination services will be needed. We often find damage that may need to be repaired.  To schedule an inspection please call (440) 236-8114.
Schedule A 14 Point Inspection
Our 14 point inspection involves a thorough search of attics and buildings for potential animal or bird entry points. During a 14 point inspection, our technicians carefully analyze attics, soffits, roofs, gutter lines, crawl spaces, fascia, louvered vents, power ventilators, ridge vents, chimneys, soil stack vents, HVAC, insulation and other building structure components. We often find damage that may need to be repaired when performing our inspections.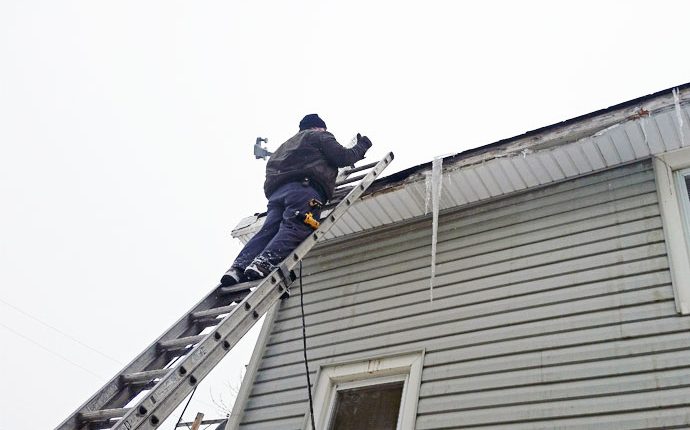 Inspection Process Overview
When our environmental technicians arrive at the residence or building to meet and consult with the home owner, business owner or property owners.
We then move on to an inspection of the attic interior, roof exterior, home or building sidings and other areas that may have been damaged or entered by nuisance animals. Our trucks are equipped with ladders so that we can perform a full roof inspection if needed.
The inspection normally takes about 30-45 minutes. Once this service has concluded, we will make a recommendation for trapping, attic cleanup and decontamination, damage repair and insulation removal and replacement.
In some cases, we can provide an estimate on the spot and in other situations we will prepare an estimate off-site and return it by email, fax, U.S.P.S mail, phone or in person.
If the estimate is approved by our customer, we schedule a date to perform the work. Work is usually scheduled within 1-2 weeks. Expedited trapping services and attic cleanup and decontamination services can often be scheduled based on the severity of the situation.
Estimates
We can also provide estimates for attic cleanup, attic decontamination, insulation removal, insulation replacement, Estimates can also be provided to repair damage caused by animals and birds. Estimates are usually provided after an inspection of the attic, house, building or property has been completed.
Expert Wildlife Trapping & Animal Removal Services For Cleveland And Northern Ohio Homeowners And Businesses – Call 440-236-8114 24/7
Call 440-236-8114 day or night to schedule an inspection and to talk with a licensed and certified wildlife control expert. CWR pest control technicians are experts at raccoon, bat, skunk, squirrel, bird and mice trapping, removal and prevention in Cleveland, Ohio.
How To Get Rid Of Skunks In Ohio
Who Do You Call To Trap A Skunk In Ohio?
CWR's Ohio wildlife removal experts get skunks, opossums, woodchucks and groundhogs out from under houses and out of yards in Cleveland, Columbus, Toledo, Athens, Dayton, Youngstown and Cincinnati, Ohio.
If you want to find out how to get rid of a skunk on your property in Ohio as quickly as possible and how much it costs to have skunks removed, call 440-236-8114 in Cleveland, 614-300-2763 in Columbus or 513-808-9530 in Cincinnati. The Cottom's Wildlife Removal company is one of the best skunk trapping and removal services in Ohio.
If you are alarmed that you saw a skunk around your home or yard – or soil that has been dug up, call a local CWR office in Ohio 24/7 to schedule our professional skunk trapping and control services and we will get rid of them. We can also install shed and deck barriers, skunk proof fences, skunk exclusion barriers and animal proof deck skirting to keep skunks away.
CWR Ohio wildlife removal experts get skunks, opossums, woodchucks and groundhogs out from under houses, sheds, porches and out of yards. We know how to get rid of skunks by using live cage traps.
Our proactive skunk removal professionals easily seal openings under stairs, decks, sheds and porches with aluminum flashing, concrete, wire mesh and sheet metal to "exclude" skunks to keep them from denning and living under our client's structures. We can also install "skunk fencing" to prevent unpleasant "skunk situations." CWR wildlife experts get groundhogs out of gardens, yards and holes.
DIY Skunk Removal In Ohio
Find out how to remove the smell of skunk spray, here. Learn how to get rid of skunk odor, here. Get tips on removing skunk smell from your house, here. Find out how to remove skunk smell from a dog, here. Find out the best way to get rid of skunks from your garden, here. Find out how to get rid of skunks permanently, here.
However, you many want to consider that the quickest and easiest way to remove a skunk or exclude it from your yard in Ohio is to hire the Cottom's Wildlife Removal company to do it for you. The cost of skunk trapping in Ohio is not that expensive.
In Ohio, contacting CWR to get rid of a skunk is a better option than shooting and killing a skunk in your yard. Read the Ohio Administrative Code, Rule 1501:31-15-03 about killing skunks, here.
In Ohio, it is illegal to fail to euthanize, or release on site, any nuisance skunk that is captured, trapped or taken. It is also illegal to take a skunk with the use of dogs outside of a structure during the closed season.
Get information about the skunk hunting season in Ohio, here. Download the Ohio Hunting And Trapping Regulations for 2020-2021, here.
Costs To Trap And Remove Skunks, Opossums And Groundhogs In Ohio
The cost to remove a skunk, opossum, groundhog or woodchuck that has been trapped by a homeowner starts at $95. This rate is for on-site visits that are within 40 miles of the CRW company headquarters in Columbia Station, Ohio. Different rates will apply based on the distance a CRW pest control technician will need to travel.
If a skunk, opossum or groundhog needs to be trapped by CWR, an on-site inspection costs start at $239. This fee will be applied to the total cost.