Ohio Snake Removal Company 
If you live in Ohio and see a snake in your home, yard, attic or basement – don't freak out. It is "probably" not poisonous. Stay calm, find your phone and call the Cottom's Wildlife Removal company at 440-236-8114 in Cleveland, 614-300-2763 in Columbus or 513-808-9530 in Cincinnati. CWR gets rid of snakes fast.
Talk with an experienced and reliable snake removal expert near you in Ohio about pest control for snakes and how to get rid of a snake den. Snake removal costs in Ohio start at $399 and can be explained over the phone and you can schedule an appointment for snake trapping. Find out what to do about snakes, here.
Fast Pest Control For Snakes In Ohio
Cincinnati And Southern Ohio Snake Trapping Office: 513-808-9530
Email: info@mcwildlife.com
Company Headquarters Address: 26765 Royalton Rd, Columbia Station, OH  44028
Complete The Form Below To Contact Cottom's Wildlife Removal and Environmental Services
Who Gets Rid Of Snakes In Ohio?
The Cottom's Wildlife Removal company is who to call for snake removal, snake trapping, snake extermination, snake relocation and snake control in Ohio. Snakes hide in the craziest places. In May of 2021, an enormous Burmese Python was discovered in the woods in Hubbard, Ohio. If you or someone you know has been bitten by a snake that might be venomous, call 800-222-1222 to get poison control help.
If you live in Ohio and spot a Python or a Boa Constrictor in the wild, call the Cottom's Wildlife Removal company at 440-236-8114 right away. Pythons and Boa Constrictors, which are not native to Ohio, have been found "trespassing" in Franklin County, Middletown, Hubbard, North Royalton, Shaker Heights, Lancaster, Bowling Green and Brecksville, Ohio.
Courageous homeowners and experienced property owners in Ohio also get rid of snakes all the time because they know how to properly control a snake in their house, yard, garden, basement and garage.
CWR snake handlers use professional snake handling tools, safe snake handling equipment and effective Tomahawk reptile handling tongs to trap and remove snakes from crawl spaces, attics and ponds.
Ohio Division Of Natural Resources Wildlife District Offices
People should always avoid touching or handling sick snakes or dead wild animals. Because Epizootic Hemorrhagic Disease (EHD) affects some white-tailed deer, the Ohio Department Of Natural Resources suggests that Ohioans report sick or dead deer to the Division of Wildlife. Sightings of sick or dead deer should be reported your local Ohio wildlife officer or wildlife district office.
Large Snake Found Dead In Hubbard Woods
Posted On YouTube On May 4, 2021 By WKBN27 [WKBN.com]
Who Do You Call For Snake Removal In Ohio?
Ohioans that come across a snake, or snakes, on their property or in one of their buildings are known to search online to find out who to call to remove snakes. Because some species of unwanted snakes in Ohio are dangerous, the safe bet is to call a professional pest control company like the Cottom's Wildlife Removal company. Mike Cottom Sr. and Mike Cottom Jr. are two of the most experienced snake catchers and snake control professionals in Ohio. Three ways to catch a snake are listed, here.
Mike Cottom has been trapping animals full-time since 1986. Mike Cottom Sr. left a job with the Cleveland Metroparks and stepped right into a full-time business removing intrusive snakes, raccoons, chipmunks, mice, bats and woodchucks.
Ohio Snake Control Services, Products, Treatments And Methods
CWR professional snake catchers in Ohio get snakes out of houses, holes, walls, attics and cars. CWR snake control service technicians know how to use the most reliable snake control treatments to get snakes out of houses, building rafters, drains, out-buildings, trucks and chicken coops.
CWR snake control experts use high quality snake control products to get snakes out of couches, yards, toilets, trees and septic tanks. CWR snake removal specialists used proven snake control methods to catch and relocate snakes that are found in garages, basements, gardens, storage sheds, attics, ponds, piles of wood, tall grass, yard debris and even car dashboards.
However, Ohio residents are squeamish about getting rid of snakes because they don't want to get bit, poisoned or injured. In 2006, a 48 year old man located in Camp Dennison, near Cincinnati, was strangulated and killed by a 14-foot Burmese python when it coiled around his neck. Some Ohio residents have a common phobia called ophidiophobia, which is a fear of snakes.
Snakes are lured into buildings by damp, dark and cool areas in search of a meal. In 2019, a 16 year old girl was bitten by a venomous Copperhead snake in the woods near Marietta, Ohio. She was provided with quick medical treatment by Nationwide Hospital in Columbus and was given antivenom.
Venomous Snakes Of Ohio HD
Posted On YouTube On September 7, 2016 By Tim Daniel
A dangerous venomous snake, believed to be a Copperhead, bit a man in the city of Thompson, in Geauga County, Ohio. If you are scared of snakes – an exterminator, animal control company or pest control company such as the Cottom's Wildlife Removal company can relieve your stress by removing the snake (s) that is making you uncomfortable.
How Much Does It Cost To Removes Snakes In Ohio?
The exterminators at Cottom's Wildlife Removal get rid of snakes in homes so that residents don't have to worry about it. Call for a quote if you need a snake exterminator or want to use CWR's snake removal services. Costs for removing a snake, or more than one snake, in Ohio start at $399+.
Free Snake Removal In Ohio
If you are wondering what to do about snakes, free snake removal services near you in Ohio may be difficult to locate. Most government funded agencies, police departments, municipal animal control departments and fire departments in Ohio don't remove snakes, and prefer to focus on cats and dogs. Call CWR if you don't want to remove the snake, or snakes, yourself.
Snake Removal Services Near You In Ohio
If you are looking for 24/7 and emergency snake removal services near Cleveland, Columbus, Toledo, Cincinnati, Marietta, Youngstown, North Canton, Willoughby Hills, Medina, Defiance Or Ashtabula, call the Cottom's Wildlife Removal company.
CWR also traps, removes, excludes and controls wildlife, wild animals, raccoons, squirrels, bats, birds, groundhogs, mice, rodents, beavers, coyotes, skunks and foxes in Ohio.
CWR offers outstanding snake control and snake prevention plans for homeowner's associations (HOA) and landlords in Ohio. We prevent snakes from hiding out on people's property. We get rid of snakes to keep them from scaring people and we keep them away – as best we can.
Find out more about what to do about snakes from The Humane Society Of The United States, here.
Relocating Snakes In Ohio
Springtime in Ohio typically results in an increase in snake sightings. The Ohio Division of Natural Resources suggests capturing and releasing snakes in a woodlot or undeveloped area at least a mile away from your house.
Although it seems more humane to relocate a snake than to kill it, relocation (or translocation) of snakes does not work very well. Many snakes die a long slow death after they have been moved away from their home range.
Types Of Snakes That CWR Catches And Removes In Ohio
The Cottom's Wildlife Removal company catches, kills or relocates many types of snakes in Ohio. The company gets many phone calls from people in Strongsville, Cleveland Heights, Dayton, Worthington, Hudson, Springfield, Hamilton, Toledo and Canton who have found a Black Rat Snake in their yard.
Black Rat Snakes
Posted On YouTube On May 29, 2020 By OhioDNR [OhioDNR.gov]
Ohio's four most common nonvenomous snakes are the Gray Ratsnake, Dekay's Brown Snake, Eastern Gartersnake and the Northern Watersnake. Ohio's largest snake, the Black Rat Snake, can grow to be four to six feet long.
There are 25 types of snakes native to Ohio and about 33 species of snakes that live in Ohio. These snakes are found all over in Cincinnati, Elyria, Lorain, Sheffield Lake, Columbus, Cleveland, Akron, Parma, Trumbull County, Athens, Portsmouth, Avon and Youngstown. Water snakes are common in Lorain.
Here's something most people in Cincinnati probably don't know about snakes. There are many snake species in the State Of Ohio – and three of them are venomous.
Although Ohio has a lot of snakes, there is little chance of a risky encounter. That being said, the most dangerous snakes that the Cottom's Wildlife Removal company catches in Ohio, are poisonous. Venomous snakes are some of the deadliest types of wildlife found in Ohio. Large snakes can be found in Kettering, Parma Heights, Lakewood, Dublin, Cuyahoga Falls, Beavercreek, Mentor and Grove City.
To learn more about the types of snakes that the Cottom's Wildlife Removal company catches in Ohio, download the Ohio Department of Natural Resources' (ODNR) Division of Wildlife "Reptiles of Ohio Field Guide", here. CWR removes snakes for homeowners and property owners in Findlay, Westerville, Euclid, Warren, Mansfield, Lima and Reynoldsburg.
ARTifacts: Snakes of Ohio
Posted On YouTube On February 3, 2016 By Broad and High [WOSU.org]
Although most of the elongated, limbless carnivorous reptiles in Ohio are not dangerous, there are three venomous, or poisonous, snakes in Ohio. An average of six people die of snakebites annually in the United States.
The three types of poisonous snakes in Ohio are the Eastern Timber Rattlesnake, Northern Copperhead, and the Eastern Massasauga Rattlesnake, also know as the "Swamp Rattler". Every year people claim to see the dangerous water moccasin, also known as cottonmouth, in Ohio's waters.
Two types of poisonous snakes in Ohio have rattles at the end of the tail. CWR snake removal experts get rid of nonvenomous snakes for people who live in North Olmsted, North Royalton, Garfield Heights, Zanesville, Solon, Shaker Heights and Chillicothe. The Dekay's Brown Snake and other slippery snakes have occasionally been captured by CRW pest control technicians in Brook Park, Northgate, Newark, Bay Village, Blue Ash, Lancaster, Milford and Huber Heights. These brown snakes have a small, blunt head and a slender body.
The Cottom's Wildlife Company company specializes in getting snakes out from under houses, decks, patios and porches. CWR frequently catches creepy snakes under homes and in basements in Hilliard, Gahanna, Upper Arlington, Fairborn, North Ridgeville, Geauga County, Massillon and Bowling Green.
CWR pest control technicians trap, catch and remove the following types of snakes in Ohio.
How To Keep Snakes Away [Do-It-Yourself Snake Removal]
If venomous snakes live in your area of Ohio, CWR strongly recommends that you talk with someone from our professional wildlife removal company before you try do-it-yourself snake removal.
Find out how to kill, or get rid of a snake inside your house, or in your garage, toilet, room, attic or under your house or deck.
Pest Control : How to Catch a Snake in the Attic
Posted On YouTube On March 16, 2019 By ehowgarden [eHow.com]
If you find a slimy snake on your property or indoors, you have two options. You can try to catch the sneaky snake with snake handling tongs, if you happen to have a spare set laying around. Or, you can bust out a handy snake trap. Both methods allow you to live release scary snakes and relocate them. Live traps are meant to humanely capture snakes. If the snake is not endangered, you can also kill the snake.
Did you know that a severed snake head can still bite – and often do? In 2018, a Texas man barely survived a poisonous rattlesnake attack, after he decapitated the snake with a shovel.
Snakes are commonly encountered in Ohio during the spring and throughout the summer. Learn how to safely catch a snake, here. Home Depot sells snake glue traps.
60-Second Snakes: Snake Removal
Posted On YouTube On September 2, 2016 By MichiganDNR [Michigan.gov/DNR]
Sulphur powder can be applied around the perimeter of a house to deter snakes. White vinegar is good for keeping snakes away from gardens, yards and bodies of water – including swimming pools. You should remove hiding places for snakes and eliminate their food source. Find out how to keep snakes away, here.
Sneaky snakes in Ohio go through small holes. Some snakes fit through smaller openings; if the snake can get his head into the opening, he can get his body in.
Snakes are most active in early morning and late afternoon. The Cottom's Wildlife Removal company catches snakes that have climbed into attics and entered through small holes in the siding, soffits and eaves. Very sneaky snakes hide in large potted plants that are left outside on the patio, and then emerge inside the house when the plants are brought indoors.
To keep snakes out of your yard, remove piles of branches and other materials that snakes can hide in. Don't worry, snakes rarely come through the toilet. Check out a few home remedies for keeping snakes away, here. Keep vegetation around your house cut short to discourage snakes from sneaking up.
What Do Snakes In Ohio Eat?
Snakes in Ohio like to eat small rodents, rats, toads, birds, bird eggs, nestlings, other snakes, spiders, lizards, turtle eggs, amphibians, caterpillars, small mammals, salamanders, moles, leeches, squirrels, voles, crickets, fish, mice, chipmunks, ants, grasshoppers, minnows, frogs, gophers, small rodents, insects and earthworms.
Is It Illegal To Kill Snakes In Ohio?
It is only against the law in Ohio to kill the endangered Copper-bellied water snake and the Eastern Massasauga Rattlesnake and both of these are rarely encountered. Both of these snakes are protected by Federal and State laws.
Poisonous Snakes In Ohio By County
In 2021, venomous snakes are rare in Ohio. Timber rattlers are found in Adams, Scioto, Pike, Ross, Gallia, Jackson, Vinton and Hocking counties.
Nuisance Species: Snakes [Information From The Ohio Department Of Natural Resources]
Most snakes are beneficial in helping to control destructive insects and rodents. Only three species of snakes in Ohio (the copperhead and the massasauga and timber rattlesnakes) are venomous. None of these snakes are common.
Problems with snakes range from occasional encounters with a single snake to infestations of large numbers of snakes in basements and out-building foundations. Snakes are a valuable part of the ecosystem, including Ohio's 3 venomous species. Individual snakes should be valued for their rodent- and insect-eating habits. A snake that takes up residence where it cannot be tolerated should be captured and released at least a mile away from the dwelling.
You can make an area less attractive to snakes by:
controlling insect and rodent populations
removing piles of junk, rocks, brush and boards
and keeping grass mowed and landscapes clean.
To remove a snake already in a building, you must first find it. If a snake is difficult to find in the open, place a damp cloth or burlap bag covered with a board or shingle on the basement floor. Use a 1/2- to 1-inch spacer to elevate the board so the snake can easily get under it. The combination of dampness and shelter is attractive to snakes, making them easier to capture.
Snakes can be picked up with a hook or hoe, or by making a noose with a loose slipknot in a strong piece of string and attaching it to a short, strong stick. Lower the snake into a strong paper or cloth bag with no holes. If you use the string, clip the noose with a pair of scissors before dropping the snake in the bag. Transport the snake as soon as possible to a woodlot or undeveloped area away from other houses.
Another effective way to capture snakes inside a home is to use a glue board. These can be purchased in a variety of places such as agriculture supply and hardware stores. Most small snakes can be captured using a single glue board placed against a wall but away from pipes or other objects that a snake could use for leverage to escape.
For larger snakes (four to five feet long) attach several glue boards side-by-side to a piece of plywood. Release snakes by pouring vegetable oil or common cooking oil over the snake where it has adhered to the glue board. Glue boards should only be used indoors or under structures where children, pets and other wildlife cannot reach them.
Snake Control Tips
To keep snakes away from your house, and out of your house, clean up piles of wood, metal, trash, and other garbage to minimize snake habitat. Snakes are common in Ohio so there is a chance you might see one in your yard. Read a guide to learn how to keep snakes away from your yard and home, here.
Cut shrubs away from your house and mow your grass frequently to keep your grass short. Trim your weeds to reduce the places that snakes can hide. Snakes like to hide in yard debris and tall grass. Secure all your window screens and door sweeps to minimize the ways that snakes can get in. Check for any ways that snakes can get into your basement or attic.
What To Do About Snakes [Information From The Humane Society Of The United States]
Adapted From The Book "Wild Neighbors: The Humane Approach To Living With Wildlife" | Download The Book Here
Snakes instill a deep-rooted fear in many people that few other animals can match.
Even other animals seem to put them in a special category; many wild animals recognize snakes as threatening, and some birds and monkeys even have special vocalizations for sounding an alarm when a snake is seen.
But there's no justification for the persecution of these animals and the acts of violence often committed when even the most harmless of them is sighted.
Snakes suffer greatly from changes in their habitat. Isolated when their natural land is broken up by development, they can't easily move across the unfriendly terrain.
Many species are either already gone or are rapidly disappearing from city and suburb, lowering the number of human-snake conflicts, but depriving those who delight in encountering them that pleasure.
Common problems and solutions
Snakes cause few problems, and the few they do are relatively benign. Some of the larger species may cause problems around poultry houses, occasionally taking chicks or eggs, but—except for the venomous species— snakes are not a threat to humans or their pets. That does not convince people who have a deep-seated fear of these animals that they are harmless, and the fear some people have at even a glimpse of these reptiles contributes mightily to what are real conflicts between humans and snakes.
Encounters
Most encounters with snakes are passing, but when one does occur, be sure to:
Leave the snake alone.
Identify it by species.
Continue to leave it alone so long as it is not venomous and not inside a house or building.
All outdoor (even in your yard) encounters with nonvenomous snakes should be resolved by letting the animal go its own way, most likely to never be seen again.
Venomous snakes are another matter. If you encounter a venomous snake in your yard, take it seriously. The snake should be removed to ensure that no one, including pets, gets hurt. Note: This does not mean the snake has to be killed.
Snake Identification Books on Amazon
In many places, you can call animal-control or local police or fire departments to remove the snake. What happens after that may be problematic, since most poisonous snakes have well defined ranges in which resources, such as winter dens (hibernacula), are critical to their survival.
Moving snakes into unfamiliar territory may compromise their chances to survive.
Your local animal control agency is the best place to start looking for someone knowledgeable about snakes who can give advice about the best course of action when a snake must be removed. Many states have herpetological associations and university extension specialists may be good sources of information or able to network with others who are.
Exclusion (preventing entry or re-entry)
Excluding snakes from buildings can be as difficult as excluding rodents. And keeping snakes out of yards or gardens may be completely impractical.
Snakes in houses may be there either accidentally (for instance, washed in by flood waters) or purposely to find prey or shelter. They can become trapped inside and may die from lack of food or moisture if not captured and removed.
Note: Some snakes may hibernate in cellars or crawl spaces of older houses. The presence of shed skin usually indicates that a snake has been living in the house for some time.
Removing snakes
If you discover a snake in your house, act as soon as possible, for both the snake's and your peace of mind:
Remain calm and avoid disturbing the snake or driving her into hiding.
If possible, carefully open a nearby door and use a broom to gently herd the snake outside.
If you can't herd the snake—and it's small or coiled, slowly place an empty pail or wastebasket over her, then put a weight on top to trap the snake until an experienced handler arrives.
If getting the snake outside is impossible and the above is also, try to confining her to a room or corner her with barriers such as boards or boxes, so that she will be easy to capture when the expert arrives.
If you know there is a snake in your house, but you can't find it, consider this: snakes like warmth and darkness, and a heating pad or even a pile of burlap or other material on the basement floor may attract the unwanted visitor, who can then be trapped and handled.
If you aren't afraid of snakes and believe you can do so without harming either the snake or yourself—and you are certain it is not a venomous species—you can consider putting on gloves, gently picking up the snake, and carefully relocating her outside
How to inspect and snake-proof your property
If you've found a snake in your house—or if you want to avoid finding one, you can snake-proof your home. Snakes usually enter buildings at ground level, some fitting through tiny cracks or holes no more than one-eighth inch wide.
Closely inspect the foundation for unsealed wire or pipe conduits or basement windows or doors that do not seal tightly and seal these openings immediately. (You can use the same methods you'd use to keep out rodents.) Look for openings at or near ground level (If you've already found a snake in your house, remember what size he was and look for openings large enough for the snake's head to pass through.)
Some snakes are also good climbers, and trees, shrubs, stone walls or chimneys may provide access to the roof. So be sure to check for openings around the eaves and roof. Inspect behind concrete porches, steps, and where decks attach to the house.
Once the entire exterior has been inspected and one or more openings have been discovered, decide which opening is likely to be the main snake entrance.
Seal all the openings except the suspected main entrance. On that opening, install a one-way door for snakes.
DIY: One-way snake doors
You can make your own one-way door to help evict snakes from a building.
Roll a piece of aluminum window screen into a 10 inch cylinder slightly larger in diameter that the entrance hole.
Insert the roll into the snake entrance.
Suspend the outlet end a few inches off the ground, so the snake can exit but not reenter.
Leave it in place a month or longer—if you install it in the fall, leave it in place until late spring.
Once the snake has left, remove tube and permanently seal the opening.
Habitat management
Reduce the chance of a snake moving in your yard by making it less attractive (to snakes, at least).
Removing potential hiding places for both snakes and their prey including:
Piles of rocks, wood, or other debris.
Tall grass and undergrowth.
Cracks around concrete porches and sidewalks.
Storage sheds with space under the floor.
Note: Pet foods and household garbage left outside overnight attract rodents, which, in turn, may attract snakes.
Repellents
There are commercially marketed repellents for snakes, ranging from sisal rope to sulfur. However, we cannot confirm that any effective product exists to repel snakes humanely.
Snakes as pets
It's no secret that many people like the idea of keeping snakes as pets. Like all wild animals, snakes belong in the wild. The Humane Society of the United States does not recommend that snakes be kept as pets.
Public health concerns
Snakes are not known to transmit any disease to humans.
When a non-poisonous bite breaks the skin:
Treat the wound like any other puncture wound that can get infected.
Immediately consult a physician.
If bitten by a poisonous snake:
Call 911 or transport victim to the hospital immediately.
Secure the snake if possible for identification.
Stay calm and inactive.
Do not cut open bite wound to bleed or suck out venom.
While all venomous snake bites are potentially fatal, the neurotoxic venom of coral snakes is more deadly than the hemotoxic venom of pit vipers.
Resources
About The Humane Treatment Of Snakes
Some Ohioans think that snakes are scary. These reptiles instill a deep-rooted fear in people. However, snakes are not really scary. There is no justification for the persecution of snakes. While snakes are cold-blooded biologically, it's humans who tend to act cold-blooded—killing these sensitive animals for food, wine, blood, and clothing and trapping, confining, abusing, tormenting, and neglecting them for "entertainment."
Snake Guards are used to humanely trap snakes. Once they are captured, they can be released in another location. Repeating plastic snake traps are designed to make releasing snakes very easy.
People for the Ethical Treatment of Animals (PETA) requests that invasive snakes, like Pythons, be given a humane death.
Who Traps Wildlife And Nuisance Animals In Ohio?
Trapping is regularly used for nuisance wild animal control in Ohio in order to limit damage to food supplies, property, households, lawns, buildings, farming and ranching. Wildlife are typically defined as free-ranging, terrestrial vertebrates.
Animals are frequently trapped by CWR in Cleveland, Columbus, Springfield, Dayton, Cincinnati and Toledo to prevent damage to personal property, including the killing of livestock by predatory animals such as coyotes, weasels and foxes. Find out how much wildlife trapping costs in Ohio, here. Learn about the wildlife relocation options available in Ohio, here. Get information about wildlife rescue, transportation and rehabilitation in Ohio, here.
Humane live trapping is one of the most common nuisance wildlife control methods used in Ohio by pest management professionals and nuisance wildlife management professionals such as Mike Cottom Sr. and Mike Cottom Jr. at the Cottom's Wildlife Removal company.
The Humane Society of the United States works with community leaders and animal care and control agencies to create Wild Neighbors communities, where humane and non-lethal solutions are given priority when addressing conflicts between people and wildlife. Find answers to wildlife problems, here. The Humane Society of the United States recommends scrapping the trap when evicting wildlife.
CWR wildlife trappers know how to prevent and control coyote problems in Ohio. CRW animal trappers use trapping tactics that work for coyotes and foxes. A fox cutting through your yard is probably just passing through on their way between hunting areas and no action is necessary on your part. Learn more about trapping coyotes in Ohio, here.
On behalf of tenants and landowners in Ohio, the Cottom's Wildlife Removal company traps live, non-migratory animals (except white-tailed deer, black bear or wild turkey) when these animals become a nuisance. The experienced trappers at CRW know the best practices and the key principles and techniques of capturing animals on land, in and around water to manage wildlife damage.
CWR also specializes in "animal proofing" (exclusion) to keep nuisance wildlife out of homes, attics, basements, sheds, garages and outbuildings. CWR is a full service wildlife company that frequently disinfects, sanitizes and decontaminates infested areas of structures and property in Northern, Central and Southern, Ohio.
The Cottom's Wildlife Removal company provides Ohioans with nuisance wild animal control services for a fee. Ohio residents and wildlife should be able to coexist in most situations. If conflicts arise, the Cottom's Wildlife Removal company is a better choice than trying to trap and remove wildlife and animals yourself. Learn more about the details of wildlife control and wild animal removal services in Ohio, here.
However, there may be times when Ohio property owners need to call a professional wildlife control operator at 440-236-8114 in Cleveland, 614-300-2763 in Columbus or 513-808-9530 in Cincinnati. CRW traps raccoons, skunks, opossums, groundhogs, beavers, coyotes, squirrels and other wild animals. CRW is licensed by the State of Ohio as a "Commercial Nuisance Wild Animal Control Operator" and is fully insured.
State laws and federal laws protect virtually all wildlife, wild animals and wild places. These statutes regulate which species can be harassed, harvested, trapped, harmed or hunted. The animal trappers at CRW are experts at resolving human-nuisance wildlife conflicts in Hamilton, Canton, Youngstown, Maumee, Ashtabula, Lima, Sandusky, Strongsville, Athens, Chillicothe and Cleveland Heights, Ohio.
It is illegal in Ohio to fail to euthanize, or release on site, any nuisance animals, skunk, raccoon, squirrel, beaver, coyote, red fox, or opossum that is captured, trapped or taken. A violation of a nuisance wild animal control law or rule in Ohio may result in criminal charges [PDF]. However, the Cottom's Wildlife Removal company is legally permitted to remove a trapped animal from a customer's property because CRW holds an Ohio CNWACO license.
Learn about methods used to capture mammals, handle mammals and care for mammals, here. These methods, which include trapping and netting, must be designed to keep captive animals alive, uninjured, well provisioned and comfortable.
CRW captures, handles and catches animals remotely in Ohio by using leather gloves, catch poles, protective clothing, humane animal traps, foothold traps, snares, body gripping traps, live cage traps (box traps) and conibear traps. CRW wildlife trappers prefer to use humane live cage traps whenever possible. Glue traps and glue boards are NOT recommended. Learn how wild animals are trapped, here. Find out which baits are best for live trapping, here.
Before CRW pest control technicians begin trapping wildlife for a customer, they have a suitable plan for what to do with the trapped animal. Learn how to use traps to catch nuisance wildlife in your yard, here. Get familiar with wildlife damage management tools and techniques, here. Stay informed about wildlife and nuisance wild animals in Ohio, here.
CWR Cleans Attics After Snakes, Raccoons, Squirrels, Bats, Birds, Mice And Rodents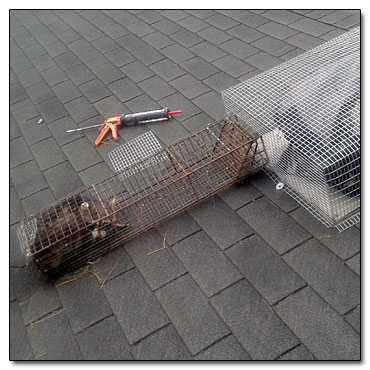 Although kids in Ohio think that raccoons look like cute cuddly bandits because of their signature black masks, adults know all to well that they are well adapted to urban living, are expert thieves and can be a nuisance – and a potential health hazard.
Before you try to clean an attic after a raccoon infestation, you have to first get rid of raccoons and keep them out. You can hire a professional raccoon removal and exclusion service such as the Cottom's Wildlife Removal company or do-it-yourself.
Please do not use an attic fogger, bug bomb or a smoke bomb to get rid of raccoons because it is not humane. The most humane way to get rid of raccoons in an attic or chimney is to use a one-way door and exclude them from returning.
Learn how you sanitize an attic after rodents, here. Get a quote for raccoon attic cleanup costs, here. Request raccoon cleanup services, here. Find out about attic cleanup and decontamination, here. Schedule a time to have your attic inspected for raccoon damage, here.
Schedule a time for attic cleanup services near Cleveland, Columbus or Cincinnati, Ohio, here. Find out how to clean up after a raccoon, here.
Watch a video from the Humane Society of the Unites States to learn how to humanely get raccoons out of an attic, here. Get tips on cleaning an attic after a raccoon, here (PDF).
The hollow smoky compartments in chimneys are similar to burned out hollow trees which are popular with pregnant raccoons. The raccoon removal and attic cleanup experts at the Cottom's Wildlife Company are proficient at removing raccoons from chimneys in Ohio homes. CWR raccoon removal specialists get raccoons out of roofs, attics, yards, chimneys, garages, walls, garbage and out from under decks in Cleveland, Columbus and Cincinnati.
The professionals at the Cottom's Wildlife Removal firm have been cleaning up attics after raccoons, removing bat guano from attics and getting rid of animal feces in attics in Ohio homes since 1986. CWR pest control technicians also provide rodent dropping cleanup, sanitizing and disinfecting services for Ohio homeowners.
After raccoons have invaded an attic, odor removal services are frequently requested by CWR customers. For animal feces removal and attic cleanup services in Columbus, Ohio please call CWR at 614-300-2763.
CWR wildlife damage management specialists safely repair attics, soffits, gutters, siding, shingles, roofs, chimney caps and vents for Ohio homeowners. Get more information about attic repair and decontamination services in Ohio, here.
Spray any urine, droppings, and nesting materials with either a bleach and water solution (1 parts bleach to 9 parts water) or a household disinfectant prepared according to the label instructions for dilution and disinfection time. Soak well. This will inactivate any virus. Use a paper towel or rag to pick up the materials and dispose of them. Read more here.
Raccoon Latrines: Identification and Clean-up – CDC [PDF]
Fill a bucket with hot, soapy water. Feces and material contaminated with raccoon feces should be removed (using a shovel or inverted plastic bag) and burned, buried, or bagged and placed in the trash to be sent to a landfill. Use a damp (but not wet) sponge to wipe the area. Read more here (PDF).
Who Do You Call To Pick Up A Dead Raccoon In Ohio? Consider Calling The Cottom's Wildlife Removal Company 
Humane Wildlife Solutions In The Buckeye State Capital
Who Do You Call To Pickup A Dead Deer Or Remove A Dead Animal In Columbus, Ohio And How Much Does It Cost?
How much does it cost to remove a dead deer? Deer carcass removal costs start at $895. In Ohio, call CWR at 440-236-8114 in Cleveland, 614-300-2763 in Columbus or 513-808-9530 in Cincinnati to get a quote for CRW to pick up a dead deer or dead animal. Prices to pick up a dead animal from your yard or property start at $399.
Humane Wildlife Removal Services In Columbus, Ohio
Ohio Wildlife Information And Wildlife Services
Division of Wildlife | Ohio Department of Natural Resources
A department of incredible diversity, ODNR owns and manages more than 800,000 acres of land, including 75 state parks, 24 state forests, 138 state nature preserves, and 150 wildlife areas.
The Division of Wildlife's mission is to conserve and improve fish and wildlife resources and their habitats for sustainable use and appreciation by all.
Customer Service
1-800-WILDLIFE (945-3543)
wildinfo@dnr.ohio.gov
Monday – Friday 8AM – 5PM EST
Report a Wildlife Violation
1-800-POACHER (762-2437)
Report online
State Headquarters
2045 Morse Road
Building G
Columbus, OH, 43229
1-800-WILDLIFE (945-3543)
Ohio Division of Wildlife On Facebook
Information On Wildlife Services In Ohio From The ODNR
The Ohio Department of Natural Resources (ODNR) is the Ohio state government agency charged with ensuring "a balance between wise use and protection of our natural resources for the benefit of all." Ohio wildlife officials rescue injured bald eagles.
ODNR regulates the oil and gas industry, the mining industry, hunting and fishing, and dams, while maintaining natural resources such as state parks, state nature preserves, state wildlife areas, state forests, and state waterways. It was created in 1949 by the Ohio Legislature.
In May of 2021, the Ohio Department of Natural Resources and the Department of Mental Health kicked off Mental Health Awareness month by pairing up to create a new initiative called "Thrive Outside."
The ODNR Division of Wildlife stocked more that 40 million sport fish in Ohio's waters in 2020, including channel catfish, walleye, steelhead, saugeye, muskellunge, brown trout, rainbow trout, blue catfish, and hybrid striped bass.
In addition, ODNR licenses all hunting, fishing, and watercraft in the state and is responsible for overseeing and permitting all mineral extraction, monitoring dam safety, managing water resources, coordinating the activity of Ohio's 88 county soil and water conservation districts, mapping the state's major geologic structures and mineral resources, and promoting recycling and litter prevention through grant programs in local communities.
Wildlife Services State Offices – USDA APHIS
U.S. Department Of Agriculture – Animal and Plant Health Inspection Service
Wildlife Services State Director: Andrew J. Montoney, Ohio
4469 Professional Parkway
Groveport, OH 43125
Phone: 614-993-3444
FAX: 614-836-5597
Toll-Free Number: 1-866-4USDAWS
(1-866-487-3297)
Andrew.j.montoney@aphis.usda.gov
www.aphis.usda.gov/wildlife-damage/
USDA Resolves Wildlife Conflicts in Ohio
Every day, the Wildlife Services (WS) program in Ohio helps citizens, organizations, industries, and Government agencies resolve conflicts with wildlife to protect agriculture, other property, and natural resources, and to safeguard human health and safety. WS' professional wildlife biologists and specialists implement effective, selective, and responsible strategies that value wildlife, the environment, and the resources being protected. WS manages wildlife damage according to its public trust stewardship responsibilities as a Federal natural resource management program. The program supports the North American Model of Wildlife Conservation, based on the principle that wildlife resources are owned collectively and held in trust by Government for the benefit of present and future generations.
WS oversees a multitude of programs and projects within Ohio to resolve human/wildlife conflicts. WS works on airports to prevent aircraft-wildlife collisions. WS conducts disease surveillance to monitor wildlife diseases that threaten the health of people, pets, livestock, and wildlife. WS provides leadership and is a member of the Ohio Rabies Taskforce, and works year-round to stop raccoon variant rabies (RVR) from spreading westward and to eliminate the disease from the State.
Ohio's livestock producers and crop farmers rely on WS' expertise in resolving conflicts with wildlife such as coyotes, black vultures, feral swine, and blackbirds. As a member of the Great Lakes Restoration Initiative Task Force, WS-Ohio works to reduce predation on threatened species of turtles, manage mute swans to support trumpeter swan introduction and eliminate feral swine populations to protect natural resources and agriculture in the Lake Erie Region of Ohio. WS works with local communities to reduce wildlife conflicts in urban areas.
Download the full report in PDF format,  here.
The Ohio Wildlife Center offers humane pest control and animal rehabilitation services while fostering awareness and appreciation for Ohio's native wildlife through rehabilitation, education and wildlife health studies.
Ohio Wildlife Center
Education & Administration
Business calls only. Scheduled programs.
6131 Cook Rd
Powell, Ohio 43065
614-734- 9453
Ohio Wildlife Center's Hospital
Animal Admissions
2661 Billingsley Rd
Columbus, Ohio 43235
614-793-9453
Mon-Fri, 9am – 5pm
Sat-Sun 9am – 3pm
The state's largest, donation-supported Wildlife Hospital with on-site veterinary care, treating more than 6,000 patients each year representing more than 150 species from more than 60 of Ohio's 88 counties.
A 20-acre outdoor Education Center with more than 50 Animal Ambassadors that greet visitors during our public events, camps and group programming.
SCRAM! Wildlife Control, a fee-for-service solution for human-wildlife conflicts to assist central Ohio home and business owners with access to humane wildlife eviction and exclusion services. SCRAM! has operated since 2001.
Wildlife assistance for the public via social media and phone for step-by-step guidance with wildlife issues and questions.
Volunteer and internship opportunities – more than 250 volunteers annually participate in volunteer services in animal care, education programming, events and administrative support.
U.S. Fish and Wildlife Service | Ohio Field Office
Midwest Region – Ohio Ecological Services Office
4625 Morse Road, Suite 104
Columbus, OH 43230
phone: 614-416-8993
e-mail: ohio@fws.gov
www.fws.gov/midwest/ohio/
The service works with public and private entities to conserve and restore Ohio's endangered species, migratory birds, wetlands, and other important fish and wildlife resources.
The Ohio Field Office is the home of the Fish and Wildlife Service, Ecological Services Division, for the state of Ohio. They cover projects on or affecting all the land and water within Ohio as well as the western basin of Lake Erie.
The mission of the Fish and Wildlife Service is "working with others, to conserve, protect and enhance fish, wildlife, and plants and their habitats for the continuing benefit of the American people." The Ohio Field Office uses that mission statement to guide all their our activities.
Ohio Wildlife Field Guides And Backyard Wildlife [Download PDFs From The Ohio Department Of Natural Resources]
This list of mammals of Ohio includes a total of 70 mammal species recorded in the state of Ohio. Of these, three (the American black bear, Indiana bat, and Allegheny woodrat) are listed as endangered in the state; four (the brown rat, black rat, house mouse, and wild boar) are introduced; two (the gray bat and Mexican free-tailed bat) are considered accidental; and eight (the American bison, elk, fisher cougar, Canada lynx, gray wolf, American marten, and wolverine) have been extirpated from the state. Read more here.
Raccoons In Ohio [From The Ohio Department Of Health]
Raccoons can be found throughout the state and in all habitat types, with the majority being found in northwestern and central Ohio along rivers and streams bordering farmland habitats. They have also moved into suburban and urban areas and can live almost any place where there is food for them to eat and a den to serve as shelter. Many of them live, temporarily at least, in drain tiles and sewer systems. Raccoons defecate in communal sites called latrines. They are nocturnal and are up and about during the dark hours of the night. Even though raccoons do not really hibernate, they can sleep for days, and even weeks at a time, during the cold winter months. Read more here.