Deer and Dead Animal Carcass Removal Services In Ohio – From $125+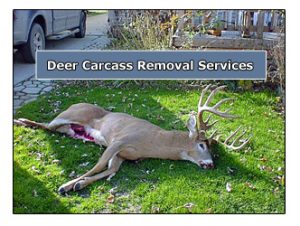 Cottom's Wildlife Removal (CWR) removes and picks up deer carcasses and dead animals in Cleveland, Columbus, Cincinnati, Akron and other Ohio cities. Prices start at $125. Deer carcass removal and large animal removal costs start at $395.
Cleveland and Akron area homeowners, business owners, property management companies and municipalities rely on Mike Cottom's Wildlife Removal to remove deer and dead animal carcasses in Northeastern, Ohio. Carcasses that we remove include deer, coyote, wolf, fox, raccoon, dog, horses, possum, groundhog, large mammals, skunks, pigs, cows, bears, weasels, cats, beaver, rats and other types of wildlife.
Because deer carcasses are usually very heavy, they stink, they may often be torn apart, they attract coyotes and other predators and they may be contaminated with an infectious disease it is advisable to hire a professional for these services.
Our deer carcass removal services begin with a phone call to 440-236-8114. Call us and we will schedule a convenient time to perform the service. Prices to remove a deer carcass, or other dead animal, in Northeast Ohio start at $395. Costs are dependent upon the location of the deer and complexity of the deer carcass removal project.
We usually schedule service within 1-2 days. If you need to have a deer carcass removed from your yard, business or community, please call 440-236-8114 for more information and/or to schedule a service call to your residence or location.  Our company also performs 'off road' deer carcass removal services for cities, municipalities and animal control departments.