Raccoon Trapping, Removal, Control, Decontamination, Repair and Exclusion Services In Cleveland, Columbus, Cincinnati And Akron Ohio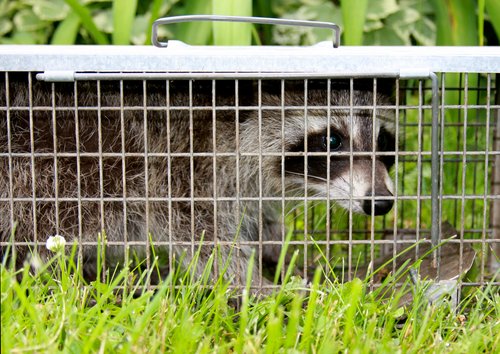 Cleveland Wildlife Removal – CWR is licensed, insured, bonded and certified in Ohio. Expert pest control technicians trap and remove raccoons, bats, skunks and squirrels. They get rid of small mammals, voles, moles, birds, mice, rodents, and pests. Cleveland wildlife removal experts remove and exclude nuisance wildlife and wild animals from homes, attics, roofs, chimneys, garages and yards throughout Ohio. On-site wildlife inspection and removal costs start at $239+.
Contact Us For More Information
Cincinnati And Southern Ohio Office: 513-808-9530
Email: info@mcwildlife.com
Company Headquarters Address: 26765 Royalton Rd, Columbia Station, OH  44028
Complete The Form Below To Contact Cottom's Wildlife Removal and Environmental Services
Overview of Raccoon Trapping And Removal Services
Raccoon trapping, removal, raccoon control, and raccoon exclusion services are provided by Cottom's Wildlife Removal to Cleveland, Columbus, Cincinnati and Akron homeowners and businesses. Prices to remove a trapped raccoon from an attic start at $95.
Cottom's Wildlife Removal gets raccoons out of chimneys for Ohio homeowners. It costs $495 for us to remove raccoons from a chimney and to install one chimney cap.
Video Below: Ohio Raccoon Trapping and Removal Services
Solutions For Ohio Homeowners That Solve Raccoon Problems
Video Below: How To Remove Raccoon In Your Attic In Cleveland, Ohio
CWR Is Ohio's Premier Raccoon Trapping, Removal And Exclusion Company
Removal of raccoon feces, soiled attic insulation and damaged drywall.
Sick raccoon removal services.
Be careful about cleaning up raccoon waste. We suggest you call Cottom's Wildlife Removal to request that we remove raccoon feces. We are professionals and understand how to disinfect and decontaminate a raccoon latrine to avoid exposure to roundworm eggs.
Decontamination of areas soiled by raccoon urine, feces, worms, parasites and viruses.
Prevention of Health Risks Caused by Raccoons Living in Attics.
Getting Rid of Raccoons on Roofs and in Chimneys.
Video Below: How to Remove Raccoons from Your Chimney in Cleveland, Ohio

Who Gets Rid Of Raccoons In Ohio?
Contact Us To Get Rid Of Raccoons In Ohio
Trapping and Relocating Raccoons in Cleveland, Akron, Cincinnati and Ohio
Raccoons are very well adapted to living in Cleveland, Columbus, Akron and the surrounding suburbs. In Ohio, the laws permit homeowners and business owners to trap sick or nuisance raccoons without a permit. However, people can not release the raccoon on another homeowner's property, in a new area or in a local park. People who buy a trap and catch a raccoon with peanut butter need to kill it (euthanize) or release it on their own property.
This law conflicts with the feelings of some Ohio residents who don't want to kill an innocent raccoon just because it has become an annoyance or inconvenience. While raccoons are cute when they respect human boundary's and authority, when they start knocking over trash cans and going through the trash for the remnants of a Happy Meal, they start to piss people off. When they slither down a chimney and start hanging out they become more than a problem. When they start stealing vegetables out of your garden they irate and anger you beyond words.  Mike Cottom and Mike Cottom, Jr. have many years of experience in preventing nuisance wildlife encounters, troubleshooting critter problems caused by annoying animals and dealing with pesky raccoons.
Controlling raccoons and keeping them out of buildings is trickier than most people realize. Raccoons are extremely persistent and surprisingly cunning. They can outwit many types of barriers, locks and latches. When a raccoon wants to get into something, like the eve of a roof or a house, it is almost impossible to stop them without trapping the varmints. A typical sign that a raccoon has become a nuisance is when a homeowners starts swearing and using cuss words when describing their latest offense. It is beyond annoying when ring tailed trespassers move into your attic and start defecating all over your insulation. Experts such as Mike Cottom Sr. are often contracted to remove and euthanize the uninvited house guests, clean up the damage, disinfect the area and repair the damage to the attic, roof or residence.
Raccoons can transmit rabies and parvovirus to domestic animals and humans. Because raccoons are susceptible to infection by both canine and feline distemper, they can become very sick and dangerous to both dogs and humans. Dogs who have not been vaccinated for distemper can become infected if they come in contact with a raccoon with distemper.
If you see a raccoon walking around on your property during the day, this is probably a sign that "Rocky" is sick. Raccoons are not normally active during daylight hours. They are nocturnal and have masks to hide their activity at night. If you see a raccoon that is walking and falls over, or looks like it is drunk, this is also a good indication that the animal needs to be trapped and put down. If you spot a raccoon in your yard that is acting funny  you should call the Ohio Division of Wildlife district office or contact a nuisance trapper or commercial nuisance wild animal control operator such as Cottom's Wildlife Removal.
If you live in Cleveland, Columbus, Akron, Cincinnati, Central Ohio, Southern Ohio or Northeast Ohio, you should contact Cottom's Wildlife Removal at 440-236-8114 or email info@mcwildlife.com or call a district office of the Ohio Division of Wildlife near you.
Ohio Division Of Natural Resources Wildlife District Offices
Ohio Division of Wildlife District 3 Office (Northwest Ohio): 330-644-2293
Ohio DNR Wildlife District One (Central Ohio): 614-644-3925
Ohio Department of Natural Resources Division of Wildlife District Two (Northwest Ohio): 419-424-5000
Ohio Division of Wildlife District 4 Office (Southeast Ohio): 740-589-9930
Ohio Division of Wildlife District 5 Office (Southwest Ohio): 937-372-5639
Raccoon Laws In Ohio
According to the Ohio Department Of Natural Resources, nuisance or sick raccoons may be trapped without a permit, but it is illegal to live trap and relocate them to a new area. In order to prevent the possible spread of raccoon diseases in Ohio, all live trapped raccoons must be released again on the homeowner's property or humanely euthanized. Consult your district wildlife office for further information.
The laws regulating the relocation of raccoons that have become a nuisance or ill have been written to for the safety of Ohio families. Minimizing the spread of raccoon diseases in Ohio is partially achieved by these laws. The animal control experts and service technicians at Cottom's Wildlife Removal have years of experience in trapping and euthanizing raccoons and are very familiar with Ohio laws as they relate to trapping and relocating raccoons.
How Raccoons Enter Buildings
Raccoons frequently damage homes in order to gain access to houses in Cleveland, Columbus, Cincinnati and Akron, Ohio. Raccoons often will chew a hole through the shingles, claw through fascia boards or tear off or bend soffits to make an opening. They climb through roof vents and power ventilators.
What Raccoons Do in Roofs, Chimneys, Garages, Attics, Crawl Spaces and Homes
Raccoons will live in roofs, chimneys, garages, crawl spaces, and attics. In the spring time, raccoons will move into attics in order to breed and raise their offspring. They usually have 5 kits and can produce a litter of up to 10 kits. When the young ones are born, the female raccoon will become very aggressive and territorial. They can be very dangerous to humans. Raccoons will chase people and bite. Rabies shots are required once you are bitten by a raccoon. Raccoons will claw and scratch and their bites are very infectious.
How To Deal With Raccoon Infestations
Raccoons introduce fleas, ticks and parasites into the attic insulation which can mix with house air. They carry diseases such as rabies and raccoon round worm which can be transmitted to humans through the droppings. They destroy insulation and chew up wires which can cause fires. They stain ceilings when they urinate. In summary, raccoons who live in attics and peoples homes need to be removed as soon as possible. The damage they cause needs to be repaired as well.  Raccoons damage attic insulation, drywall, attic insulation, soffits, shingles, roof decking, chimneys, gutters, wiring, roof vents, wallpaper, vinyl and aluminum siding.
Raccoon Solutions for Cleveland, Cincinnati, Columbus and Akron Homeowners
Cleveland, Cincinnati, Columbus and Akron, Ohio homeowners should not try to trap, remove or get rid of raccoons on their own. In Cleveland and Akron, Ohio the law states that a raccoon must be euthanized because they can not be transported and released. When a homeowner buys a trap and catches a raccoon, they often overlook the litter of raccoons in the attic which eventually causes more damage. Injuries can occur when a Cleveland, Columbus or Akron resident tries to catch and handle a raccoon. People can get infected by raccoon round worm and other diseases when they come into contact with raccoons.
Hiring a Raccoon Trapper or Exterminator
Hiring a professional raccoon trapper or exterminator is the best option for people who have raccoons living in their house or outbuildings. These types of raccoon problem control and prevention services differ in quality and cost. Inexperienced and non-caring trappers usually bring a trap and just set it on the ground hoping to catch whatever comes by.
Experienced Raccoon Trappers Such as Cottom's Wildlife Removal
Experienced trappers, such as Mike Cottom and his staff, provide "positive control" and highly refined trapping techniques. Mike Cottom will position and anchor the trap in the raccoon's entrance hole. This process can take hours but is worth the time and effort. Traps on the ground often catch unintended cats and other animals and this does not solve the problem. Once Mike Cottom sets a trap, usually within a day or two, the homeowner will call Mike Cottom to confirm that the raccoon has been caught. Mike Cottom's Wildlife Removal Service will then return to the house to remove the raccoon. The raccoon (s) will then be put into a truck and removed from the property. In some rare cases, Mike Cottom and his staff can enter an attic and actually catch the raccoon with various handling tools.
How To Confirm You Have A Raccoon Problem in Your Home
Cleveland, Cincinnati, Youngstown, Athens, Marietta, Strongsville, Lakewood, Cleveland Heights, Dayton, Columbus and Akron homeowners who suspect they have a problem with raccoons will often see damage to their siding or roof. They may hear the raccoons in the attic. Stains from urine may be noticeable on ceilings or the scent of urine may be noticeable. Neighbors may report that they see raccoons entering their roof or attic.
Solving A Raccoon Problem
Once a raccoon problem has been detected, Cleveland, Cincinnati, Columbus and Akron, Ohio residents should call 440-236-8114 anytime. You can call 24/7 to speak with someone about your raccoon problem.
Our staff will be happy to explain how our raccoon removal services work. Fees and rates can be explained during this initial phone call. Fees are based on an inspection and a service call.
A service call is the first step in the raccoon removal service. During the service call, CWR pest control technicians will come to your residence to inspect the outside and inside of the structure to see what damage has occurred and where the raccoon is entering the residence, business or building.
Wildlife Barrier Installation Prices For Ohio Homes And Buildings
Call 440-236-8114 for an estimate for wildlife exclusion, wildlife barrier installation and "animal proofing" services. Prices in Cleveland, Columbus, Cincinnati, Canton, Portsmouth, Toledo, Mentor, Lima, Akron and other Ohio communities start at $35 per linear foot for wildlife barrier installation, wire mesh installation and the installation of other animal exclusion systems for homes, decks, garages, porches, sheds, sun rooms and gazebos. start at $35.00 per linear foot.
Get Started
Expert Wildlife Trapping & Animal Removal Services For Cleveland And Northern Ohio Homeowners And Businesses – Call 440-236-8114 24/7
Call 440-236-8114 day or night to schedule an inspection and to talk with a licensed and certified wildlife control expert. CWR pest control technicians are experts at raccoon, bat, skunk, squirrel, bird and mice trapping, removal and prevention in Columbus, Cincinnati and Cleveland, Ohio.