Your Ohio Wildlife Experts for
Over 45 Years.
Or call our main office at (440) 236-8114 to schedule an estimate.
(No Cats or Dogs)
COTTOM'S WILDLIFE REMOVAL
Ohio's Animal Experts for over
45 Years
When you choose Cottom's Wildlife Removal & Environmental Service, you're choosing an expert team that is dedicated to ensuring the satisfaction of every client we serve.
COTTOM'S WILDLIFE REMOVAL
45+ Years of Experience
The team at Cottom's Wildlife Removal has been trapping, removing, and excluding animals from Ohio residences for over 45 years. No one has more hands-on experience with the wildlife found in Ohio.
Family Owned & Operated
Cottom's Wildlife Removal is a second-generation family owned business. Mike Cottom Sr. started Cottom's Wildlife Removal in 1985. In 2021, Mike Cottom Jr. was appointed President of Cottom's Wildlife Removal.
Together, along with a dedicated, trusted staff of certified animal removal technicians, the Cottom's have lead the way as Ohio's go-to animal removal experts.
Experienced with Homeowners Insurance
Cottom's Wildlife Removal has experience with every major homeowners insurance provider. We can work with your insurance to ensure you're getting the most coverage possible for your particular animal removal situation.
The Contractor that Contractors Trust
When animal control experts in the state of Ohio have a job that is too big for their team or requires specialized animal removal practices, they call Cottom's Wildlife Removal.
The trained, certified experts at Cottom's have helped dozens of Ohio wildlife removal companies serve their customers. It's a pleasure to work with our peers in the wildlife removal industry, and we welcome the opportunity!
COTTOM'S WILDLIFE REMOVAL
Our Wildlife Removal Experts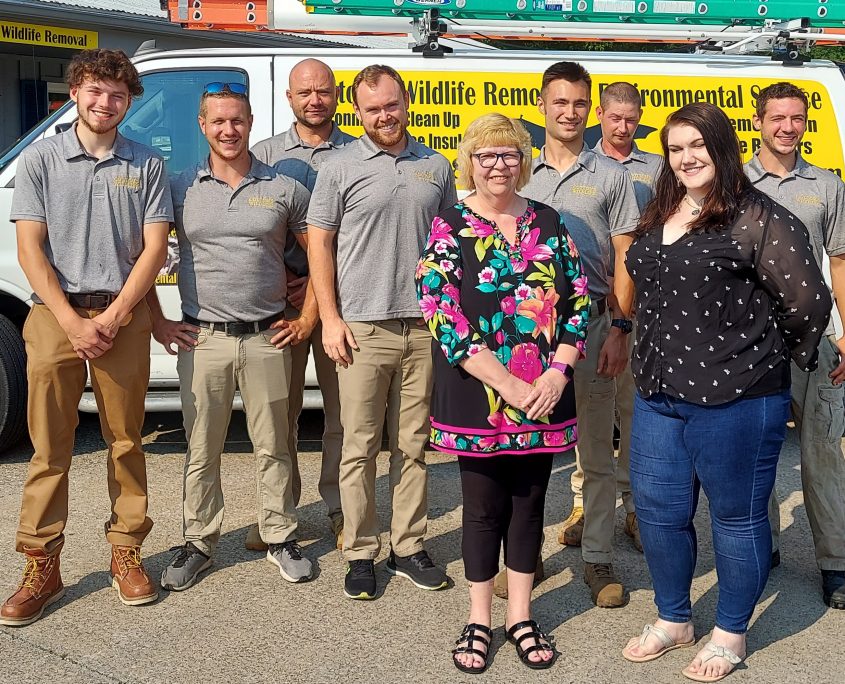 COTTOM'S WILDLIFE REMOVAL
Reviews from People Who
Used to Have an Animal Problem
Cassandra Kovacs
2022-04-27
I received a call back within a half hour. Was scheduled for the inspection/plan. They showed up on time and then returned a couple days later like was discussed. No animals were harmed. I'm very happy with the results and will recommend you to others.
Jason and Tyler are excellent and professional employees
Evangeline Fanara
2022-04-05
This company is so good to work with. Nathan's visit today was very educational and he made some good recommendations. I glad to have the critter (rodents) issue under control
My husband and I were very pleased with Nathan as our Service Representative. He took his time to explain everything that he would be doing and why. He left no questions unanswered. He also made us feel good about future services that we may be considering. Knowledgeable, very personable. We give Nathan an excellent rating!
I called on a Monday morning and had my job completed by 3pm that afternoon. Alex was very friendly and professional.
Our experience with Cottom's could not have been more positive. We had some VERY noisy visitors in our ceiling and walls, and Cottom's expedited our service as fast as possible. Nate is probably the nicest guy I've ever met, and was super patient and thorough in explaining the entire process of the removal and the repairs, including showing me pictures. He is clearly very passionate about his work, and didn't make us feel like just another stop and his to-do list — he genuinely wanted to help, do a perfect job, and leave us happy with our service. I couldn't imagine how stressful it would have been to have to call around for all the different services we required (from cleaning to trapping to repairs), so having a truly "one-stop shop" in Cottom's was a huge convenience and relief. I can't recommend these guys enough, and they will certainly the only one's I'll ever use for any kind of critter removal in the future. (But they have our house sealed up so tight, I don't think we'll need to anytime soon!) Thank you, Nate and Mike Jr. — you're life-savers!
Stephen Giblin
2022-02-10
I have nothing but praise for the professionalism of the service we received. CWR promptly responded to my service call and successfully caught and removed our uninvited house guest. While I hope I don't have the need to do so, I will certainly call CWR again if the need arises.
Awesome service! Jason really knows what he's doing. Anytime we had an issue, they were quick to respond and send him out. A lot of information of how the animal was getting into our attic, and repairs were made quickly. I would definitely recommend Cottom's wildlife removal.
I just wanted to leave my sincere gratitude and thankfulness to these professional extremely knowledgeable guys that removed and remediated what I thought was the most disgusting aftermath of a lot of squirrels partying in my moms closet for at least 6 months. They are not inexpensive, but extremely thorough and worth every penny! Thanks to Jason and his team!!!