To Request Insulation Installation Or Insulation Replacement Services In Ohio Call 440-236-8114 To Get An Inspection And A Quote
Ohio's Most Experienced Insulation Contractor Since 1986
Costs To Install Installation In Ohio Start At $4 Per Square Foot – Call 440-236-8114 To Request An Insulation Inspection And Consultation
Attic Insulation Company Serving Homeowners Throughout Ohio
Attic Insulation Removal, Attic Insulation Replacement, Attic Insulation Installation And Attic Insulation Additions For Ohio Homeowners
Cottom's Wildlife Removal, an insulation company/contractor in Cleveland adds insulation to attics for Ohio homeowners. We can add foam or blown in insulation to attics. Because we replace insulation frequently because it is damaged by raccoons, squirrels, bats and birds, we have become experts at adding insulation for people that want extra insulation in their attics. We service Columbus, Cincinnati, Cleveland, Toledo, Dayton and other cities in Ohio.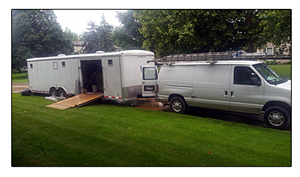 If you are considering adding additional insulation in your attic, contact Mike Cottom's Wildlife Service at 440-236-8114 to schedule an attic inspection. The addition of attic insulation will help you increase the R-value of the insulation in your attic and will help reduce your heating expenses. The attic is the easiest place to add insulation to improve your comfort and the energy efficiency of your home. Our company will inspect your attic to determine if you if you need more insulation in your attic and if so, how much.
Contact Our Insulation Company
CWR Installs Reflective Insulation, Radiant Barrier Insulation, Cellulose Insulation, Foam Board (Rigid Foam Panels) And Spray Foam Insulation In Attics, Crawl Spaces And Walls
Animal Trapping, Attic Animal Removal, Wildlife Exclusion, Feces Removal, Attic Cleanup And Attic Decontamination Services In Ohio
How To Determine If You Need More Insulation In Your Attic
No matter what kind of insulation you currently have in your attic, one quick way to determine if you need more is to look across the span of your attic. If your insulation is just level with or below your floor joists (i.e., you can easily see your joists), we should add more. Insulation levels are specified by R-Value. R-Value is a measure of insulation's ability to resist heat flow. The higher the R-Value, the better the thermal performance of the insulation. The recommended level for most attics is to insulate to R-38 or about 10 to 14 inches, depending on insulation type. When adding additional insulation, we do not have to use the same type of insulation that currently exists in your attic. We can add loose fill on top of fiberglass batts or blankets, and vice-versa.
To determine if you need more insulation in your attic, call 440-236-8114 to schedule an attic inspection. We service homeowners throughout Ohio in cities such as Cleveland, Cincinnati, Columbus, Dayton Toledo, Ashtabula, Canton, Springfield, Marietta, Athens.
How To Get Rid Of Bats In Ohio Using Exclusion Devices
YouTube Video Posted On November 1, 2021 Titled "How To Get Rid Of Bats In Ohio Using Exclusion Devices & By Sealing Your Home, Attic, Walls, Chimney"
In this video the bat control professionals at the Cottom's Wildlife Removal company of Ohio show you how to humanely get rid of bats by installing exclusion devices over entrances and how to seal up holes in your house, attic, chimney, vents, garage, soffits and roof.
CWR Provides Professional Attic Squirrel Removal Services, Attic Raccoon Removal Services, Squirrel Trapping Services, Attic Squirrel Exclusion Services And Squirrel Damage Repair Services For Ohio Homeowners
To Request Humane Attic Squirrel Removal Services Or Squirrel Exclusion Device Installation Services From A Local Contractor Near You In Your Neighborhood In Ohio Call 440-236-8114 To Schedule A Home And Attic Inspection
To humanely gets wild animals, raccoons, squirrels, mice, bats or birds out of your house and to keep them from from getting back into your house or attic, call 440-236-8114 to request professional wildlife exclusion and nuisance animal trapping services from the Cottom's Wildlife Removal company of Ohio. CWR pest control technicians install heavy duty exclusion devices, bat valves, wire mesh, stainless steel screens, flashing, caulk, vent covers, netting and chimney caps in homes throughout the state of Ohio.
Cottom's Wildlife Removal & Environmental Services is a full-service wildlife removal, wildlife trapping, pest control, exclusion (animal proofing), wildlife removal and nuisance animal damage repair company. To talk with some of the top wildlife experts in Ohio, you can call us at 440-236-8114 or you also call the Ohio Division of Natural Resources to talk with your local county wildlife officer at 1-800-WILDLIFE (800) 945-3543. You can email the ODNR at wildinfo@dnr.state.oh.us.
You can schedule wildlife exclusion services or wildlife removal services with a contractor near you in Ohio, here.  Book an appointment for a nuisance animal damage management inspection service for an Ohio home, building or business, here.
Our professional crews exclude raccoons, squirrels, mice, bats and birds to keep them permanently out of attics, walls, roofs, soffits, ceilings, garages, sheds, basements and chimneys. CWR's ethical wildlife control experts know how to humanely trap and remove uninvited fur-bearing free-loaders.
How And When To Get Rid Of Bats In Houses, Attics, Walls, Chimneys, Roofs, Ceilings, Basements, Barns, Vents, Apartments And Garages In Ohio
YouTube Video: How & When CWR Removes Bats From Attics In Ohio, Costs, DIY, ODNR Laws, Exclusion, Bat Guano Cleanup
In this video, professional and humane bat removal specialists Mike Cottom Sr. and Jr. from Ohio show you how to get bats out of your house or attic. Learn how to remove bats from your chimney, walls, basement, roof or garage. In Ohio, call 440-236-8114 for a home and attic inspection or to request bat removal and bat guano cleanup services.
Request Humane Bat Removal, Bat Control And Bat Exclusion Services In Ohio To Get Rid Of Bats – From $399+
Learn How To Remove Bats In Ohio Using Bat Valves, One-Way Bat Doors, Bat Cones And Bat Exclusion Devices And By Sealing Your Home, Attic, Walls, Vents And Chimney
If you have bats in a building, learn how to safely exclude them, here. The idea behind the exclusion method is to create a one-way door the bats use to exit at sunset. However, they can't get back in when they return before sunrise to roost. If you had bats in your home over the summer, September and October are the best months for conducting a bat exclusion according to the Ohio Division of Wildlife.
Bat Removal, Bat Attic And Home Inspections, Bat Guano Removal, Bat Proofing And Bat Exclusion Costs In Ohio
Costs for bat inspections, bat removal, bat feces cleanup, bat sanitizing, bat guano decontamination, bat cleanup and bat exclusion services in Ohio start at $399. Rates for bat exclusion and bat proofing in Ohio start at $1,495. Bat guano removal costs start at $895 in Ohio. August, September and October are ideal months to exclude bats from homes in Ohio.
Typical costs to remove bats from a home and to seal the entire house to prevent their return range from $2,000 to $5,000.
Costs to remove a single bat from a house in Ohio starts at $399. The average cost of bat removal and bat exclusion for a one story house is $1,495 to $3,000, $1,995 to $8,000 for a two story house and $2,995 to $40,000 for a commercial building or church. Bat guano removal, decontamination and sanitizing start at $895 in Ohio. The cost to remove bats in walls starts at $1,495. Costs to get bats out of attics start at $1,495. Costs to remove bat guano from walls starts at $895. Get information on professional bat removal and attic cleanup services in Ohio, here.
If you see signs of a bat infestation and you live in Columbus or Central Ohio, call a professional pest-control company such as Cottom's Wildlife Removal at 614-300-2763 for an assessment. Bat infestation assessments in Columbus and Central Ohio cost $399. If you live in Cleveland or Northern Ohio and have a problem with bats, call 440-236-8114. If you live in Cincinnati or Southern Ohio and need to get rid of bats, call 513-808-9530.  CWR pest control technicians will humanely remove the bats from the attic and seal it up to protect against future bat infestations.
Bats are normally removed by using a valve system that enables bats to fly out of the house but not come back into the residence. The valve system requires that all entry points are sealed prior to the installation of bat valves. Services also include an initial inspection, sealing of soffits, caulking of brick face gaps, screening of ridge vents, screening of louver vents, screening of roof vents, sealing of chimney gaps, installing and removing bat valves.
The bat exclusion experts at the Cottom's Wildlife Removal company pay close attention to detail when they are bat proofing a home in Ohio in order to ensure that the roof or attic is totally secured and sealed tightly. If you have bats in your house, roof or attic, find out what to do, here. Excluding a bat colony from a home, attic or roof in Ohio should never take place between May and August.
Expert Wildlife Trapping & Animal Removal Services For Cleveland And Northern Ohio Homeowners And Businesses – Call 440-236-8114 24/7
Call 440-236-8114 day or night to schedule an inspection and to talk with a licensed and certified wildlife control expert. CWR pest control technicians are experts at raccoon, bat, skunk, squirrel, bird and mice trapping, removal and prevention in Columbus, Cincinnati and Cleveland, Ohio.