Attic Insulation Additions
Cottom's Wildlife Removal, an insulation company/contractor in Cleveland adds insulation to attics for Cleveland and Akron homeowners. We can add foam or blown in insulation to attics. Because we replace insulation frequently because it is damaged by raccoons, squirrels, bats and birds, we have become experts at adding insulation for people that want extra insulation in their attics.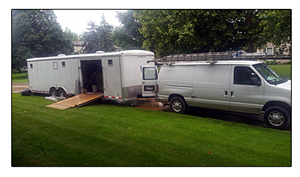 If you are considering adding additional insulation in your attic, contact Mike Cottom's Wildlife Service at 440-236-8114 to schedule an attic inspection. The addition of attic insulation will help you increase the R-value of the insulation in your attic and will help reduce your heating expenses. The attic is the easiest place to add insulation to improve your comfort and the energy efficiency of your home. Our company will inspect your attic to determine if you if you need more insulation in your attic and if so, how much.
Contact Our Insulation Company
How To Determine If You Need More Insulation In Your Attic
No matter what kind of insulation you currently have in your attic, one quick way to determine if you need more is to look across the span of your attic. If your insulation is just level with or below your floor joists (i.e., you can easily see your joists), we should add more. Insulation levels are specified by R-Value. R-Value is a measure of insulation's ability to resist heat flow. The higher the R-Value, the better the thermal performance of the insulation. The recommended level for most attics is to insulate to R-38 or about 10 to 14 inches, depending on insulation type. When adding additional insulation, we do not have to use the same type of insulation that currently exists in your attic. We can add loose fill on top of fiberglass batts or blankets, and vice-versa.
To determine if you need more insulation in your attic, call 440-236-8114 to schedule an attic inspection. We service homeowners throughout Cleveland and Akron, Ohio.