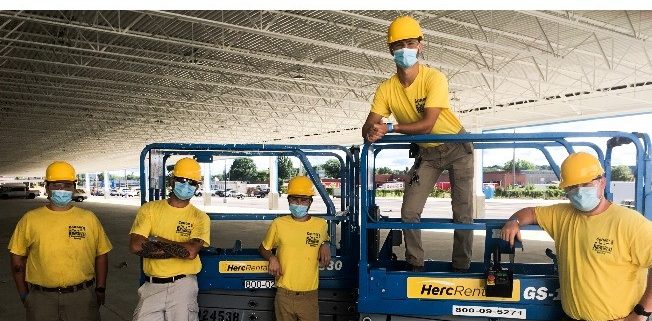 To Request Bird Netting Installation, Bird Removal, Pigeon Control, Bird Nest Removal And Cleanup Services In Ohio Call 440-236-8114
Bird Netting Installation, Bat Exclusion Netting Installation, Bird Spike Installation, Bat Removal, Bird Deterrent Installation, Pigeon Removal And Bird Control Services For U.S. Businesses
Bird Netting Installation And Bird Control Services For U.S. Facilities | Commercial And Residential Bat And Pigeon Removal | Bird Netting Installation Fees From $2+ Per Square Foot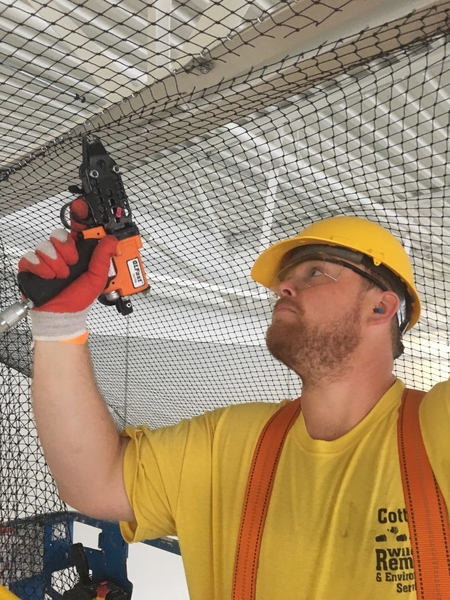 Cottom's Wildlife Removal & Environmental Service provides pigeon control, bird netting installation, bat netting installation, bird barrier installation, bat exclusion services, bird spike installation and bird control services to companies and homeowners throughout Ohio and the United States.
CWR also provides bat removal and bat guano cleanup services to homeowners and businesses in Columbus, Cleveland and Cincinnati, Ohio. Find out who gets rid of bats in Ohio and when can bats be removed in Ohio, here.
Our professional bird control product installers eliminate bird problems and get rid of roosting pigeons. We work with commercial, manufacturing and industrial firms from Los Angeles to NYC.
Our company helps to mitigate and eliminate problems caused by avian life in cities from southern California to New England, from the Great Lakes to the Gulf of Mexico. Even though the number of birds has declined by over 3 billion over the past half-century, birds and their droppings still cause psittacosis, histoplasmosis and other diseases.
How And When To Remove Bats From Attics In Ohio
YouTube Video: How & When CWR Removes Bats From Attics In Ohio, Costs, DIY, ODNR Laws, Exclusion, Bat Guano Cleanup
In this video, professional and humane bat removal specialists Mike Cottom Sr. and Jr. from Ohio show you how to get bats out of your house or attic. Learn how to remove bats from your chimney, walls, basement, roof or garage. In Ohio, call 440-236-8114 for a home and attic inspection or to request bat removal and bat guano cleanup services.
Bird Netting Installation Costs And Prices To Install Pigeon Spikes
Bird netting installation rates start at $2 per square foot.  To request a quote, call 440-236-8114. Our cost to install large bird nets at commercial buildings, industrial properties and retail buildings in the United States normally exceeds $1,500.
The cost for the installation of exclusion netting to stop birds from getting into gas station roofs normally start at $2,200. Rates for large bird control product installation projects for U.S. food warehouses, airports and loading bays at distribution centers normally exceed $5,000 and can go as high as $50K.
Travel expenses are not included in these fees. Contact us for information on the cost to install pigeon spikes, bird removal costs and bird nest removal costs. We remove birds from houses, attics and businesses.
Bat Removal, Bat Attic And Home Inspections, Bat Guano Removal, Bat Proofing And Bat Exclusion Costs In Ohio
Costs for bat inspections, bat removal, bat feces cleanup, bat sanitizing, bat guano decontamination, bat cleanup and bat exclusion services in Ohio start at $399. Rates for bat exclusion and bat proofing in Ohio start at $1,495. Bat guano removal costs start at $895 in Ohio.
Typical costs to remove bats from a home and to seal the entire house to prevent their return range from $2,000 to $5,000.
Costs to remove a single bat from a house in Ohio starts at $399. The average cost of bat removal and bat exclusion for a one story house is $1,495 to $3,000, $1,995 to $8,000 for a two story house and $2,995 to $40,000 for a commercial building or church. Bat guano removal, decontamination and sanitizing start at $895 in Ohio. The cost to remove bats in walls starts at $1,495. Costs to get bats out of attics start at $1,495. Costs to remove bat guano from walls starts at $895. Get information on professional bat removal and attic cleanup services in Ohio, here. August, September and October are ideal months to exclude bats from homes in Ohio.
If you see signs of a bat infestation and you live in Columbus or Central Ohio, call a professional pest-control company such as Cottom's Wildlife Removal at 614-300-2763 for an assessment. Bat infestation assessments in Columbus and Central Ohio cost $399. If you live in Cleveland or Northern Ohio and have a problem with bats, call 440-236-8114. If you live in Cincinnati or Southern Ohio and need to get rid of bats, call 513-808-9530.  CWR pest control technicians will humanely remove the bats from the attic and seal it up to protect against future bat infestations.
Bats are normally removed by using a valve system that enables bats to fly out of the house but not come back into the residence. The valve system requires that all entry points are sealed prior to the installation of bat valves. Services also include an initial inspection, sealing of soffits, caulking of brick face gaps, screening of ridge vents, screening of louver vents, screening of roof vents, sealing of chimney gaps, installing and removing bat valves.
The bat exclusion experts at the Cottom's Wildlife Removal company pay close attention to detail when they are bat proofing a home in Ohio in order to ensure that the roof or attic is totally secured and sealed tightly. If you have bats in your house, roof or attic, find out what to do, here. Excluding a bat colony from a home, attic or roof in Ohio should never take place between May and August.
Local Professional Bat Removal Services Near You In Ohio
In Ohio, an effective and easy option for how to get bats out of a home, wall, garage, vent or attic is to call CWR at 440-236-8114 and request a home and attic inspection. If you were searching online for "bat removal near me", "professional bat removal near me", "bat removal companies near me", "best bat removal near me" or "bat removal services near me", and you live in Ohio, call 440-236-8114 to talk with an experienced and local bat removal specialist in your neighborhood.
Learn How To Keep Birds And Bats Out Of Attics And Gable Vents – Tightly Install Stainless Steel Mesh Screens To Keep Birds From Going In Through Small Holes
Birds are extremely beneficial and valuable to mankind due to the outstanding pest control and seed dispersal work they perform. However, at certain times and in certain locations, birds and bats can also become pests and a nuisance.
Learn about the methods that CRW bird control technicians, such as Mike Cottom Jr. and Mike Cottom Sr., use to eliminate or deter pest birds from landing, nesting and roosting. These methods are used for birds considered pests, such as geese, nuisance black birds, woodpeckers, feral pigeons, grackles, gulls, house sparrows and crows, here. CWR uses a wide variety of non-lethal techniques and humane exclusion devices to fix pigeon problems, minimize bird dropping health risks and correct bat infestation hazards.
These products include anti-roosting stainless steel bird spikes, electric bird shock systems and tracks, bird slides, 2″ mesh pigeon nets, bird wire systems, bird netting, transparent bird repellent gels, Scare Bird Garden Stakes, super sonic outdoor sound devices and visual bird deterrents. CWR bird control professionals in the United States never uses harmful polybutylene gels. Download an informative PDF guide to retail sources for products to resolve wildlife conflicts from The Humane Society of the United States, here.
To contact a highly trained bird control service that uses non-lethal, safe, humane, effective and proactive methods near you, call 440-236-8114 to schedule an inspection and to get a written estimate. CWR certified bird removal specialists are experts in safe and effective bat exclusion, pigeon control and bird removal methods used to get birds and bats out out of attics, chimneys, signs, warehouses, dryer vents, roofs, garages and soffits. The PMPs (Pest Management Professionals) at CRW are experts at using different exclusion tricks and repellent strategies to move and remove birds.
If you need a professional bird removal and animal control company in Ohio to get rid of birds and bird nests in your house or vents, call Cottom's Wildlife Removal company. To schedule an inspection, to request bat exclusion services or get costs for bird damage management services, bird dropping removal and sanitizing, contact the Cottom's Wildlife Removal company at 440-236-8114 in Cleveland or Northern Ohio, 614-300-2763 in Columbus or Central Ohio or 513-808-9530 in Cincinnati or Southern Ohio.
Bird Netting Installation Contractors And Bird Spike Installation Services For U.S. Companies
Watch this 2020 bird netting installation demonstration video to see how we install heavy duty bird netting, bird spikes, bird proofing systems and Bird B Gone bird control products for commercial, industrial and retail clients throughout the United States. In this video, you will see clips from a recent bird netting installation project and learn the best practices for installing bird netting.
We can install bird netting in fulfillment and distribution facilities in Atlanta, Austin, Boston, Seattle and Chicago. Our professional bird proofing company is headquartered in Cleveland, Ohio and we service all the major cities in Ohio including Cleveland, Akron, Toledo, Columbus, Dayton, Youngstown, Parma, Canton, Cincinnati, Strongsville, Lorain, Findlay, Springfield, Warren, Ashtabula, Cambridge, Athens and Mentor. To request a quote for commercial or residential bird netting installation services and pigeon exclusion services, call 440-236-8114 or email info@mcwildlife.com.
Our firm installs commercial grade bird netting, bird wires and electrical barrier systems and provides bird control solutions to firms and retailers throughout the United States. If we can't drive to a bird control job quickly, we fly and our crews stay in a hotel until the job is completed. Birds on, in or near a business can cause significant damage to a company brand, company products and company property. Hire professionals to get the job done right. We also provide bird trapping services. We install bird prevention devices, bird netting and anti-bird netting for buildings, eves, rafters, warehouses, boats, airports and parking garages.
Our bird netting installation company is licensed. Our wildlife control firm is an authorized Bird B Gone product installer. We can install heavy-duty plastic bird netting in 100 ft. x 14 ft. rolls. We also can install StealthNet® Bird Netting for business, colleges, amusement parks, warehouses and stadiums all across the country. Our bird deterrent specialists help business owners find the right solution for their bird problems.
We are a national bird netting contractor that can install low-profile electrified tracks such as Bird-Shock® Flex-Track®. Our work crews fly to different cities in the United States to install multi-sensory bird repellents that deter birds using sight, touch and smell. Our professional bird netting installers can also install polycarbonate base and stainless steel bird spikes on metal buildings. For a commercial bird netting installation quote, please call 440-236-8114 and ask to speak with Mike Cottom, Jr.
Rates for bird netting installation services in the United States start at $2 per square foot. We install aviary netting for warehouse distribution facilities and industrial properties that range from 3,000 to 100,000 square feet. Our company builds various types of bird netting structures and is a preferred vendor and netting contractor for commercial bird netting projects. Our company installs the leading bird mesh netting products for controlling pest birds like pigeons. Our bird netting products excludes all birds to protect buildings and other structures.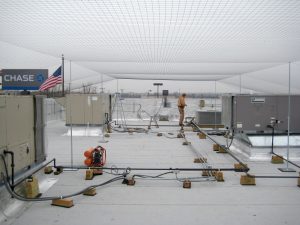 We use 25mm x 25mm (1" x 1") sized mesh for general bird proofing projects to exclude most pest bird species. We use 50mm x 50 mm (2" x 2") mesh for gull and pigeon control.
We are experts at installing Bird Barrier® products such as StealthNet, Bird-Shock Flex-Track, Bird-Flite Spikes, Dura-Spike, Optical Gel, Bird-Coil, BirdSlide, Birdwire, Eagle Eye, Tree-Shock, Solar Panel Exclusion Kits, Mist Net Kits, Batcones, OvoControl and Sparrow Trap Doors.
Bird Spike, Bird Netting And Bird Control Product Installation Services
Our bird control company can install polycarbonate base and stainless steel bird spikes (anti-roosting spikeds) on eaves, beams, ledges, roofs, commercial signage, window sills, lights, parapets, walls, pipes, chimneys, rain gutters, CCTV cameras and cut-outs. Bird control deterrent spikes are normally about 1 foot long and limit the area available for birds to land.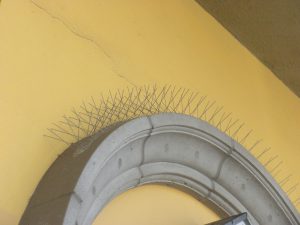 Our bird spike installers install anti-roosting spikes, bird netting and other bird control products for firms from San Francisco to Miami, Florida. Bird control products are used for commercial signs, street lighting, ledges on buildings, overhangs, warehouses, open beam structures, trucking bays, store fronts, vineyards, commercial businesses, bridges, underpasses, hangars, courtyards and roofs. The bird spikes we install are used to keep feral and wild birds from roosting and perching on our client's structures. Pigeons, sparrows, starlings, gulls and crows can produce massive quantities of ugly and unhygienic feces and waste. We stop birds from making loud noises that annoy customers and residents by installing bird control spikes that don't kill or harm our feathered friends.
We install effective and humane forms of bird netting and bird exclusion systems to protect all types of property, objects, materials, equipment, openings, buildings and structures.  Our bird control specialists used advanced installation hardware, post and wire bird deterrents, bird traps, bird screens, bird guards, installation tools, bird dispersal products and bird netting installation accessories to work on industrial, architectural, aqua-cultural, commercial, residential and agricultural bird exclusion projects. We can install heavy duty lightweight nylon anti-bird protection mesh nets for agricultural applications. We can install heavy duty bird netting, knotted bird netting, professional bird netting, nylon bird netting, orchard bird netting, heavy gauge bird netting, game bird netting, green bird netting, black bird netting and white bird netting.
We keep pigeons off ledges and keep gulls off roof peaks. We stop birds from building nests on business sign letters and parking lot ledges. We keep birds off street lights, solar panels, pipes, billboards and railings. We stop birds from getting under loading locks and eaves. We keep birds out of HVAC equimpent. We keep woodpeckers away and get rid of woodpeckers. Bird netting is one of the most commonly utilized bird control methods used by our technicians to block pesky birds from entering areas that are off limits to feathered guests. We are experts at protecting gardens, poultry, loading docks and commercial buildings from nuisance bird problems.
Bird Netting Systems For Agriculture
Our trained professionals install bird netting (anti-bird netting) and other forms of bird pest control. Some jobs can be done in a day, while other projects required a few weeks to complete. These nets prevent birds from reaching certain areas that our clients want protected. We install many different shapes and forms of bird netting and small polypropylene or woven polyethylene mesh netting. The bird netting is normally black or white. We install jumbo rolls of bird netting for farmers to protect crops, fruit trees, blueberries, chicken runs, gardens, tomato plants and grapes. We can install heavy duty lightweight nylon anti-bird protection mesh nets for agricultural applications. We install commercial bird and bug netting on overhead wires to keep birds away from fruit.
Bird Netting Systems For Ponds
Our company also installs bird netting over mining ponds, mining basins, detention and retention ponds, tanks, airport runoff basins, containment basins, industrial ponds, tailing ponds, retention ponds, "frac ponds", oil pits, hazardous waste ponds, evaporation ponds, waste clarifiers and "frac pits" to keep migratory birds and resident birds out of water collection areas. Cottom's Wildlife & Environmental Service designs and builds bird netting structures and bird netting systems to protect birds and wildlife from hazardous liquids. We install bird netting structures over ponds to keep water and liquids from being soiled by decaying bird contaminants and bird droppings. Our bird netting products are also installed to prevent bird parts from clogging machinery and filters.
The qualified bird control professionals at our firm are highly trained in "bird work" and are experts at installing bird spikes, bird netting, bird exclusion systems, bird repellents, pest bird deterrents and bird control products. Our bird control specialists provide custom solutions and can install bird netting to meet the specifications and requirements of any resident or commercial property. Our bird net systems eliminate birds from landing on and entering buildings. Our technicians can remove bird droppings and disinfect areas that have been contaminated by nuisance birds. We are contracted to do small and big projects.
How Much Does It Cost To Remove Birds From Vents In Ohio?
Prices to remove birds and bird nests from dryer vents and bathroom exhaust vents in Columbus, Cleveland, Cincinnati, Akron, Toledo, Zanesville, Canton, Youngstown, Findley, Marietta and other cities in Ohio start at $695 per vent. This fee includes cleaning out the vent and the installation of one cap.
In Ohio, call CWR at 440-236-8114 in Cleveland, 614-300-2763 in Columbus or 513-808-9530 in Cincinnati to schedule an inspection and to get a written quote for CRW to remove birds from vents.
Bat Removal And Bat Control Services In Cleveland, Columbus And Cincinnati, Ohio
Hire The Best Bat Control Company In Ohio
It is recommended that Ohio homeowners call a specialty bat control company to inspect their home if they see a bat inside a living space.
CRW is a local (Ohio only) bat control service that does not exterminate bats or use live traps to catch bats. The wildlife professionals at CRW will not kill your bats. Rather, bats are safely removed from homes and buildings in Cleveland, Columbus, Toledo, Dayton, Canton, Mansfield, Hamilton, Springfield, Lancaster and Cincinnati, Ohio through the wise use of bat exclusion processes and devices.
CRW bat control "wizards" use multiple bat exclusion processes, one-way bat doors (bat valves), bat exclusion devices, funnels (cones), netting and tubes to get bats out.
The 6 bat removal masters (pictured here) that work at the Cottom's Wildlife Removal company certainly know the tricks to getting rid of bats in houses. One secret trick to get rid of a single bat in a living space is to open a window or door, eureka!
These 6 gentlemen are very well educated for performing bat exclusion, bat eviction, bat venting and bat poop cleanup services. Alex, Kyle, Nathan, Mike, Tyler and Jason know how to clean environments contaminated with bat droppings in residential and commercial structures. CRW bat control specialists know how to minimize the potential for transmission of white-nose syndrome (WNS) when handling bats. They take all the necessary precautions when handling bat waste. CRW bat control technicians can see the signs and damage caused by various species of bats. CWR bat control technicians use the best protective particulate respirator masks when removing bat droppings from outside houses, attics, walls and cars. Learn more about acceptable management practices for bat eviction and structural remediation, here.
The Cottom's Wildlife Removal Company Is A U.S. Based Bird Netting Installation Contractor, Bird Netting Installation Company And Bird Spike Installation Service
If you were searching online for are for a "bird netting installer near me", CWR is an affordable local (U.S. only) bird control product installer. The technicians that work at CWR are trained by the experts in bird control, "pigeon proofing" and "bird work". CWR is a wildlife and pest control company that knows how to effectively install heavy duty bird netting, properly install aviary control nets, quickly attach bird spikes and safely configure bat exclusion netting. If you want to keep birds off your property, house or business, call 440-236-8114 to request a written quote and plan from CWR to keep pest birds out.
Bird B Gone, Inc. offers the largest network of authorized bird control installers in the Nation. Bird-B-Gone, Inc. is the world's leading manufacturer of professional bird control products including bird netting, anti-bird spikes, visual bird deterrents and bird repellents. They have installers in every state that have been trained on all aspects of bird control, from bird behavior to which products to use for your particular bird problem. Bird B Gone authorized product installers in the United States have successfully completed rigorous training at Bird B Gone University and are certified to install their professional grade bird deterrents. To learn more about bird control and bird control product installers in your area, choose your state, here.
On May 4, 2021 the Pelsis Group, a global manufacturer of pest control products, today announced that it acquired Bird-B-Gone the world's leading manufacturer of humane bird deterrents designed to solve bird problems in commercial, industrial and residential settings.
Co-Existing With Bats In Ohio
Bats come out in Ohio and are active March through September. Some Ohio residents call the Cottom's Wildlife Removal company to ask if one bat in their house means they have more.
CWR bat control experts advise our clients that there is a good chance there are more bats in the walls or attic, if one is seen inside the house. Bats rarely fly in through open doors and their presence on a wall or ceiling is probably an indication of a minor or major bat infestation.
A thorough inspection is recommended to find out if there are more bats in the house.
Humans and bats can live in peace with each other. Bats are flying mammals that are found in nearly every habitat throughout Ohio.
Ohioans should not fear bats simply because they enter attic spaces, construction gaps and wall voids looking for shelter. Most bites occur happen when people try to grab a bat with their bare hands.
The Little brown bat is Ohio's most common species of bat. Two Ohio bat species live in houses and attics; the Big brown bat and the Little brown bat.
In Ohio, bats normally hibernate from late October to early April in caves, houses, walls, barns, churches, bridges, abandoned mines, cracks in large rock outcroppings or attics and buildings.
Despite being well known for their pest control abilities, bats remain understudied and misunderstood, and their numbers have been on the decline for various reasons. Now research is showing that these mammals may be invaluable to farmers.
Bats in Cleveland, Ohio include the Eastern Red Bat, the Big brown bat, the Northern Long-Eared bat, the Little brown bat and the Tri-colored Bat.
The Hoary bat is the largest bat found in Ohio and most widespread American bat. The Hoary bat can weigh up to 35 grams.
In Ohio however, the Little brown bat population size has declined dramatically due to habitat loss and a deadly disease (fungus) known as White-nose Syndrome (WNS).
The fate of bats is hanging in the balance. That could have very real consequences for us.
The deadly white-nose syndrome has been found on bats in Cuyahoga and Geauga County parks in Ohio.
Some colonies of brown bats removed in Ohio by licensed wildlife control specialists at CWR may total a dozen or more.
Bats are mammals that use adapted forelimbs as wings to fly and they are more maneuverable than birds.
The Ohio Division of Natural Resources classifies bats as a nuisance species. Some of the most common species of bats that the Cottom's Wildlife Removal company gets out of attics and homes in Ohio are colonial bats such as Big brown bats, Little brown bats and Mexican free-tailed bats.
According to Barbara French, a biologist with Bat Conservation International, many people have a few bats in their attic and never know it. But a large colony of bats can become a noise or odor nuisance. Bats should not be allowed to enter interior living quarters.
About CWR Bat Exclusion Services In Ohio
Bat exclusion involves using netting or tubes at entry points, which allows bats to drop down and fly away but which prevent re-entry. Exclusion devices are left in place for a week, so that the bats give up. After the bats are gone, plugging, sealing and caulking work is done.
To keep bats out, the Cottom's Wildlife Removal company seals cracks and openings with heavy-duty bat control screen mesh, aluminum flashing, sheet metal, expandable foam, caulk, stainless steel hardware cloth, chimney caps, flue guards, adhesive sealants, 3/8″ polyethylene knotted mesh, bat netting and other bat exclusion products.
Professional Pigeon Removal Services In Ohio
CWR pigeon control specialists quickly get rid of pigeons from houses, balconies and outdoor signs in Columbus, Cleveland, Cincinnati, Akron and other Ohio towns.
We install decoy owls and hawks, anti-roosting spikes and commercial gel repellents, repellents, poisons, parallel wires, bird netting and lasers to keep perky pigeons off our customer's property. We also remove pigeon poop and sanitize infested areas.
We remove pigeons from barns, gardens, warehouses, trees, sheds, outbuildings, roofs, attics, eaves and chimneys for Ohio homeowners and businesses.
CRW Performs Geese Control, Geese Removal, Conflict Management And Damage Prevention Services In Ohio
To some people in Ohio, Canada geese are considered to be one of nature's more enjoyable visual sights. However, cemetery managers, golf club owners, pond owners, homeowners, farmers, park employees often view geese as a serious problem.
CRW performs geese removal services in Ohio and manages problems caused by urban Canada Geese. CRW works with commercial and residential customers in Ohio to keep geese away. CRW's professional geese management services use hazing techniques to humanely and safely drive migratory Canada geese and nuisance geese off golf courses, park lawns, residential lawns and cemetery property. Download the "Nuisance Geese Brochure" from the Ohio Department Of Natural Resources, here.
Managing Nuisance Canada Geese
Posted On YouTube On May 8, 2018 By OhioDNR [OhioDNR.gov]
Geese Are Protected In Ohio
Canada geese, goslings, nests and eggs are protected by Federal laws and laws in the State of Ohio. Geese that are fed will lose their fear of humans and attack adults, children and pets during the nesting season (March through June). DO NOT FEED GEESE.
Non-lethal scare and hazing tactics, which do not harm the geese, are allowed. These tactics include pyrotechnics, dogs, barriers, a grid on the pond, laser pointers (at night), distress calls, or grape-flavored repellents such as Flight Control.
By 1979, Canada geese were successfully nesting in half of Ohio's counties. Today, they can be found breeding in all 88 counties. Clearly, the combined efforts of wildlife managers across the country were tremendously successful. Populations of Canada geese in Ohio are currently estimated at around 100,000 individuals.
If non-lethal tactics have been used in the past, without success, the Division of Wildlife may issue a lethal permit to allow the landowner to destroy nests, conduct a goose roundup, or shoot geese. These permits can only be used March 11 through August 31. Hunting in the fall, outside city limits, is also a good method to reduce the goose population, feed people and further scare the geese away.
Ohio landowners should consult with their county wildlife officer or contact the nearest district office for assistance.
Canada geese have many natural predators. Raccoons, skunks, foxes, crows, and snakes prey on their eggs; snapping turtles, foxes, bobcats, hawks, coyotes, and raccoons prey on goslings; and coyotes, bobcats, and people prey on the adults.
Geese generally start breeding at three years of age. Nest construction and egg-laying begins in late March or early April, depending upon latitude. Geese tend to nest on islands, muskrat houses, or nesting platforms that are surrounded by water. Such sites offer additional security, although the male guards the female and the nest, protecting his territory from other geese and predators.
Geese lay 4 to 8 eggs; incubation begins when the last egg is laid and lasts about 28 days. Hatching occurs from late April through mid-May. About mid-June, adult geese shed (molt) all of their long flight feathers to grow new ones. They are flightless for 30-45 days.
What Can Be Done To Remove Geese In Ohio Without A Permit?
A permit is not required to merely scare, repel, or herd Canada geese, provided no attempt is made to confine the birds. Nests that do not contain eggs may be removed, however caution should be given before removing a nest as Canada geese only lay one egg a day and will cover their eggs to keep them hidden until all eggs are laid and the female begins incubating (i.e. sitting on) the eggs. If, despite your efforts utilizing the following techniques, further control is needed, a special permit is required from the Ohio Division of Wildlife. Contact the nearest wildlife district office listed, here.
CWR Gets Rid Of Starlings In Cleveland, Columbus, Cincinnati, Toledo, Youngstown And Marietta Ohio
The Cottom's Wildlife Removal Company Knows How To Permanently Get Rid Of Woodpeckers In Ohio
Woodpecker Removal, Woodpecker Deterrent, Woodpecker Repellent, Woodpecker Management, Woodpecker Control And Woodpecker Trapping Services Near Cleveland, Columbus And Cincinnati For Ohio Homeowners
If your house has caught the attention of woodpeckers, they may be looking for insects or a place to nest. Woodpeckers can damage wood siding and soffits on structures. These birds normally forage for insect prey on the trunks and branches of trees. Woodpeckers are adored visitors to our backyards. While woodpeckers may be nice to watch, they cause damage to your homes and trees so it is important to know how to get rid of woodpeckers.
CWR is an Ohio bird removal and bird next removal company that also removes feces and sanitizes infected areas. Cottom's Wildlife Removal provides bird removal, control, exclusion, cleanup, decontamination and damage repair services in Columbus, Cleveland, Toledo and Cincinnati, Ohio. Our bird control specialists remove and clean up animal and bird waste and feces from homes and businesses in Cleveland, Columbus, Cincinnati and other cities in Ohio. We provide environmental, disinfecting, sanitizing and decontamination services.
If you are looking for woodpecker removal services in Cleveland, woodpecker control services in Cincinnati, woodpecker removal services in Toledo or woodpecker pest control near you in Columbus, contact Cottom's Wildlife Removal company to permanently get rid of woodpeckers and to stop woodpeckers from pecking at your house or making holes in your cedar siding. If you want to effectively prevent woodpecker damage, call 440-236-8114.
CWR bird control specialists provide permanents solutions by installing safe and reliable products such as readymade artificial decoy owls with reflective eyes, woodpecker deterrent netting (3/4″ mesh), plastic woodpecker netting and wire mesh.
Please note that Cottom's Wildlife Removal company is NOT classified as a "woodpecker exterminator". There are penalties for killing woodpeckers they have special federal protection. All woodpeckers are protected under the Migratory Bird Treaty Act. (MBTA).  This law states: "No person may take (kill), possess, import, export, transport, sell, purchase, barter, or offer for sale, any migratory bird, or the parts, nests, or eggs of such bird except as may be permitted under the terms of a valid permit…"
When warranted, woodpeckers can be killed, but only under a depredation permit issued by the Law Enforcement Division of the US Fish and Wildlife Service (USFWS). Authorization by the relevant state wildlife agency also may be required before lethal control methods are initiated. Sound justification must be present for the issuance of depredation permits. Hazing woodpeckers does not require a permit. Download the Depredation Permit, here.
Application for a depredation permit for some species of woodpeckers may be an option, but should be considered as a last resort. Proper exclusion, harassment, and monitoring will be necessary to demonstrate that need. Permits will be issued only if non-lethal methods have previously been tried and failed. The applicant must show strong justification (i.e. where significant structural damage has resulted in an economic hardship).
You many need a pest exterminator to get rid of an underlying insect problem because woodpeckers like to peck on houses to feed on insects. Woodpeckers eat carpenter bees, termites, wood-boring beetles, carpenter ants, leafcutter bees and grass bagworms. Woodpeckers also hammer on homes in Ohio to create a nesting cavity, to store food or to attract a mate.
Why Are Woodpeckers Drumming On My Property?  [From The U.S. Fish and Wildlife Service]
Woodpeckers, sapsuckers, and flickers drum and drill on a variety of surfaces. Siding (aluminum or wood), trim boards, and wood boards on any kind of structure can be appealing to woodpeckers. The resulting damage can appear as simple dents (usually a line) or as large as 2-inch diameter holes. Woodpeckers drum and drill in their search for food, territorial and social displays, and to nest in the cavities created. Sapsuckers drill small holes for sap, while many other woodpeckers drill for woodboring insects such as carpenter bees, leafcutter bees, grass bagworms, etc. Drumming for territory or social reasons will most likely occur in the early spring at the start of the breeding season. Drilling for nest cavities usually occurs in the early spring, although some drilling occurs in the fall.
How Do I Keep Woodpeckers From Damaging My Property? [From The U.S. Fish and Wildlife Service]
The best way to stop woodpecker damage to personal property is to begin damage control as soon as you begin hearing drumming and continuing until well after the woodpecker leaves the area. Holes the bird has made should be filled and painted immediately. If a nest is already active, we recommend that control measures be postponed until the young leave the nest permanently, which is usually around midsummer, but can vary depending on the species. Physical exclusion is probably the most effective control method. Installing bird-netting from the outer eaves down the side of the building is typically effective at excluding most woodpeckers.
Other methods include:
• Frightening devices (models of owls and hawks, spinners, windsocks, etc.) can be used, although these devices have inconsistent success.
• Tactile deterrents are sometimes used with marginal success. However, some products can get on feathers and impair the bird's ability to fly and stay warm.
• Sound deterrents coupled with motion detection are another option. Typically this would involve playing the recording of a woodpecker distress call followed by a raptor call.
• Tying a burlap bag or other heavy fabric around a tree (particularly ornamental trees) can be effective at preventing sapsucker damage.
How To Repel And Deter Woodpeckers To Frighten Them Away
If you want to try to repel woodpeckers with smells and scents, peppermint oil may work. Other DIY ways to get rid of woodpeckers include woodpecker deterrent kits, spraying your house with woodpecker repellents and visual deterrents such as pinwheels, balloons, reflective tape and windsocks.
Because woodpecker damage in Ohio is considered a maintenance issue that is the responsibility of the homeowner, woodpecker damage is probably NOT covered by your home insurance (homeowner's insurance). Find out more about preventing woodpeckers from damaging your home, here.
Woodpeckers in Ohio are small to medium-sized birds that prey on insect species that dead trees attract and woodpeckers rely on the softening branches and trunks to excavate their nests.
Woodpeckers In Ohio
Woodpeckers In Ohio – 7 Species You've Got To See
Posted on YouTube On December 17, 2020 By Wild Bird Scoop [WildBirdScoop.com]
Common species of woodpeckers that CWR traps, deters, removes and controls in Ohio include Pileated Woodpeckers, Red-Headed Woodpeckers, Downy Woodpeckers, Red-Bellied Woodpeckers, Northern Flickers, Yellow-Bellied Sapsuckers, Red-Cockaded Woodpeckers and Hairy Woodpeckers.
The Downy Woodpecker can be found year round in Ohio and this small species of woodpecker the one of the most common types found in Ohio and the United States. They are frequently sighted in the Columbus, Ohio Metro Parks in the winter. They are speckled in black and white and are common visitors to backyard feeders in Ohio.
Wildlife Rehabilitators
Posted On YouTube On January 12, 2018 By OhioDNR [OhioDNR.gov]
Who Do You Call When You See An Injured Animal In Ohio?
Learn what you can do if you believe a wild animal in Ohio is orphaned or injured, here. The goal of wildlife rehabilitation is to provide professional care to sick, injured, and orphaned wild animals so ultimately they can be returned to their natural habitat. Wildlife rehabilitation is the treatment and care of injured, orphaned, or sick wild animals so that they can be released back to the wild. Find out if wildlife trapping and wildlife relocation is the best option, here.
Some concerned citizens in Ohio want to know who to call for injured wildlife. If the animal has bleeding, broken bones or another obvious injury – you can bring the animal to Ohio Wildlife Center's Hospital during open hours. See rescue and transport instructions.
Ohio wildlife officials rescue injured bald eagles. Wildlife lovers in Cleveland, Columbus, Toledo, Dayton, Canton, Athens, Marietta, Ashtabula and Cincinnati search online for a local wildlife rehabilitator near them to take care of an ill, injured or orphaned animal. Get phone numbers for a wildlife rescue service or wildlife rehabilitation center near you in Ohio, here. Wildlife rescue services are available near Cleveland, Columbus, Cincinnati, Dayton, Dublin, Toledo, Akron, Canton, Troy, Lima, Mansfield, Zanesville and Lake County.
CWR Cleans Attics After Snakes, Raccoons, Squirrels, Bats, Birds, Mice And Rodents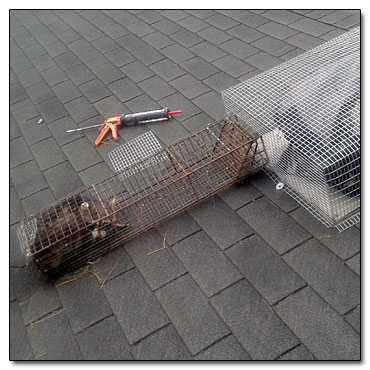 Although kids in Ohio think that raccoons look like cute cuddly bandits because of their signature black masks, adults know all to well that they are well adapted to urban living, are expert thieves and can be a nuisance – and a potential health hazard.
Before you try to clean an attic after a raccoon infestation, you have to first get rid of raccoons and keep them out. You can hire a professional raccoon removal and exclusion service such as the Cottom's Wildlife Removal company or do-it-yourself.
Please do not use an attic fogger, bug bomb or a smoke bomb to get rid of raccoons because it is not humane. The most humane way to get rid of raccoons in an attic or chimney is to use a one-way door and exclude them from returning.
Learn how you sanitize an attic after rodents, here. Get a quote for raccoon attic cleanup costs, here. Request raccoon cleanup services, here. Find out about attic cleanup and decontamination, here. Schedule a time to have your attic inspected for raccoon damage, here.
Schedule a time for attic cleanup services near Cleveland, Columbus or Cincinnati, Ohio, here. Find out how to clean up after a raccoon, here.
Watch a video from the Humane Society of the Unites States to learn how to humanely get raccoons out of an attic, here. Get tips on cleaning an attic after a raccoon, here (PDF).
The hollow smoky compartments in chimneys are similar to burned out hollow trees which are popular with pregnant raccoons. The raccoon removal and attic cleanup experts at the Cottom's Wildlife Company are proficient at removing raccoons from chimneys in Ohio homes. CWR raccoon removal specialists get raccoons out of roofs, attics, yards, chimneys, garages, walls, garbage and out from under decks in Cleveland, Columbus and Cincinnati.
The professionals at the Cottom's Wildlife Removal firm have been cleaning up attics after raccoons, removing bat guano from attics and getting rid of animal feces in attics in Ohio homes since 1986. CWR pest control technicians also provide rodent dropping cleanup, sanitizing and disinfecting services for Ohio homeowners.
After raccoons have invaded an attic, odor removal services are frequently requested by CWR customers. For animal feces removal and attic cleanup services in Columbus, Ohio please call CWR at 614-300-2763.
CWR wildlife damage management specialists safely repair attics, soffits, gutters, siding, shingles, roofs, chimney caps and vents for Ohio homeowners. Get more information about attic repair and decontamination services in Ohio, here.
Request Humane Bat Removal, Bat Control And Bat Exclusion Services In Ohio To Get Rid Of Bats – From $399+
Humane Wildlife Solutions In The Buckeye State Capital
Humane Wildlife Removal Services In Columbus, Ohio
Wildlife Relocation Options In Ohio
Wild animal babies in Ohio are unintentionally orphaned and too often die of starvation, because their mother is trapped and removed. People and wildlife can peacefully coexist in most situations. However, there may be times when conflicts arise. Get a phone number for a local wildlife rescue, permitted wildlife rehabilitation services or a wildlife rehabilitation center near you in Ohio, here. Hire a wildlife removal professional in Ohio that uses humane and effective practices to remove raccoons, bats, groundhogs, birds and skunks. Download the "Humane Wildlife Conflict Resolution Guide" from The Humane Society of the United States, here.
Ohio Division Of Natural Resources Wildlife District Offices
People should always avoid touching or handling sick or dead wild animals. Because Epizootic Hemorrhagic Disease (EHD) affects some white-tailed deer, the Ohio Department Of Natural Resources suggests that Ohioans report sick or dead deer to the Division of Wildlife. Sightings of sick or dead deer should be reported your local Ohio wildlife officer or wildlife district office.