About Local Humane Wildlife Removal Services In Ohio
About The Cottom's Wildlife Removal Company And Local Ethical Wild Animal Control Services In Your Neighborhood In Ohio
The Cottom's Wildlife Removal and Environmental Service Company is one of Ohio's most experienced private animal control companies (non-governmental organization) and was founded in 1986 to serve the wildlife control needs of residents throughout the state of Ohio.
Call 440-236-8114 To Talk With An Ohio Animal And Wildlife Expert
The friendly CWR wildlife experts enjoy answering questions from Ohio residents and always try to be helpful. To talk with private animal control experts  and wildlife removal experts from Ohio give the professionals at CWR a call. You can also contact the wildlife experts or a county wildlife control officer at the Ohio Division Of Natural Resources at 1-800-WILDLIFE (800) 945-3543. Mike Cottom Sr., who founded the Cottom's Wildlife Removal company shares the same passion for wildlife conservation and education as Ohio's adopted son, Jack Hanna.
Local Wildlife Removal Services And Private Animal Control Services Near You In Ohio [Columbus, Cleveland And Cincinnati]
If you live in or near Columbus, Cleveland, Dayton, Toledo, Strongsville, Akron, Youngstown, Dublin, Lancaster, Beavercreek, Mansfield, Mentor, Middletown, Hamilton or Cincinnati call 440-236-8114 to request an initial inspection and assessment. Read Google reviews from our private animal control service customers.
Contact The Cottom's Wildlife Removal Company For Humane Wildlife Control, Effective Bird/Bat Exclusion And Reliable Nuisance Animal Trapping Services In Ohio
Complete The Form Below To Contact The Cottom's Wildlife Removal Company To Humanely Remove Or Exclude Wild Animals, Bats Or Birds From Your Home, Property Or Business In Ohio
Information About The Cottom's Wildlife Removal Company Of Ohio
Get information about Cottom's Wildlife Removal and Environmental Service company here. We serve Columbus, Cleveland, Strongsville, Cincinnati, Akron, Toledo, Mentor, Canton, and Dayton Ohio homeowners and businesses.
Bird Netting Installation, Bat Exclusion Netting Installation, Bird Spike Installation And Bird Control Services For U.S. Businesses
How And When To Remove Bats From Attics In Ohio
YouTube Video: How & When CWR Removes Bats From Attics In Ohio, Costs, DIY, ODNR Laws, Exclusion, Bat Guano Cleanup
In this video, professional and humane bat removal specialists Mike Cottom Sr. and Jr. from Ohio show you how to get bats out of your house or attic. Learn how to remove bats from your chimney, walls, basement, roof or garage. In Ohio, call 440-236-8114 for a home and attic inspection or to request bat removal and bat guano cleanup services.
CWR Provides Professional Wildlife Removal Services, Attic Squirrel Removal Services, Attic Raccoon Removal Services, Squirrel Trapping Services, Attic Squirrel Exclusion Services And Nuisance Animal Damage Repair Services For Ohio Homeowners
To Request Humane Attic Squirrel Removal Services Or Squirrel Exclusion Device Installation Services From A Local Contractor Near You In Your Neighborhood In Ohio Call 440-236-8114 To Schedule A Home And Attic Inspection
To humanely gets wild animals, raccoons, squirrels, mice, bats or birds out of your house and to keep them from from getting back into your house or attic, call 440-236-8114 to request professional wildlife exclusion and nuisance animal trapping services from the Cottom's Wildlife Removal company of Ohio. CWR pest control technicians install heavy duty exclusion devices, bat valves, wire mesh, stainless steel screens, flashing, caulk, vent covers, netting and chimney caps in homes throughout the state of Ohio.
Cottom's Wildlife Removal & Environmental Services is a full-service wildlife removal, wildlife trapping, pest control, exclusion (animal proofing), wildlife removal and nuisance animal damage repair company. To talk with some of the top wildlife experts in Ohio, you can call us at 440-236-8114 or you also call the Ohio Division of Natural Resources to talk with your local county wildlife officer at 1-800-WILDLIFE (800) 945-3543. You can email the ODNR at wildinfo@dnr.state.oh.us.
You can schedule wildlife exclusion services or wildlife removal services with a contractor near you in Ohio, here.  Book an appointment for a nuisance animal damage management inspection service for an Ohio home, building or business, here.
Our professional crews exclude raccoons, squirrels, mice, bats and birds to keep them permanently out of attics, walls, roofs, soffits, ceilings, garages, sheds, basements and chimneys. CWR's ethical wildlife control experts know how to humanely trap and remove uninvited fur-bearing free-loaders.
How To Get Rid Of Bats In Ohio Using Exclusion Devices
YouTube Video Posted On November 1, 2021 Titled "How To Get Rid Of Bats In Ohio Using Exclusion Devices & By Sealing Your Home, Attic, Walls, Chimney"
In this video the bat control professionals at the Cottom's Wildlife Removal company of Ohio show you how to humanely get rid of bats by installing exclusion devices over entrances and how to seal up holes in your house, attic, chimney, vents, garage, soffits and roof.
Bat Removal, Bat Attic And Home Inspections, Bat Guano Removal, Bat Proofing And Bat Exclusion Costs In Ohio
Costs for bat inspections, bat removal, bat feces cleanup, bat sanitizing, bat guano decontamination, bat cleanup and bat exclusion services in Ohio start at $399. Rates for bat exclusion and bat proofing in Ohio start at $1,495. Bat guano removal costs start at $895 in Ohio. August, September and October are ideal months to exclude bats from homes in Ohio.
Typical costs to remove bats from a home and to seal the entire house to prevent their return range from $2,000 to $5,000.
Costs to remove a single bat from a house in Ohio starts at $399. The average cost of bat removal and bat exclusion for a one story house is $1,495 to $3,000, $1,995 to $8,000 for a two story house and $2,995 to $40,000 for a commercial building or church. Bat guano removal, decontamination and sanitizing start at $895 in Ohio. The cost to remove bats in walls starts at $1,495. Costs to get bats out of attics start at $1,495. Costs to remove bat guano from walls starts at $895. Get information on professional bat removal and attic cleanup services in Ohio, here.
If you see signs of a bat infestation and you live in Columbus or Central Ohio, call a professional pest-control company such as Cottom's Wildlife Removal at 614-300-2763 for an assessment. Bat infestation assessments in Columbus and Central Ohio cost $399. If you live in Cleveland or Northern Ohio and have a problem with bats, call 440-236-8114. If you live in Cincinnati or Southern Ohio and need to get rid of bats, call 513-808-9530.  CWR pest control technicians will humanely remove the bats from the attic and seal it up to protect against future bat infestations.
Bats are normally removed by using a valve system that enables bats to fly out of the house but not come back into the residence. The valve system requires that all entry points are sealed prior to the installation of bat valves. Services also include an initial inspection, sealing of soffits, caulking of brick face gaps, screening of ridge vents, screening of louver vents, screening of roof vents, sealing of chimney gaps, installing and removing bat valves.
The bat exclusion experts at the Cottom's Wildlife Removal company pay close attention to detail when they are bat proofing a home in Ohio in order to ensure that the roof or attic is totally secured and sealed tightly. If you have bats in your house, roof or attic, find out what to do, here. Excluding a bat colony from a home, attic or roof in Ohio should never take place between May and August.
Learn How To Remove Bats In Ohio Using Bat Valves, One-Way Bat Doors, Bat Cones And Bat Exclusion Devices And By Sealing Your Home, Attic, Walls, Vents And Chimney
If you have bats in a building, learn how to safely exclude them, here. The idea behind the exclusion method is to create a one-way door the bats use to exit at sunset. However, they can't get back in when they return before sunrise to roost. If you had bats in your home over the summer, September and October are the best months for conducting a bat exclusion according to the Ohio Division of Wildlife.
Learn How To Keep Birds And Bats Out Of Attics And Gable Vents – Tightly Install Stainless Steel Mesh Screens To Keep Birds From Going In Through Small Holes
Birds are extremely beneficial and valuable to mankind due to the outstanding pest control and seed dispersal work they perform. However, at certain times and in certain locations, birds and bats can also become pests and a nuisance.
Learn about the methods that CRW bird control technicians, such as Mike Cottom Jr. and Mike Cottom Sr., use to eliminate or deter pest birds from landing, nesting and roosting. These methods are used for birds considered pests, such as geese, nuisance black birds, woodpeckers, feral pigeons, grackles, gulls, house sparrows and crows, here. CWR uses a wide variety of non-lethal techniques and humane exclusion devices to fix pigeon problems, minimize bird dropping health risks and correct bat infestation hazards.
These products include anti-roosting stainless steel bird spikes, electric bird shock systems and tracks, bird slides, 2″ mesh pigeon nets, bird wire systems, bird netting, transparent bird repellent gels, Scare Bird Garden Stakes, super sonic outdoor sound devices and visual bird deterrents. CWR bird control professionals in the United States never uses harmful polybutylene gels. Download an informative PDF guide to retail sources for products to resolve wildlife conflicts from The Humane Society of the United States, here.
To contact a highly trained bird control service that uses non-lethal, safe, humane, effective and proactive methods near you, call 440-236-8114 to schedule an inspection and to get a written estimate. CWR certified bird removal specialists are experts in safe and effective bat exclusion, pigeon control and bird removal methods used to get birds and bats out out of attics, chimneys, signs, warehouses, dryer vents, roofs, garages and soffits. The PMPs (Pest Management Professionals) at CRW are experts at using different exclusion tricks and repellent strategies to move and remove birds.
If you need a professional bird removal and animal control company in Ohio to get rid of birds and bird nests in your house or vents, call Cottom's Wildlife Removal company. To schedule an inspection, to request bat exclusion services or get costs for bird damage management services, bird dropping removal and sanitizing, contact the Cottom's Wildlife Removal company at 440-236-8114 in Cleveland or Northern Ohio, 614-300-2763 in Columbus or Central Ohio or 513-808-9530 in Cincinnati or Southern Ohio.
Contact Cottom's Wildlife Removal And Environmental Service
Email: info@mcwildlife.com
Company Headquarters Address: 26765 Royalton Rd, Columbia Station, OH  44028
Nuisance Wildlife Control Services In Ohio 
If you are looking for an experienced and reliable nuisance animal control contractor, contact Cottom's Wildlife Removal company.  If your home or business is in Columbus or central Ohio, call us 614-300-2763. If you live in Cleveland, Akron or Northern Ohio, call 440-236-8114. If you need wildlife control or animal removal services in southern Ohio or Cincinnati, call us at 513-808-9530. Get a phone number for a local wildlife rescue and wildlife rehabilitation service or center near you in Ohio, here.
Who Do You Call To Pick Up A Dead Raccoon In Ohio? Consider Calling The Cottom's Wildlife Removal Company 
Bat Removal And Bat Control Services In Cleveland, Columbus And Cincinnati, Ohio
CWR Cleans Attics After Raccoons, Squirrels, Bats, Birds, Mice And Rodents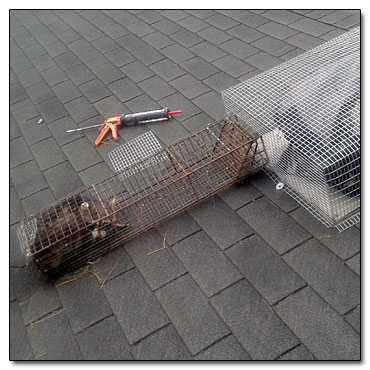 Although kids in Ohio think that raccoons look like cute cuddly bandits because of their signature black masks, adults know all to well that they are well adapted to urban living, are expert thieves and can be a nuisance – and a potential health hazard.
Before you try to clean an attic after a raccoon infestation, you have to first get rid of raccoons and keep them out. You can hire a professional raccoon removal and exclusion service such as the Cottom's Wildlife Removal company or do-it-yourself.
Please do not use an attic fogger, bug bomb or a smoke bomb to get rid of raccoons because it is not humane. The most humane way to get rid of raccoons in an attic or chimney is to use a one-way door and exclude them from returning.
Learn how you sanitize an attic after rodents, here. Get a quote for raccoon attic cleanup costs, here. Request raccoon cleanup services, here. Find out about attic cleanup and decontamination, here. Schedule a time to have your attic inspected for raccoon damage, here.
Schedule a time for attic cleanup services near Cleveland, Columbus or Cincinnati, Ohio, here. Find out how to clean up after a raccoon, here.
Watch a video from the Humane Society of the Unites States to learn how to humanely get raccoons out of an attic, here. Get tips on cleaning an attic after a raccoon, here (PDF).
The hollow smoky compartments in chimneys are similar to burned out hollow trees which are popular with pregnant raccoons. The raccoon removal and attic cleanup experts at the Cottom's Wildlife Company are proficient at removing raccoons from chimneys in Ohio homes. CWR raccoon removal specialists get raccoons out of roofs, attics, yards, chimneys, garages, walls, garbage and out from under decks in Cleveland, Columbus and Cincinnati.
The professionals at the Cottom's Wildlife Removal firm have been cleaning up attics after raccoons, removing bat guano from attics and getting rid of animal feces in attics in Ohio homes since 1986. CWR pest control technicians also provide rodent dropping cleanup, sanitizing and disinfecting services for Ohio homeowners.
After raccoons have invaded an attic, odor removal services are frequently requested by CWR customers. For animal feces removal and attic cleanup services in Columbus, Ohio please call CWR at 614-300-2763.
CWR wildlife damage management specialists safely repair attics, soffits, gutters, siding, shingles, roofs, chimney caps and vents for Ohio homeowners. Get more information about attic repair and decontamination services in Ohio, here.
Spray any urine, droppings, and nesting materials with either a bleach and water solution (1 parts bleach to 9 parts water) or a household disinfectant prepared according to the label instructions for dilution and disinfection time. Soak well. This will inactivate any virus. Use a paper towel or rag to pick up the materials and dispose of them. Read more here.
Raccoon Latrines: Identification and Clean-up – CDC [PDF]
Fill a bucket with hot, soapy water. Feces and material contaminated with raccoon feces should be removed (using a shovel or inverted plastic bag) and burned, buried, or bagged and placed in the trash to be sent to a landfill. Use a damp (but not wet) sponge to wipe the area. Read more here (PDF).
Who Do You Call To Pickup A Dead Deer Or Remove A Dead Animal In Ohio And How Much Does It Cost?
How much does it cost to remove a dead deer? Deer carcass removal costs start at $895. In Ohio, call CWR at 440-236-8114 in Cleveland, 614-300-2763 in Columbus or 513-808-9530 in Cincinnati to get a quote for CRW to pick up a dead deer or dead animal. Prices to pick up a dead animal from your yard or property start at $399.
Ohio Division Of Natural Resources Wildlife District Offices
People should always avoid touching or handling sick or dead wild animals. Because Epizootic Hemorrhagic Disease (EHD) affects some white-tailed deer, the Ohio Department Of Natural Resources suggests that Ohioans report sick or dead deer to the Division of Wildlife. Sightings of sick or dead deer should be reported your local Ohio wildlife officer or wildlife district office.
How Much Does It Cost To Remove Birds From Vents In Ohio?
Prices to remove birds and bird nests from dryer vents and bathroom exhaust vents in Columbus, Cleveland, Cincinnati, Akron, Toledo, Zanesville, Canton, Youngstown, Findley, Marietta and other cities in Ohio start at $795 per vent. This fee includes cleaning out the vent and the installation of one cap.
In Ohio, call CWR at 440-236-8114 in Cleveland, 614-300-2763 in Columbus or 513-808-9530 in Cincinnati to schedule an inspection and to get a written quote for CRW to remove birds from vents.
Hire The Best Bat Control Company In Ohio
It is recommended that Ohio homeowners call a specialty bat control company to inspect their home if they see a bat inside a living space.
CRW is a local (Ohio only) bat control service that does not exterminate bats or use live traps to catch bats. The wildlife professionals at CRW will not kill your bats. Rather, bats are safely removed from homes and buildings in Cleveland, Columbus, Toledo, Dayton, Canton, Mansfield, Hamilton, Springfield, Lancaster and Cincinnati, Ohio through the wise use of bat exclusion processes and devices.
CRW bat control "wizards" use multiple bat exclusion processes, one-way bat doors (bat valves), bat exclusion devices, funnels (cones), netting and tubes to get bats out.
The 6 bat removal masters (pictured here) that work at the Cottom's Wildlife Removal company certainly know the tricks to getting rid of bats in houses. One secret trick to get rid of a single bat in a living space is to open a window or door, eureka!
These 6 gentlemen are very well educated for performing bat exclusion, bat eviction, bat venting and bat poop cleanup services. Alex, Kyle, Nathan, Mike, Tyler and Jason know how to clean environments contaminated with bat droppings in residential and commercial structures. CRW bat control specialists know how to minimize the potential for transmission of white-nose syndrome (WNS) when handling bats. They take all the necessary precautions when handling bat waste. CRW bat control technicians can see the signs and damage caused by various species of bats. CWR bat control technicians use the best protective particulate respirator masks when removing bat droppings from outside houses, attics, walls and cars. Learn more about acceptable management practices for bat eviction and structural remediation, here.
Promoting Smarter, More Humane And Non-Lethal Wildlife Management Solutions In Ohio
CRW is a professional nuisance wildlife control operator in Ohio that treats wild animals with respect. Folks in Ohio can count on CRW pest control technicians to get rid of wild animals, bats and birds quickly, affordably, safely and humanely. To find an answer to your wildlife problem, call or email CRW to ask for an inspection and an estimate or written quote.
While many people that live in Ohio see the presence of wildlife and unwanted animals as a nuisance, these animals, birds and bats are simply trying to survive. Regardless of how Ohio residents view annoying wild animals that are causing them problems, an approach to managing wildlife in the State Of Ohio should include a high degree of moral consideration and humane non-lethal treatment options.
Contact CRW to get specific information on how your wildlife problem and the animals (or birds/bats) will be humanely handled. Although humane wildlife removal services can be a little more expensive, many Ohioans feel that it is worth the additional effort and cost – and so do the nature lovers and Audubon members that work at the Cottom's Wildlife Removal company.
CRW's humane and non-lethal wildlife control approach is not always the most popular choice for some price conscious homeowners and business owners in Ohio. People like to choose the lowest price, "all other things being equal". It does require more difficult work and time for CWR to exclude wildlife and their offspring, than to simply trap and euthanize, and this is why the rate is higher. Wildlife exclusion requires wire mesh, netting, barriers, sealants and one-way doors and these materials and devices cost money. Are they worth it. YES!
Ohio laws and the ODNR Division Of Wildlife (see PDF) require that "rabies vector species" such as raccoons and skunks must be euthanized if they are trapped, so CRW wildlife removal experts choose the best non-lethal practices to exclude these curious creatures whenever possible.
CRW nuisance wildlife removal professionals highly recommend humane solutions and non-lethal alternatives over more affordable and less humane options for getting rid of wild animals, birds and bats.
The animal and bird lovers at CRW truly believe that non-lethal tools, non-lethal wildlife control techniques and non-lethal wildlife management solutions should be given the highest priority when addressing wildlife damage and conflicts between Ohioans and their adorable furry and feathered neighbors.
CRW wildlife management professionals take the approach that urban wildlife management choices should be influenced by an ethical viewpoint. The best way to remove, exclude, control, trap, relocate and rehabilitate "pests" is to do it with the utmost compassion and care. If this can't be done, then it shouldn't be done.
Co-Existing With Bats In Ohio
The fate of bats is hanging in the balance. That could have very real consequences for us. Bats come out in Ohio and are active March through September. Some Ohio residents call the Cottom's Wildlife Removal company to ask if one bat in their house means they have more.
CWR bat control experts advise our clients that there is a good chance there are more bats in the walls or attic, if one is seen inside the house. Bats rarely fly in through open doors and their presence on a wall or ceiling is probably an indication of a minor or major bat infestation.
A thorough inspection is recommended to find out if there are more bats in the house.
Humans and bats can live in peace with each other. Bats are flying mammals that are found in nearly every habitat throughout Ohio.
Ohioans should not fear bats simply because they enter attic spaces, construction gaps and wall voids looking for shelter. Most bites occur happen when people try to grab a bat with their bare hands.
The Little brown bat is Ohio's most common species of bat. Two Ohio bat species live in houses and attics; the Big brown bat and the Little brown bat.
In Ohio, bats normally hibernate from late October to early April in caves, houses, walls, barns, churches, bridges, abandoned mines, cracks in large rock outcroppings or attics and buildings.
Bats in Cleveland, Ohio include the Eastern Red Bat, the Big brown bat, the Northern Long-Eared bat, the Little brown bat and the Tri-colored Bat.
The Hoary bat is the largest bat found in Ohio and most widespread American bat. The Hoary bat can weigh up to 35 grams.
In Ohio however, the Little brown bat population size has declined dramatically due to habitat loss and a deadly disease (fungus) known as White-nose Syndrome (WNS).
The deadly white-nose syndrome has been found on bats in Cuyahoga and Geauga County parks in Ohio.
Some colonies of brown bats removed in Ohio by licensed wildlife control specialists at CWR may total a dozen or more.
Bats are mammals that use adapted forelimbs as wings to fly and they are more maneuverable than birds.
The Ohio Division of Natural Resources classifies bats as a nuisance species. Some of the most common species of bats that the Cottom's Wildlife Removal company gets out of attics and homes in Ohio are colonial bats such as Big brown bats, Little brown bats and Mexican free-tailed bats.
According to Barbara French, a biologist with Bat Conservation International, many people have a few bats in their attic and never know it. But a large colony of bats can become a noise or odor nuisance. Bats should not be allowed to enter interior living quarters.
Speaking of…Orphaned & Injured Wildlife
Uploaded By City of Mentor, Ohio On April 19, 2021 [CityOfMentor.com]
What do you do when you encounter an orphaned or injured animal? We're joined by Jamey Emmert, Communications Specialist with the Ohio Department of Natural Resources with answers to some common questions. Want to know more? Call ODNR's Wildlife hotline at 1-800-WILDLIFE \ (800) 945-3543.
Ohio Squirrel Trapping, Removal, Exclusion And Control Company
CWR Gets Squirrels Out Of  Houses, Attics, Roofs, Yards, Soffits, Gardens, Sheds, Outbuildings, Rental Properties, Apartments And Garages In Ohio
The Cottom's Wildlife Removal company uses live trapping to get squirrels out of homes, attics, yards, eves, soffits, chimneys, roofs, sheds, garages, gardens and lofts on behalf of Ohio homeowners and businesses. The CWR squirrel control and prevention service area includes Cleveland, Columbus, Cincinnati, Akron and other Ohio cities.
To keep squirrels out of your attic you need to be as tenacious as they are. The experts at CWR recommend that you devise a good strategy to deal with the little varmints. Consider removing bird feeders, secure your garbage cans, cut back tree limbs near your roof, set trapping cages in your attic and install a EVICTOR strobe light in your attic – or simply have the Cottom's Wildlife Removal company do the work.
Humane Squirrel Control And Exclusion Options
If you want be as humane as possible to avoid hurting squirrels, you can wait until after the squirrels have left during the day, and then seal up your roof and attic with metal flashing to prevent them from re-opening access points into your attic.
If your are going to try to become a master of DIY squirrel exclusion, be sure to secure your ladder before attempting to squirrel proof your roof. Sometimes, not every time, but sometimes, this job is best left to the professionals at CRW.
CWR uses professional squirrel trapping supplies, tools, heavy duty protective gear and modern squirrel removal equipment such as humane live traps, Safeguard squirrel traps and excluders, small game snare traps and WCS special squirrel cage traps.
CWR squirrel control experts use effective natural and chemical squirrel repellents, squirrel traps for gutters, ladders, chimney caps, squirrel control wire mesh, hammers, owl decoys, tunnel traps, screwdrivers, electronic squirrel control products, electric garden fencing, ultrasonic pest repellers and excluders for squirrels. One of the CWR's favorite squirrel traps is a version of a Tomahawk live trap with one trap door and an easy release door.
After we trap, catch and remove the pesky squirrels, we seal up their entry points to keep other squirrels from getting in. CWR pest control technicians know how to keep annoying squirrels away naturally and how to get rid of Eastern Fox Squirrels around the yard. We are also experts at getting rid of flying squirrels and how to get rid of squirrels from attics. We remove squirrel poop, rodent droppings and also disinfect and sanitize attics that squirrels have compromised.
Humane Wildlife Solutions In The Buckeye State Capital
Humane Wildlife Removal Services In Columbus, Ohio
About CWR Bat Exclusion Services In Ohio
Bat exclusion involves using netting or tubes at entry points, which allows bats to drop down and fly away but which prevent re-entry. Exclusion devices are left in place for a week, so that the bats give up. After the bats are gone, plugging, sealing and caulking work is done.
To keep bats out, the Cottom's Wildlife Removal company seals cracks and openings with heavy-duty bat control screen mesh, aluminum flashing, sheet metal, expandable foam, caulk, stainless steel hardware cloth, chimney caps, flue guards, adhesive sealants, 3/8″ polyethylene knotted mesh, bat netting and other bat exclusion products.
Wildlife Rehabilitators
Posted On YouTube On January 12, 2018 By OhioDNR [OhioDNR.gov]
Who Do You Call When You See An Injured Animal In Ohio?
Learn what you can do if you believe a wild animal in Ohio is orphaned or injured, here. The goal of wildlife rehabilitation is to provide professional care to sick, injured, and orphaned wild animals so ultimately they can be returned to their natural habitat. Wildlife rehabilitation is the treatment and care of injured, orphaned, or sick wild animals so that they can be released back to the wild. Find out if wildlife trapping and wildlife relocation is the best option, here.
Some concerned citizens in Ohio want to know who to call for injured wildlife. If the animal has bleeding, broken bones or another obvious injury – you can bring the animal to Ohio Wildlife Center's Hospital during open hours. See rescue and transport instructions.
Ohio wildlife officials rescue injured bald eagles. Wildlife lovers in Cleveland, Columbus, Toledo, Dayton, Canton, Athens, Marietta, Ashtabula and Cincinnati search online for a local wildlife rehabilitator near them to take care of an ill, injured or orphaned animal. Get phone numbers for a wildlife rescue service or wildlife rehabilitation center near you in Ohio, here. Wildlife rescue services are available near Cleveland, Columbus, Cincinnati, Dayton, Dublin, Toledo, Akron, Canton, Troy, Lima, Mansfield, Zanesville and Lake County.
Request Humane Bat Removal, Bat Control And Bat Exclusion Services In Ohio To Get Rid Of Bats – From $399+
Bird Netting Installation, Bat Exclusion Netting Installation, Bird Spike Installation, Bat Removal, Pigeon Removal And Bird Control Services For U.S. Businesses
Bird Netting Installation And Bird Control Services For U.S. Facilities | Commercial And Residential Bat And Pigeon Removal | Bird Netting Installation Fees From $2+ Per Square Foot
Cottom's Wildlife Removal & Environmental Service provides bird netting installation, bat netting installation, bird barrier installation, bat exclusion services, bird spike installation and bird control services to companies and homeowners throughout Ohio and the United States. CWR also provides bat removal and bat guano cleanup services to homeowners and businesses in Columbus, Cleveland and Cincinnati, Ohio.
Our professional bird control product installers eliminate bird problems and get rid of roosting pigeons. We work with commercial, manufacturing and industrial firms from Los Angeles to NYC.
The Cottom's Wildlife Removal Company Is A U.S. Based Bird Netting Installation Contractor, Bird Netting Installation Company And Bird Spike Installation Service
If you are looking for a bird netting installer near you, CWR is an affordable local (U.S. only) bird control product installer. The technicians that work at CWR are trained by the experts in bird control, "pigeon proofing" and "bird work". CWR is a wildlife and pest control company that knows how to effectively install heavy duty bird netting, properly install aviary control nets, quickly attach bird spikes and safely configure bat exclusion netting. If you want to keep birds off your property, house or business, call 440-236-8114 to request a written quote and plan from CWR to keep pest birds out.
Bird B Gone, Inc. offers the largest network of authorized bird control installers in the Nation. Bird-B-Gone, Inc. is the world's leading manufacturer of professional bird control products including bird netting, anti-bird spikes, visual bird deterrents and bird repellents. They have installers in every state that have been trained on all aspects of bird control, from bird behavior to which products to use for your particular bird problem. Bird B Gone authorized product installers in the United States have successfully completed rigorous training at Bird B Gone University and are certified to install their professional grade bird deterrents. To learn more about bird control and bird control product installers in your area, choose your state, here.
On May 4, 2021 the Pelsis Group, a global manufacturer of pest control products, today announced that it acquired Bird-B-Gone the world's leading manufacturer of humane bird deterrents designed to solve bird problems in commercial, industrial and residential settings.
Our company helps to mitigate and eliminate problems caused by avian life in cities from southern California to New England, from the Great Lakes to the Gulf of Mexico. Even though the number of birds has declined by over 3 billion over the past half-century, birds and their droppings still cause psittacosis, histoplasmosis and other diseases.
Wildlife Relocation Options In Ohio
Wild animal babies in Ohio are unintentionally orphaned and too often die of starvation, because their mother is trapped and removed. People and wildlife can peacefully coexist in most situations. However, there may be times when conflicts arise. Get a phone number for a local wildlife rescue, permitted wildlife rehabilitation services or a wildlife rehabilitation center near you in Ohio, here. Hire a wildlife removal professional in Ohio that uses humane and effective practices to remove raccoons, bats, groundhogs, birds and skunks. Download the "Humane Wildlife Conflict Resolution Guide" from The Humane Society of the United States, here.
Expert Wildlife Trapping & Animal Removal Services For Cleveland And Northern Ohio Homeowners And Businesses – Call 440-236-8114 24/7
Call 440-236-8114 day or night to schedule an inspection and to talk with a licensed and certified wildlife control expert. CWR pest control technicians are experts at raccoon, bat, skunk, squirrel, bird and mice trapping, removal and prevention Cincinnati, Columbus and Cleveland, Ohio.
Mike Cottom has been trapping animals full-time since 1986. Cottom left a job with the Cleveland Metroparks and stepped right into a full-time business removing intrusive snakes, chipmunks, bats and woodchucks.
Animal Control And Wildlife Removal Services For Ohio Homes And Businesses
Wildlife Removal, Trapping And Prevention Company Serving Cleveland And Other Northern Ohio Homeowners And Property Owners – Founded In 1986 By Mike Cottom Sr. In Columbia Station Ohio
About Us
The overarching philosophy of Cottom's Wildlife Removal is "Cottom Cares!".
"Cottom cares"…about you and your family's peace of mind
Knowing that your home is a playground and breeding ground for raccoons, bats, squirrels, birds, rodents and other nuisance wildlife is a serious cause for concern. Our removal, repair, and inspection services will eliminate the danger of animals in your home as well as the damage to your home and any harmful leave-behinds that can harm you and your family. You will finally be able to sleep comfortably at night!
"Cottom cares"…about your home
Your home is your sanctuary. It is not an animal, bat or bird sanctuary. We can prevent wildlife damage to your home with a full house inspection that identifies any areas where animals have damaged your home or where they enter your home. We also do repair and restoration where needed, including attics, insulation, basements, walls, and roofs. When we come to your home for an inspection or service, we treat your home with respect, using clean dropcloths booties in your home and cleaning up after ourselves so your home is left in better condition than when we arrived.
"Cottom cares"…about providing you the best services at an affordable price
Our people and processes are unequaled in the industry. Mike Cottom Sr., owner of the company, holds an Associate's degree in Applied Science in Wildlife Management. He began trapping animals at an early age and removing unwanted wildlife for neighbors and friends. He went on to work for the Cleveland Metroparks Wildlife Management Unit, the Ohio Division of Wildlife and the U.S. Government Soil Conservation Service before starting his own full-time wildlife control business in 1986. He invented his own trap, named the "Cottom Gott'em," which is the only repeating positive-lock trap to assist in humanely removing raccoons and other animals.
Mike's son, Mike Cottom Jr., has been a service technician here for 12 years. Mike Cottom Sr. and Mike Cottom Jr. were certified as Odor Control technicians through the IICRC program.
Our outstanding work is trusted and recognized by customers and organizations alike. To see our customer reviews, click here. For over 30 years, police and fire departments have been referring us to homeowners and businesses throughout Ohio.
We Get Rid Of Groundhogs In Ohio – Humane Trapping And Removal Services
"Cottom cares"…about our community
Cottom's Wildlife Removal is a local, family-owned and operated company based in Columbia Station, southwest of downtown Cleveland, Ohio. We've been proud to serve the wildlife removal and home restoration needs of residents in Ohio since 1986. The trusted father-son team of owner Mike Cottom, Sr. and Mike Cottom, Jr. grew up in Northeast Ohio, live in Northeast Ohio, and do business all over Ohio. The company is fully and eagerly invested in the community, understands and respects the good people of our area, and gives back to the community through numerous community outreach programs.
Over the years, we've completed successful projects for prominent local businesses such as Ford, Chevy, the Cleveland Browns stadium, Northeast Ohio Sewer District, and Taco Bell. Our company has been featured on TV 5 and TV 8 news for successful project completion, as well as in the Lorain Journal and the Plain Dealer.
Let us know if you have wildlife problems or concerns and we'll be there…because "Cottom Cares!".
Contact Cottom's Wildlife Removal Company Of Ohio
Additional Information About Cottom's Wildlife Removal Company Serving Ohio Residents Since 1986
How To Get Rid Of Skunks In Ohio
Who Do You Call To Trap A Skunk In Ohio?
CWR's Ohio wildlife removal experts get skunks, opossums, woodchucks and groundhogs out from under houses and out of yards in Cleveland, Columbus, Toledo, Athens, Dayton, Youngstown and Cincinnati, Ohio.
If you want to find out how to get rid of a skunk on your property in Ohio as quickly as possible and how much it costs to have skunks removed, call 440-236-8114 in Cleveland, 614-300-2763 in Columbus or 513-808-9530 in Cincinnati. The Cottom's Wildlife Removal company is one of the best skunk trapping and removal services in Ohio.
If you are alarmed that you saw a skunk around your home or yard – or soil that has been dug up, call a local CWR office in Ohio 24/7 to schedule our professional skunk trapping and control services and we will get rid of them. We can also install shed and deck barriers, skunk proof fences, skunk exclusion barriers and animal proof deck skirting to keep skunks away.
CWR Ohio wildlife removal experts get skunks, opossums, woodchucks and groundhogs out from under houses, sheds, porches and out of yards. We know how to get rid of skunks by using live cage traps.
Our proactive skunk removal professionals easily seal openings under stairs, decks, sheds and porches with aluminum flashing, concrete, wire mesh and sheet metal to "exclude" skunks to keep them from denning and living under our client's structures. We can also install "skunk fencing" to prevent unpleasant "skunk situations." CWR wildlife experts get groundhogs out of gardens, yards and holes.
DIY Skunk Removal In Ohio
Find out how to remove the smell of skunk spray, here. Learn how to get rid of skunk odor, here. Get tips on removing skunk smell from your house, here. Find out how to remove skunk smell from a dog, here. Find out the best way to get rid of skunks from your garden, here. Find out how to get rid of skunks permanently, here.
However, you many want to consider that the quickest and easiest way to remove a skunk or exclude it from your yard in Ohio is to hire the Cottom's Wildlife Removal company to do it for you. The cost of skunk trapping in Ohio is not that expensive.
In Ohio, contacting CWR to get rid of a skunk is a better option than shooting and killing a skunk in your yard. Read the Ohio Administrative Code, Rule 1501:31-15-03 about killing skunks, here.
In Ohio, it is illegal to fail to euthanize, or release on site, any nuisance skunk that is captured, trapped or taken. It is also illegal to take a skunk with the use of dogs outside of a structure during the closed season.
Get information about the skunk hunting season in Ohio, here. Download the Ohio Hunting And Trapping Regulations for 2020-2021, here.
Costs To Trap And Remove Skunks, Opossums And Groundhogs In Ohio
The cost to remove a skunk, opossum, groundhog or woodchuck that has been trapped by an Ohio homeowner starts at $399.
If a skunk, opossum or groundhog needs to be trapped by CWR, an on-site inspection costs $399. This fee will be applied to the total cost of trapping, removal and sanitizing services provided.
SPCA Cincinnati (Hamilton County Society for the Prevention of Cruelty to Animals)
Since 1873, the SPCA Cincinnati (Hamilton County Society for the Prevention of Cruelty to Animals [SPCA]) has offered dog and cat adoptions, Humane Agent services, Volunteer opportunities and educational programs in the Southwest region of Ohio. You can help provide shelter, food and love to animals in need.
Stop Animal Abuse And Be Their Voice
The SPCA Saves Lives Every Day
You Can Impact an Animal's Life And Help Animals in Need
You Can Fight Animal Cruelty And Pledge to Fight Cruelty
Pledge To Help Animals in Your Area Live Happy and Healthy Lives
Does The City Of Cleveland Have A Service That Traps Nuisance Wildlife? Who Do I Contact?
You can contact the Division of Animal Control at 216-664-3069. Residents have several service options to choose from regarding nuisance wildlife.
You can use your own trap. Animal Control will pick up any trapped wildlife except skunks (contracted trappers will pick up skunks). They will return the trap or it can be picked up at Animal Control which is located at 9203 Detroit Ave, Cleveland, Ohio 44113.
You can borrow a trap from the Division Of Animal Control & Control for a $20 returnable deposit. They will pick up any trapped wildlife except skunks (contracted trappers will pick up skunks). The trap will be returned or it can be picked up and used until you are satisfied. The deposit is returned when the trap is returned.
The wildlife can be put on the contracted Wildlife Trapper list. Time frame for this service is unknown because it is difficult to estimate how long it will take the trapper to handle each assigned service call.
If you are in need of trapping services, call 216-664-3069 and leave your name, address, zip code, phone number, and type of nuisance animal. The trapper is not contracted to trap animals that are inside homes. If an animal becomes trapped inside your house, it is your responsibility to handle that situation. The Wildlife Trapping Service is available from April 15th to October 31st each year. Read more here.
Our New Location In Pictures
Cottom's Wildlife Removal Provides Animal Control And Wildlife Removal Services For The Following Ohio Counties
Adams County
Allen County
Ashland County
Ashtabula County
Athens County
Auglaize County
Belmont County
Brown County
Carroll County
Champaign County
Clermont County
Clinton County
Columbiana County
Coshocton County
Crawford County
Darke County
Defiance County
Delaware County
Erie County
Fairfield County
Fayette County
Fulton County
Gallia County
Greene County
Guernsey County
Hamilton County
Hancock County
Harrison County
Henry County
Hocking County
Holmes County
Jackson County
Jefferson County
Knox County
Lawrence County
Logan County
Lucas County
Madison County
Mahoning County
Marion County
Meigs County
Mercer County
Monroe County
Montgomery County
Morgan County
Morrow County
Muskingum County
Noble County
Ottawa County
Paulding County
Perry County
Pickaway County
Pike County
Portage County
Preble County
Putnam County
Richland County
Ross County
Sandusky County
Scioto County
Seneca County
Shelby County
Stark County
Trumbull County
Tuscarawas County
Union County
Van Wert County
Vinton County
Washington County
Wayne County
Williams County
Wood County
Wyandot County
Ohio Wildlife Information And Wildlife Services
Division of Wildlife | Ohio Department of Natural Resources
A department of incredible diversity, ODNR owns and manages more than 800,000 acres of land, including 75 state parks, 24 state forests, 138 state nature preserves, and 150 wildlife areas.
The Division of Wildlife's mission is to conserve and improve fish and wildlife resources and their habitats for sustainable use and appreciation by all.
Customer Service
1-800-WILDLIFE (945-3543)
wildinfo@dnr.ohio.gov
Monday – Friday 8AM – 5PM EST
Report a Wildlife Violation
1-800-POACHER (762-2437)
Report online
State Headquarters
2045 Morse Road
Building G
Columbus, OH, 43229
1-800-WILDLIFE (945-3543)
Ohio Division of Wildlife On Facebook
Information On Wildlife Services In Ohio From The ODNR
The Ohio Department of Natural Resources (ODNR) is the Ohio state government agency charged with ensuring "a balance between wise use and protection of our natural resources for the benefit of all." Ohio wildlife officials rescue injured bald eagles.
ODNR regulates the oil and gas industry, the mining industry, hunting and fishing, and dams, while maintaining natural resources such as state parks, state nature preserves, state wildlife areas, state forests, and state waterways. It was created in 1949 by the Ohio Legislature.
In May of 2021, the Ohio Department of Natural Resources and the Department of Mental Health kicked off Mental Health Awareness month by pairing up to create a new initiative called "Thrive Outside."
The ODNR Division of Wildlife stocked more that 40 million sport fish in Ohio's waters in 2020, including channel catfish, walleye, steelhead, saugeye, muskellunge, brown trout, rainbow trout, blue catfish, and hybrid striped bass.
In addition, ODNR licenses all hunting, fishing, and watercraft in the state and is responsible for overseeing and permitting all mineral extraction, monitoring dam safety, managing water resources, coordinating the activity of Ohio's 88 county soil and water conservation districts, mapping the state's major geologic structures and mineral resources, and promoting recycling and litter prevention through grant programs in local communities.
Wildlife Services State Offices – USDA APHIS
U.S. Department Of Agriculture – Animal and Plant Health Inspection Service
Wildlife Services State Director: Andrew J. Montoney, Ohio
4469 Professional Parkway
Groveport, OH 43125
Phone: 614-993-3444
FAX: 614-836-5597
Toll-Free Number: 1-866-4USDAWS
(1-866-487-3297)
Andrew.j.montoney@aphis.usda.gov
www.aphis.usda.gov/wildlife-damage/
USDA Resolves Wildlife Conflicts in Ohio
Every day, the Wildlife Services (WS) program in Ohio helps citizens, organizations, industries, and Government agencies resolve conflicts with wildlife to protect agriculture, other property, and natural resources, and to safeguard human health and safety. WS' professional wildlife biologists and specialists implement effective, selective, and responsible strategies that value wildlife, the environment, and the resources being protected. WS manages wildlife damage according to its public trust stewardship responsibilities as a Federal natural resource management program. The program supports the North American Model of Wildlife Conservation, based on the principle that wildlife resources are owned collectively and held in trust by Government for the benefit of present and future generations.
WS oversees a multitude of programs and projects within Ohio to resolve human/wildlife conflicts. WS works on airports to prevent aircraft-wildlife collisions. WS conducts disease surveillance to monitor wildlife diseases that threaten the health of people, pets, livestock, and wildlife. WS provides leadership and is a member of the Ohio Rabies Taskforce, and works year-round to stop raccoon variant rabies (RVR) from spreading westward and to eliminate the disease from the State.
Ohio's livestock producers and crop farmers rely on WS' expertise in resolving conflicts with wildlife such as coyotes, black vultures, feral swine, and blackbirds. As a member of the Great Lakes Restoration Initiative Task Force, WS-Ohio works to reduce predation on threatened species of turtles, manage mute swans to support trumpeter swan introduction and eliminate feral swine populations to protect natural resources and agriculture in the Lake Erie Region of Ohio. WS works with local communities to reduce wildlife conflicts in urban areas.
Download the full report in PDF format,  here.
The Ohio Wildlife Center offers humane pest control and animal rehabilitation services while fostering awareness and appreciation for Ohio's native wildlife through rehabilitation, education and wildlife health studies.
Ohio Wildlife Center
Education & Administration
Business calls only. Scheduled programs.
6131 Cook Rd
Powell, Ohio 43065
614-734- 9453
Ohio Wildlife Center's Hospital
Animal Admissions
2661 Billingsley Rd
Columbus, Ohio 43235
614-793-9453
Mon-Fri, 9am – 5pm
Sat-Sun 9am – 3pm
The state's largest, donation-supported Wildlife Hospital with on-site veterinary care, treating more than 6,000 patients each year representing more than 150 species from more than 60 of Ohio's 88 counties.
A 20-acre outdoor Education Center with more than 50 Animal Ambassadors that greet visitors during our public events, camps and group programming.
SCRAM! Wildlife Control, a fee-for-service solution for human-wildlife conflicts to assist central Ohio home and business owners with access to humane wildlife eviction and exclusion services. SCRAM! has operated since 2001.
Wildlife assistance for the public via social media and phone for step-by-step guidance with wildlife issues and questions.
Volunteer and internship opportunities – more than 250 volunteers annually participate in volunteer services in animal care, education programming, events and administrative support.
U.S. Fish and Wildlife Service | Ohio Field Office
Midwest Region – Ohio Ecological Services Office
4625 Morse Road, Suite 104
Columbus, OH 43230
phone: 614-416-8993
e-mail: ohio@fws.gov
www.fws.gov/midwest/ohio/
The service works with public and private entities to conserve and restore Ohio's endangered species, migratory birds, wetlands, and other important fish and wildlife resources.
The Ohio Field Office is the home of the Fish and Wildlife Service, Ecological Services Division, for the state of Ohio. They cover projects on or affecting all the land and water within Ohio as well as the western basin of Lake Erie.
The mission of the Fish and Wildlife Service is "working with others, to conserve, protect and enhance fish, wildlife, and plants and their habitats for the continuing benefit of the American people." The Ohio Field Office uses that mission statement to guide all their our activities.
Found An Orphaned Or Injured Baby Wild Animal? [Information From The Humane Society Of The United States]
How to tell if baby animals are orphaned, injured or perfectly fine—and what to do if they need your help
It's common to see baby wild animals outside during spring, as a new generation makes its way into the world. Baby wild animals might seem like they need our help, but unless the animal is truly orphaned or injured, there is no need to rescue them. These tips can help you decide whether to take action.
Signs that a wild animal needs your help
The animal is brought to you by a cat or dog.
There's evidence of bleeding.
The animal has an apparent or obvious broken limb.
A bird is featherless or nearly featherless and on the ground.
The animal is shivering.
There's a dead parent nearby.
The animal is crying and wandering all day long.
If you see any of these signs, find help for the animal. If necessary, safely capture and transport them to the appropriate place for treatment.
Tips for birds, rabbits, squirrels and other species
Whether an animal is orphaned and needs your help depends on their age, species and behavior. Babies of some species are left alone all day and rely on camouflage for protection, while others are tightly supervised by their parents. Read on for descriptions of what's normal for each species.
Baby birds
If baby birds are clearly injured or in imminent danger, contact a licensed wildlife rehabilitator. If featherless or nearly featherless baby birds have fallen from their nest but appear unharmed, put them back in the nest if you can do so without danger to yourself. (It is a myth that birds will abandon their young if a person touches them.)
Fully feathered birds: If the original nest was destroyed or is too high to reach, hang a small, shallow wicker basket close to where the original nest was. Woven stick baskets from garden stores or supermarket floral departments work well; they resemble natural nests and allow rain to pass through so the birds won't drown. Adult birds won't jump into anything they cannot see out of, so make sure the basket is not too deep. Put the fallen babies into the new nest and keep watch from a distance for an hour to make sure the parent birds return to the new nest to feed their chicks. Watch closely, because parent birds can be quite stealthy. If they definitely do not return, contact a licensed wildlife rehabilitator.
Nearly or mostly featherless birds: These birds will become too cold in a makeshift nest, so you must place them in the original nest. If that's not possible, take them to a licensed wildlife rehabilitator. Remember that baby birds do best when raised by their parents or other birds, so try to reunite them with their parents before calling a rehabilitator.
Fledglings: Birds with fully feathered bodies, but short or non-existent tail feathers may be fledglings (adolescent birds who have left the nest). You might see them hopping on the ground, unable to fly. This is normal; birds learn to fly from the ground up! Fledglings might remain on the ground for a few days or even a week, supervised and fed by their parents a few times each hour before they get the hang of flying. You can tell if the fledglings are being fed by watching from a distance to see whether a parent bird flies over to them, usually a few times an hour. You can also look for white-grey feces near the fledgling. Birds defecate after being fed, so the presence of fecal material means that the birds are being cared for. Be sure to keep cats indoors and dogs leashed until the fledglings are old enough to fly. If you are positive that the parents aren't returning to feed the babies, contact a licensed wildlife rehabilitator.
Baby rabbits
Rabbits at least four inches long with open eyes and erect ears and who hop well are independent from their mother and should be allowed to fend for themselves. Uninjured baby rabbits in an intact nest should also be left alone. Although they might look abandoned because their mom isn't around, mother rabbits visit their dependent young only a few times a day to avoid attracting predators. If the nest has been disturbed, lightly cover it with natural materials you find around the nest, like grass, fur or leaves and follow these steps:
Keep all pets out of the area.
Avoid touching the babies, because foreign smells may cause the mother to abandon their young.
Use yarn or string to make a tic-tac-toe pattern over the nest to assess whether the mother is returning to nurse their young. Check back 24 hours later.
If the yarn or string was moved aside, but the nest is still covered with fur, grass or leaves, the mother has returned to nurse the babies.
If the "X" remains undisturbed for 24 hours, contact a licensed wildlife rehabilitator.
Baby squirrels
A squirrel who is nearly full-sized, has a full and fluffy tail and can run, jump and climb is independent. However, if a juvenile squirrel continuously approaches and follows people, their mom is probably gone. In this case, you should contact a rehabilitator because the baby is very hungry and needs care.
There are a few cases where you might need to intervene:
A baby squirrel falls from a nest.
A nest falls from a tree.
A felled tree contains an intact nest.
If the baby and/or their nest fell from the tree today, give the mother squirrel a chance to reclaim their young and relocate them to a new nest. If the baby is uninjured, leave them where they are, leave the area, keep people and pets away and monitor them from a safe distance.
If it's chilly outside or the baby isn't fully furred, place them in a shoebox with something warm underneath (like a heating pad on a low setting or a hot water bottle). Be sure to put a flannel shirt between the baby and the heating device, or they could overheat. Do not cover them with anything or the mother might not be able to find them.
If the babies are not retrieved by dusk, take these steps:
Wearing thick gloves, gather the squirrels and place them inside a thick, soft cloth, such as a cloth diaper or fleece scarf or hat.
Place one of the following items beneath the cloth: A chemical hand warmer inside a sock, a hot water bottle (replace the hot water every 30 minutes) or a heating pad set on the lowest setting. (If the heating pad has no cover, put it inside two pillowcases so the babies don't overheat.)
Place the baby squirrels, cloth and warmer inside a small cardboard box or carrier. Call a wildlife rehabilitator.
Baby deer
People often mistakenly assume that a fawn (baby deer) found alone is orphaned. If the fawn is lying down calmly and quietly, their mother is nearby and they are OK. A doe only visits and nurses their fawn a few times a day to avoid attracting predators. Unless you know that the mother is dead, leave the fawn alone.
Although mother deer are wary of human smells, they still want their babies back. If you already handled the fawn, quickly return the fawn to the exact spot where you found them and leave the area; the mother deer will not show herself until you are gone.
If the fawn is lying on their side or wandering and crying incessantly all day, they probably need help. If this is the case, contact a licensed wildlife rehabilitator.
Baby foxes
Fox kits will often appear unsupervised for long periods while their parents are out hunting for food. They will play like puppies around the den site until the parents decide they're old enough to go on hunting trips. Then they will suddenly disappear. Observe the kits from a distance; if they seem energetic and healthy, leave them alone. If they appear sickly or weak, or if you have reason to believe both parents are dead, contact a licensed wildlife rehabilitator.
Baby opossums
Baby opossums are born as embryos, barely larger than a bee, and spend about two months nursing in their mother's pouch. When they get to be about three to four inches long and start riding around on their mother's back, they may fall off without the mother noticing. As a general rule, if an opossum is over seven inches long (not including the tail), they're old enough to be on their own. If they're less than seven inches long (not including the tail), they are orphaned and you should contact a licensed wildlife rehabilitator.
Baby raccoons
If a baby raccoon has been alone for more than a few hours, they are probably an orphan. Mother raccoons don't let their young out of their sight for long. Put an inverted laundry basket over the baby (with a light weight on top so they cannot push their way out) and monitor them until well into the nighttime hours (raccoons are nocturnal, so the mom should come out at night to reclaim her baby). You can also put the cub in a pet carrier and close the door. Instead of latching it, prop it closed with an angled stick. When the mother returns, she'll run in front of the carrier, push over the stick and the door will pop open.
If the mother does not return, contact a licensed wildlife rehabilitator. In spring and summer, people often set traps in a misguided effort to resolve garbage and other "nuisance" issues. Unfortunately, this approach leads to trapped and killed mothers who leave their starving young behind. If anyone in your neighborhood is setting traps, persuade them to use more humane and effective methods instead.
Baby skunks
If you see a baby skunk (or a line of baby skunks, nose-to-tail) running around without a mother in sight, they could be orphaned. Skunks have poor eyesight, so if something scares the mother and they run off, the babies can quickly lose sight of them.
Monitor the situation to see if the mother rejoins their young. If the babies are on the move, put on gloves and slowly place a plastic laundry basket (with lattice sides) over the babies to keep them in one spot and make it easier for the mother to find them. Do not put a weight on top of the laundry basket.
If the mother returns to her young, she will flip up the basket and get them. If she has trouble doing this, you should lift the basket to let them out. Remember that skunks are very near-sighted, so fast movements can startle them into spraying. If you move slowly and speak softly though, you will not get sprayed. Skunks warn potential predators by stamping their front feet when they're alarmed, so if the mother doesn't do this, you're safe to proceed. If no mother comes to retrieve the young by dawn, contact a licensed wildlife rehabilitator.
Finding help for the animal
Once you're sure the animal needs your help, call a wildlife rehabilitator for assistance. If you're unable to locate a rehabilitator, try contacting an animal shelter, humane society, animal control agency, nature center, state wildlife agency or veterinarian.
Capturing and transporting the animal
Never handle an adult animal without first consulting a wildlife professional. Even small animals can injure you. Once you've contacted someone who can help, describe the animal and their physical condition as accurately as possible.
Unless you are told otherwise, here's how you can make an animal more comfortable for transport while you're waiting for help to arrive:
Put the animal in a safe container. For most songbirds, a brown paper bag is fine for transport. For larger birds or other animals, use a cardboard box or similar container. First, punch holes for air (not while the animal is in the box!) from the inside out and line the box with an old T-shirt or other soft cloth. Then put the animal in the box.
Put on thick gloves and cover the animal with a towel or pillowcase as you scoop them up gently and place them in the container.
Do not give the animal food or water. It could be the wrong food and cause them to choke, trigger serious digestive problems or cause aspiration pneumonia. Many injured animals are in shock and force-feeding can kill them.
Place the container in a warm, dark, quiet place—away from pets, children and all noise (including the TV and the radio)—until you can transport the animal. Keep the container away from direct sunlight, air conditioning or heat.
Transport the animal as soon as possible. Leave the radio off and keep talking to a minimum. Because wild animals aren't accustomed to our voices, they can become very stressed by our noises. If they're injured or orphaned, they're already in a compromised condition. Keep their world dark and quiet to lower their stress level and help keep them alive.
Ohio Wildlife Field Guides And Backyard Wildlife [Download PDFs From The Ohio Department Of Natural Resources]
This list of mammals of Ohio includes a total of 70 mammal species recorded in the state of Ohio. Of these, three (the American black bear, Indiana bat, and Allegheny woodrat) are listed as endangered in the state; four (the brown rat, black rat, house mouse, and wild boar) are introduced; two (the gray bat and Mexican free-tailed bat) are considered accidental; and eight (the American bison, elk, fisher cougar, Canada lynx, gray wolf, American marten, and wolverine) have been extirpated from the state. Read more here.
Raccoons In Ohio [From The Ohio Department Of Health]
Raccoons can be found throughout the state and in all habitat types, with the majority being found in northwestern and central Ohio along rivers and streams bordering farmland habitats. They have also moved into suburban and urban areas and can live almost any place where there is food for them to eat and a den to serve as shelter. Many of them live, temporarily at least, in drain tiles and sewer systems. Raccoons defecate in communal sites called latrines. They are nocturnal and are up and about during the dark hours of the night. Even though raccoons do not really hibernate, they can sleep for days, and even weeks at a time, during the cold winter months. Read more here.