Pest Control And Mice Control Services In Ohio
To Request A Mice Inspection, Mice Extermination Services, Rodent Removal, Rodent Feces Cleanup, Rat Infestation Decontamination Or Rodent Damage Repair Services In Ohio Call 440-236-8114
Professional Pest Control Services, Mice Extermination Services And Rodent Control Programs For Ohio Homeowners And Businesses
Contact Us To Request A Home Inspection And A Written Estimate For Pest Control And Removing Mice Or Rodents From Your House, Attic, Walls Or Business
Cleveland And Northern Ohio Office: 440-236-8114
Cincinnati And Southern Ohio Office: 513-808-9530
Email: info@mcwildlife.com
Company Headquarters Address: 26765 Royalton Rd, Columbia Station, OH  44028
Complete The Form Below To Schedule An On-Site Visit And A Quote For Mice, Rodent Or Rat Removal
Rat Control, Rodent Control And Pest Control Services For Ohio Homeowners And Businesses
CWR pest control technicians get rats out of walls, attics, houses, gardens, yards, roofs, cars, garages, ceilings And chicken coops for Ohio residents.
CWR pest control experts get rodents (rats, moles, shrews, voles and mice) out of homes, attics, cars, walls, yards, gardens, ceilings, crawl space and chimneys.
Rodent removal program costs start at $450+.
In Ohio, costs for professional mice control programs or extermination for mice start at $450 which involves the use of rodenticides and traps. Monthly follow up visits cost $95, bi-monthly visits cost $125 and quarterly visits cost $150. To get a quote for a full service mice extermination project which includes setting up traps, baiting with rodenticides, sealing entry points and mice dropping clean up services, call the Cottom's Wildlife Removal company at 440-236-8114 in Cleveland, 614-300-2763 in Columbus or 513-808-9530 in Cincinnati. Costs for CWR to remove dead mice, rats or rodents start at $399 in Ohio. Costs to exclude mice by sealing up entry points to prevent mice from getting into a house or building start at $1,495.
CWR wildlife barrier installation experts also perform rodent exclusion services for Ohio homeowners.
Mice Control And Rodent Removal Services In Cleveland, Columbus, Cincinnati, Toledo, Lima, Dayton, Portsmouth, Athens, Canton, Springfield, Strongsville, Lakewood, Cleveland Heights, Mentor, Youngstown And Ashtabula
Cottom's Wildlife Removal is a pest control company that gets rid of house mice and deer mice in Ohio. If you want professionals to take responsibility for getting rid of mice, call 440-236-8114 and let us handle it.
We inspect homes in Cleveland, Cincinnati, Akron, Columbus and other Ohio cities for mice. Inspection prices start at $399.
Our mice exterminators get rid of mice for homeowners in Ohio. Mice control and removal programs costs start at $450.
The Cottom's Wildlife Removal company is one of the best mouse exterminators and pest control firms in Cleveland, Ohio.
Call 216-236-8114 if you need routine mice removal services or if you are dealing with an emergency infestation.
If you see a mouse, hear scratching noises in your walls or ceiling, or see signs of mouse droppings or nests made of shredded materials, you may have problem.
A mouse nest can house more than a dozen mice. Generally, mice stay away from humans and their beds, but it is important to remove mice when there are signs they have entered a house. It is usually worth hiring Cottom's Wildlife Removal company to deal with the problem.
If you hear mice scratching inside the walls, you're unable to trap mice, or you continue to see droppings after DIY extermination methods, it may be time to call a professional.
Mice Removal, Rodent Removal, Critter Removal, Rat Control, Mouse Extermination, Rodent Exclusion And Sanitation, Cleanup Services, Decontamination and Damage Repair Services for Cleveland, Columbus, Cincinnati, Akron And Other Ohio Homeowners and Businesses Include:
Inspection of roofs, attics, garages, chimneys and other areas where problems may be occurring.
Removal of mice, critters and rodents with various handling tools.
Trapping and/or extermination of mice and rodents using sophisticated traps and techniques.
Repair of damage caused by mice and rodents to basements, walls, floors, roofs, siding, insulation and drywall.
Extermination of parasites and mites that come from mice and rodents that infest homes, roofs and attics.
Removal of mice, rat and rodent feces, soiled attic insulation and damaged drywall.
Replacement of attic insulation, drywall, wiring, shingles, roofing, foundation components, mechanical equipment, walls, siding facia boards, gutters and other damaged areas.
Contact Us
Who Cares About Mice and Rats?
Posted On YouTube On October 1, 2014 By PETA (People for the Ethical Treatment of Animals)
Mice and rats are affectionate and clever and would risk their own lives to save their friends.
CWR Cleans Attics After Raccoons, Squirrels, Bats, Birds, Mice And Rodents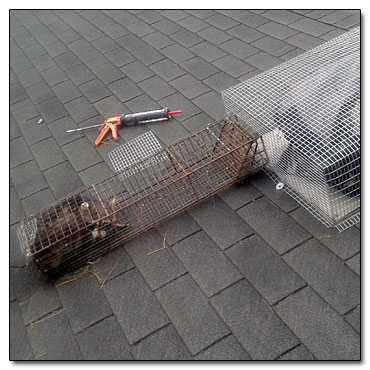 Although kids in Ohio think that raccoons look like cute cuddly bandits because of their signature black masks, adults know all to well that they are well adapted to urban living, are expert thieves and can be a nuisance – and a potential health hazard.
Before you try to clean an attic after a raccoon infestation, you have to first get rid of raccoons and keep them out. You can hire a professional raccoon removal and exclusion service such as the Cottom's Wildlife Removal company or do-it-yourself.
Please do not use an attic fogger, bug bomb or a smoke bomb to get rid of raccoons because it is not humane. The most humane way to get rid of raccoons in an attic or chimney is to use a one-way door and exclude them from returning.
Learn how you sanitize an attic after rodents, here. Get a quote for raccoon attic cleanup costs, here. Request raccoon cleanup services, here. Find out about attic cleanup and decontamination, here. Schedule a time to have your attic inspected for raccoon damage, here.
Schedule a time for attic cleanup services near Cleveland, Columbus or Cincinnati, Ohio, here. Find out how to clean up after a raccoon, here.
Watch a video from the Humane Society of the Unites States to learn how to humanely get raccoons out of an attic, here. Get tips on cleaning an attic after a raccoon, here (PDF).
The hollow smoky compartments in chimneys are similar to burned out hollow trees which are popular with pregnant raccoons. The raccoon removal and attic cleanup experts at the Cottom's Wildlife Company are proficient at removing raccoons from chimneys in Ohio homes. CWR raccoon removal specialists get raccoons out of roofs, attics, yards, chimneys, garages, walls, garbage and out from under decks in Cleveland, Columbus and Cincinnati.
The professionals at the Cottom's Wildlife Removal firm have been cleaning up attics after raccoons, removing bat guano from attics and getting rid of animal feces in attics in Ohio homes since 1986. CWR pest control technicians also provide rodent dropping cleanup, sanitizing and disinfecting services for Ohio homeowners.
After raccoons have invaded an attic, odor removal services are frequently requested by CWR customers. For animal feces removal and attic cleanup services in Columbus, Ohio please call CWR at 614-300-2763.
CWR wildlife damage management specialists safely repair attics, soffits, gutters, siding, shingles, roofs, chimney caps and vents for Ohio homeowners. Get more information about attic repair and decontamination services in Ohio, here.
Spray any urine, droppings, and nesting materials with either a bleach and water solution (1 parts bleach to 9 parts water) or a household disinfectant prepared according to the label instructions for dilution and disinfection time. Soak well. This will inactivate any virus. Use a paper towel or rag to pick up the materials and dispose of them. Read more here.
Raccoon Latrines: Identification and Clean-up – CDC [PDF]
Fill a bucket with hot, soapy water. Feces and material contaminated with raccoon feces should be removed (using a shovel or inverted plastic bag) and burned, buried, or bagged and placed in the trash to be sent to a landfill. Use a damp (but not wet) sponge to wipe the area. Read more here (PDF).
CWR Provides Professional Mice Removal Services, Wildlife Removal Services, Attic Squirrel Removal Services, Attic Raccoon Removal Services, Squirrel Trapping Services, Attic Animal Removal Services, Wild Animal Exclusion Services And Nuisance Animal Damage Repair Services For Ohio Homeowners
To Request Humane Attic Squirrel Removal Services Or Squirrel Exclusion Device Installation Services From A Local Contractor Near You In Your Neighborhood In Ohio Call 440-236-8114 To Schedule A Home And Attic Inspection
To humanely gets wild animals, raccoons, squirrels, mice, bats or birds out of your house and to keep them from from getting back into your house or attic, call 440-236-8114 to request professional wildlife exclusion and nuisance animal trapping services from the Cottom's Wildlife Removal company of Ohio. CWR pest control technicians install heavy duty exclusion devices, bat valves, wire mesh, stainless steel screens, flashing, caulk, vent covers, netting and chimney caps in homes throughout the state of Ohio.
Cottom's Wildlife Removal & Environmental Services is a full-service wildlife removal, wildlife trapping, pest control, exclusion (animal proofing), wildlife removal and nuisance animal damage repair company. To talk with some of the top wildlife experts in Ohio, you can call us at 440-236-8114 or you also call the Ohio Division of Natural Resources to talk with your local county wildlife officer at 1-800-WILDLIFE (800) 945-3543. You can email the ODNR at wildinfo@dnr.state.oh.us.
You can schedule wildlife exclusion services or wildlife removal services with a contractor near you in Ohio, here.  Book an appointment for a nuisance animal damage management inspection service for an Ohio home, building or business, here.
Our professional crews exclude raccoons, squirrels, mice, bats and birds to keep them permanently out of attics, walls, roofs, soffits, ceilings, garages, sheds, basements and chimneys. CWR's ethical wildlife control experts know how to humanely trap and remove uninvited fur-bearing free-loaders.
Who Traps Wildlife And Nuisance Animals In Ohio?
Trapping is regularly used for nuisance wild animal control in Ohio in order to limit damage to food supplies, property, households, lawns, buildings, farming and ranching. Wildlife are typically defined as free-ranging, terrestrial vertebrates.
Animals are frequently trapped by CWR in Cleveland, Columbus, Springfield, Dayton, Cincinnati and Toledo to prevent damage to personal property, including the killing of livestock by predatory animals such as coyotes, weasels and foxes. Find out how much wildlife trapping costs in Ohio, here. Learn about the wildlife relocation options available in Ohio, here. Get information about wildlife rescue, transportation and rehabilitation in Ohio, here.
Humane live trapping is one of the most common nuisance wildlife control methods used in Ohio by pest management professionals and nuisance wildlife management professionals such as Mike Cottom Sr. and Mike Cottom Jr. at the Cottom's Wildlife Removal company.
The Humane Society of the United States works with community leaders and animal care and control agencies to create Wild Neighbors communities, where humane and non-lethal solutions are given priority when addressing conflicts between people and wildlife. Find answers to wildlife problems, here. The Humane Society of the United States recommends scrapping the trap when evicting wildlife.
CWR wildlife trappers know how to prevent and control coyote problems in Ohio. CRW animal trappers use trapping tactics that work for coyotes and foxes. A fox cutting through your yard is probably just passing through on their way between hunting areas and no action is necessary on your part. Learn more about trapping coyotes in Ohio, here.
On behalf of tenants and landowners in Ohio, the Cottom's Wildlife Removal company traps live, non-migratory animals (except white-tailed deer, black bear or wild turkey) when these animals become a nuisance. The experienced trappers at CRW know the best practices and the key principles and techniques of capturing animals on land, in and around water to manage wildlife damage.
CWR also specializes in "animal proofing" (exclusion) to keep nuisance wildlife out of homes, attics, basements, sheds, garages and outbuildings. CWR is a full service wildlife company that frequently disinfects, sanitizes and decontaminates infested areas of structures and property in Northern, Central and Southern, Ohio.
The Cottom's Wildlife Removal company provides Ohioans with nuisance wild animal control services for a fee. Ohio residents and wildlife should be able to coexist in most situations. If conflicts arise, the Cottom's Wildlife Removal company is a better choice than trying to trap and remove wildlife and animals yourself. Learn more about the details of wildlife control and wild animal removal services in Ohio, here.
However, there may be times when Ohio property owners need to call a professional wildlife control operator at 440-236-8114 in Cleveland, 614-300-2763 in Columbus or 513-808-9530 in Cincinnati. CRW traps raccoons, skunks, opossums, groundhogs, beavers, coyotes, squirrels and other wild animals. CRW is licensed by the State of Ohio as a "Commercial Nuisance Wild Animal Control Operator" and is fully insured.
State laws and federal laws protect virtually all wildlife, wild animals and wild places. These statutes regulate which species can be harassed, harvested, trapped, harmed or hunted. The animal trappers at CRW are experts at resolving human-nuisance wildlife conflicts in Hamilton, Canton, Youngstown, Maumee, Ashtabula, Lima, Sandusky, Strongsville, Athens, Chillicothe and Cleveland Heights, Ohio.
It is illegal in Ohio to fail to euthanize, or release on site, any nuisance animals, skunk, raccoon, squirrel, beaver, coyote, red fox, or opossum that is captured, trapped or taken. A violation of a nuisance wild animal control law or rule in Ohio may result in criminal charges [PDF]. However, the Cottom's Wildlife Removal company is legally permitted to remove a trapped animal from a customer's property because CRW holds an Ohio CNWACO license.
Learn about methods used to capture mammals, handle mammals and care for mammals, here. These methods, which include trapping and netting, must be designed to keep captive animals alive, uninjured, well provisioned and comfortable.
CRW captures, handles and catches animals remotely in Ohio by using leather gloves, catch poles, protective clothing, humane animal traps, foothold traps, snares, body gripping traps, live cage traps (box traps) and conibear traps. CRW wildlife trappers prefer to use humane live cage traps whenever possible. Glue traps and glue boards are NOT recommended. Learn how wild animals are trapped, here. Find out which baits are best for live trapping, here.
Before CRW pest control technicians begin trapping wildlife for a customer, they have a suitable plan for what to do with the trapped animal. Learn how to use traps to catch nuisance wildlife in your yard, here. Get familiar with wildlife damage management tools and techniques, here. Stay informed about wildlife and nuisance wild animals in Ohio, here.
Who Do You Call To Pickup A Dead Deer Or Remove A Dead Animal In Ohio And How Much Does It Cost?
How much does it cost to remove a dead deer? Deer carcass removal costs start at $895. In Ohio, call CWR at 440-236-8114 in Cleveland, 614-300-2763 in Columbus or 513-808-9530 in Cincinnati to get a quote for CRW to pick up a dead deer or dead animal. Prices to pick up a dead animal from your yard or property start at $399.
Ohio Division Of Natural Resources Wildlife District Offices
People should always avoid touching or handling sick or dead wild animals. Because Epizootic Hemorrhagic Disease (EHD) affects some white-tailed deer, the Ohio Department Of Natural Resources suggests that Ohioans report sick or dead deer to the Division of Wildlife. Sightings of sick or dead deer should be reported your local Ohio wildlife officer or wildlife district office.
Expert Wildlife Trapping & Animal Removal Services For Cleveland And Northern Ohio Homeowners And Businesses – Call 440-236-8114 24/7
Call 440-236-8114 day or night to schedule an inspection and to talk with a licensed and certified wildlife control expert. CWR pest control technicians are experts at raccoon, bat, skunk, squirrel, bird and mice trapping, removal and prevention in Cleveland, Ohio.
Who Do You Call To Pick Up A Dead Raccoon In Ohio? Consider Calling The Cottom's Wildlife Removal Company 
Humane Wildlife Solutions In The Buckeye State Capital
Humane Wildlife Removal Services In Columbus, Ohio
Ohio Squirrel Trapping, Removal, Exclusion And Control Company
CWR Gets Squirrels Out Of  Houses, Attics, Roofs, Yards, Soffits, Gardens, Sheds, Outbuildings, Rental Properties, Apartments And Garages In Ohio
The Cottom's Wildlife Removal company uses live trapping to get squirrels out of homes, attics, yards, eves, soffits, chimneys, roofs, sheds, garages, gardens and lofts on behalf of Ohio homeowners and businesses. The CWR squirrel control and prevention service area includes Cleveland, Columbus, Cincinnati, Akron and other Ohio cities.
To keep squirrels out of your attic you need to be as tenacious as they are. The experts at CWR recommend that you devise a good strategy to deal with the little varmints. Consider removing bird feeders, secure your garbage cans, cut back tree limbs near your roof, set trapping cages in your attic and install a EVICTOR strobe light in your attic – or simply have the Cottom's Wildlife Removal company do the work.
Humane Squirrel Control And Exclusion Options
If you want be as humane as possible to avoid hurting squirrels, you can wait until after the squirrels have left during the day, and then seal up your roof and attic with metal flashing to prevent them from re-opening access points into your attic.
If your are going to try to become a master of DIY squirrel exclusion, be sure to secure your ladder before attempting to squirrel proof your roof. Sometimes, not every time, but sometimes, this job is best left to the professionals at CRW.
CWR uses professional squirrel trapping supplies, tools, heavy duty protective gear and modern squirrel removal equipment such as humane live traps, Safeguard squirrel traps and excluders, small game snare traps and WCS special squirrel cage traps.
CWR squirrel control experts use effective natural and chemical squirrel repellents, squirrel traps for gutters, ladders, chimney caps, squirrel control wire mesh, hammers, owl decoys, tunnel traps, screwdrivers, electronic squirrel control products, electric garden fencing, ultrasonic pest repellers and excluders for squirrels. One of the CWR's favorite squirrel traps is a version of a Tomahawk live trap with one trap door and an easy release door.
After we trap, catch and remove the pesky squirrels, we seal up their entry points to keep other squirrels from getting in. CWR pest control technicians know how to keep annoying squirrels away naturally and how to get rid of Eastern Fox Squirrels around the yard. We are also experts at getting rid of flying squirrels and how to get rid of squirrels from attics. We remove squirrel poop, rodent droppings and also disinfect and sanitize attics that squirrels have compromised.
Ohio Wildlife Information And Wildlife Services
Division of Wildlife | Ohio Department of Natural Resources
A department of incredible diversity, ODNR owns and manages more than 800,000 acres of land, including 75 state parks, 24 state forests, 138 state nature preserves, and 150 wildlife areas.
The Division of Wildlife's mission is to conserve and improve fish and wildlife resources and their habitats for sustainable use and appreciation by all.
Customer Service
1-800-WILDLIFE (945-3543)
wildinfo@dnr.ohio.gov
Monday – Friday 8AM – 5PM EST
Report a Wildlife Violation
1-800-POACHER (762-2437)
Report online
State Headquarters
2045 Morse Road
Building G
Columbus, OH, 43229
1-800-WILDLIFE (945-3543)
Ohio Division of Wildlife On Facebook
Information On Wildlife Services In Ohio From The ODNR
The Ohio Department of Natural Resources (ODNR) is the Ohio state government agency charged with ensuring "a balance between wise use and protection of our natural resources for the benefit of all." Ohio wildlife officials rescue injured bald eagles.
ODNR regulates the oil and gas industry, the mining industry, hunting and fishing, and dams, while maintaining natural resources such as state parks, state nature preserves, state wildlife areas, state forests, and state waterways. It was created in 1949 by the Ohio Legislature.
In May of 2021, the Ohio Department of Natural Resources and the Department of Mental Health kicked off Mental Health Awareness month by pairing up to create a new initiative called "Thrive Outside."
The ODNR Division of Wildlife stocked more that 40 million sport fish in Ohio's waters in 2020, including channel catfish, walleye, steelhead, saugeye, muskellunge, brown trout, rainbow trout, blue catfish, and hybrid striped bass.
In addition, ODNR licenses all hunting, fishing, and watercraft in the state and is responsible for overseeing and permitting all mineral extraction, monitoring dam safety, managing water resources, coordinating the activity of Ohio's 88 county soil and water conservation districts, mapping the state's major geologic structures and mineral resources, and promoting recycling and litter prevention through grant programs in local communities.
Wildlife Services State Offices – USDA APHIS
U.S. Department Of Agriculture – Animal and Plant Health Inspection Service
Wildlife Services State Director: Andrew J. Montoney, Ohio
4469 Professional Parkway
Groveport, OH 43125
Phone: 614-993-3444
FAX: 614-836-5597
Toll-Free Number: 1-866-4USDAWS
(1-866-487-3297)
Andrew.j.montoney@aphis.usda.gov
www.aphis.usda.gov/wildlife-damage/
USDA Resolves Wildlife Conflicts in Ohio
Every day, the Wildlife Services (WS) program in Ohio helps citizens, organizations, industries, and Government agencies resolve conflicts with wildlife to protect agriculture, other property, and natural resources, and to safeguard human health and safety. WS' professional wildlife biologists and specialists implement effective, selective, and responsible strategies that value wildlife, the environment, and the resources being protected. WS manages wildlife damage according to its public trust stewardship responsibilities as a Federal natural resource management program. The program supports the North American Model of Wildlife Conservation, based on the principle that wildlife resources are owned collectively and held in trust by Government for the benefit of present and future generations.
WS oversees a multitude of programs and projects within Ohio to resolve human/wildlife conflicts. WS works on airports to prevent aircraft-wildlife collisions. WS conducts disease surveillance to monitor wildlife diseases that threaten the health of people, pets, livestock, and wildlife. WS provides leadership and is a member of the Ohio Rabies Taskforce, and works year-round to stop raccoon variant rabies (RVR) from spreading westward and to eliminate the disease from the State.
Ohio's livestock producers and crop farmers rely on WS' expertise in resolving conflicts with wildlife such as coyotes, black vultures, feral swine, and blackbirds. As a member of the Great Lakes Restoration Initiative Task Force, WS-Ohio works to reduce predation on threatened species of turtles, manage mute swans to support trumpeter swan introduction and eliminate feral swine populations to protect natural resources and agriculture in the Lake Erie Region of Ohio. WS works with local communities to reduce wildlife conflicts in urban areas.
Download the full report in PDF format,  here.
The Ohio Wildlife Center offers humane pest control and animal rehabilitation services while fostering awareness and appreciation for Ohio's native wildlife through rehabilitation, education and wildlife health studies.
Ohio Wildlife Center
Education & Administration
Business calls only. Scheduled programs.
6131 Cook Rd
Powell, Ohio 43065
614-734- 9453
Ohio Wildlife Center's Hospital
Animal Admissions
2661 Billingsley Rd
Columbus, Ohio 43235
614-793-9453
Mon-Fri, 9am – 5pm
Sat-Sun 9am – 3pm
The state's largest, donation-supported Wildlife Hospital with on-site veterinary care, treating more than 6,000 patients each year representing more than 150 species from more than 60 of Ohio's 88 counties.
A 20-acre outdoor Education Center with more than 50 Animal Ambassadors that greet visitors during our public events, camps and group programming.
SCRAM! Wildlife Control, a fee-for-service solution for human-wildlife conflicts to assist central Ohio home and business owners with access to humane wildlife eviction and exclusion services. SCRAM! has operated since 2001.
Wildlife assistance for the public via social media and phone for step-by-step guidance with wildlife issues and questions.
Volunteer and internship opportunities – more than 250 volunteers annually participate in volunteer services in animal care, education programming, events and administrative support.
U.S. Fish and Wildlife Service | Ohio Field Office
Midwest Region – Ohio Ecological Services Office
4625 Morse Road, Suite 104
Columbus, OH 43230
phone: 614-416-8993
e-mail: ohio@fws.gov
www.fws.gov/midwest/ohio/
The service works with public and private entities to conserve and restore Ohio's endangered species, migratory birds, wetlands, and other important fish and wildlife resources.
The Ohio Field Office is the home of the Fish and Wildlife Service, Ecological Services Division, for the state of Ohio. They cover projects on or affecting all the land and water within Ohio as well as the western basin of Lake Erie.
The mission of the Fish and Wildlife Service is "working with others, to conserve, protect and enhance fish, wildlife, and plants and their habitats for the continuing benefit of the American people." The Ohio Field Office uses that mission statement to guide all their our activities.
Ohio Wildlife Field Guides And Backyard Wildlife [Download PDFs From The Ohio Department Of Natural Resources]
This list of mammals of Ohio includes a total of 70 mammal species recorded in the state of Ohio. Of these, three (the American black bear, Indiana bat, and Allegheny woodrat) are listed as endangered in the state; four (the brown rat, black rat, house mouse, and wild boar) are introduced; two (the gray bat and Mexican free-tailed bat) are considered accidental; and eight (the American bison, elk, fisher cougar, Canada lynx, gray wolf, American marten, and wolverine) have been extirpated from the state. Read more here.
Raccoons In Ohio [From The Ohio Department Of Health]
Raccoons can be found throughout the state and in all habitat types, with the majority being found in northwestern and central Ohio along rivers and streams bordering farmland habitats. They have also moved into suburban and urban areas and can live almost any place where there is food for them to eat and a den to serve as shelter. Many of them live, temporarily at least, in drain tiles and sewer systems. Raccoons defecate in communal sites called latrines. They are nocturnal and are up and about during the dark hours of the night. Even though raccoons do not really hibernate, they can sleep for days, and even weeks at a time, during the cold winter months. Read more here.