Wildlife Damage Management and Repair Services In Cleveland, Columbus, Cincinnati, Akron And Other Ohio Cities
Cleveland And Northern Ohio Office: 440-236-8114
Cincinnati And Southern Ohio Office: 513-808-9530
Email: info@mcwildlife.com
Company Headquarters Address: 26765 Royalton Rd, Columbia Station, OH  44028
Complete The Form Below To Contact Cottom's Wildlife Removal and Environmental Services
Wildlife Damage Repair Services For Ohio Homeowners
Unfortunately, sometimes the removal of the animal does not remove the danger left by its presence in your home.  After wildlife, critters, animals, mice, rats, squirrels, raccoons, birds or bats have been removed, damage repair services are provided for Cleveland, Columbus, Cincinnati and Akron homeowners.
Feces and excrement, ringworm and other parasites create an ongoing health problem for your family and pets. Torn attic insulation can cost a fortune in energy costs and holes and cracks in your roof, eves, soffits, vents and chimney can leave your building vulnerable to more wildlife infestations. In addition, your deck, shed, and porches are often areas where wildlife hides. We will remove them and repair any damage to those places as well.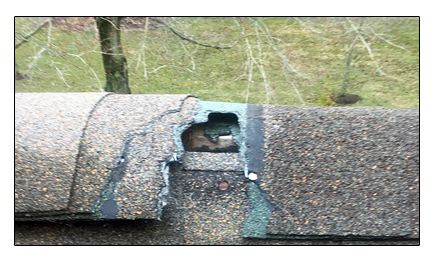 After Wildlife, Animals, Critters, Birds or Bats Have Been Removed
Following wildlife removal, we can inspect your home for any damage that occurred from your unwanted visitors. Once we identify any issues you may have, we can restore your home to its original condition. We are licensed, bonded and insured to provide the following repair and restoration services for residential and commercial properties:
Environmental Cleanup of Attics and Crawl Spaces
Removal of Soiled Insulation
Wildlife Damage Management
Installation of New Insulation
Attic Repair
Roof and Siding Repair
Eves, Soffits, Vents and Chimney Repair
Decks, Sheds and Porches Repair and Exclusion
Wildlife Damage Repair
Bat and Bird Damage Repair
Odor Control and Sanitizing
Wildlife Decontamination
Structural Repair
Garage Clean Outs
Animal Droppings and Feces Removal
Power Ventilator Replacement
About Insurance Coverage for Animal Removal and Building Repair
Homeowners insurance will frequently cover the cost of attic cleanup and decontamination. However, some insurance companies do not want to pay for damage done to your home by wildlife and will employ tricks to deny your claim. For instance:
The policy will exclude household damage done by "vermin" or "pests". The policy may not say it, but they will claim that bats and raccoons fall into those categories, which they do not!
The policy will exclude damage done by pollution. Again, the policy may not say it, but they will claim that fecal material left by raccoons and bats is pollution – seriously??.
The fact is, raccoon and bat infestation and contamination is a serious danger to your home, health and safety and you deserve to be compensated for any wildlife exclusion and repair work done to your home or building. Our experience dealing with insurance companies gives you an edge when trying to get your claim covered. We will actively fight for you by talking directly with your insurance company and providing you with any materials you need to prove your case…because "Cottom Cares!".
Contact Us for a Building Inspection or Wildlife Removal
Cottom's Wildlife Removal is a local, family-owned and operated company that has been responding to the animal removal and home repair and restoration needs of families throughout Northeastern Ohio since 1986. Let us know what you need and we'll be there… because "Cottom Cares!".
Expert Wildlife Trapping & Animal Removal Services For Cleveland And Northern Ohio Homeowners And Businesses – Call 440-236-8114 24/7
Call 440-236-8114 day or night to schedule an inspection and to talk with a licensed and certified wildlife control expert. CWR pest control technicians are experts at raccoon, bat, skunk, squirrel, bird and mice trapping, removal and prevention in Cleveland, Ohio.