To Request Wildlife Damage Management And Repair Services In Ohio Call 440-236-8114 To Schedule An Inspection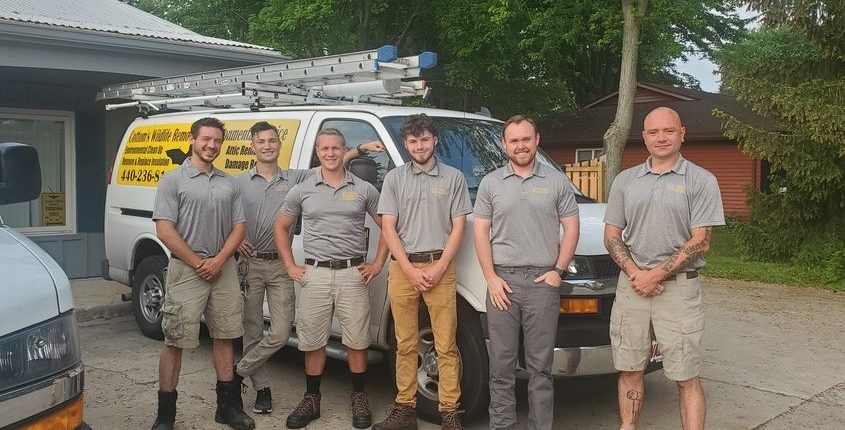 Request Wildlife Damage Management and Repair Services For A Home Or Business In Cleveland, Columbus, Cincinnati, Akron Or Another City In Ohio
Costs for CWR to repair structural components that have been damaged by birds, bats or wildlife start at $699. CWR repairs chimneys, soffits, roof vents, bathroom vent, exhaust fans, attic power ventilators, shingles, roof decks, drip edges, ridge vents, crawl space vents and soil stacks.
Prices to remove birds and bird nests from dryer vents and bathroom exhaust vents in Columbus, Cleveland, Cincinnati, Akron, Toledo, Zanesville, Canton, Youngstown, Findley, Marietta and other cities in Ohio start at $795 per vent. This fee includes cleaning out the vent and the installation of one cap.
Cottom's Wildlife Removal & Environmental Services is a full-service wildlife removal, wildlife trapping, pest control, exclusion (animal proofing), wildlife removal and nuisance animal damage repair company. To talk with some of the top wildlife experts in Ohio, you can call us at 440-236-8114 or you also call the Ohio Division of Natural Resources to talk with your local county wildlife officer at 1-800-WILDLIFE (800) 945-3543. You can email the ODNR at wildinfo@dnr.state.oh.us.
You can schedule wildlife exclusion services or wildlife removal services with a contractor near you in Ohio, here.  Book an appointment for a nuisance animal damage management inspection service for an Ohio home, building or business, here.
Contact The Cottom's Wildlife Removal Company
Email: info@mcwildlife.com
Company Headquarters Address: 26765 Royalton Rd, Columbia Station, OH  44028
Complete The Form Below To Contact Cottom's Wildlife Removal and Environmental Services
How And When To Get Rid Of Bats In Houses, Attics, Walls, Chimneys, Roofs, Ceilings, Basements, Barns, Vents, Apartments And Garages In Ohio
YouTube Video: How & When CWR Removes Bats From Attics In Ohio, Costs, DIY, ODNR Laws, Exclusion, Bat Guano Cleanup
In this video, professional and humane bat removal specialists Mike Cottom Sr. and Jr. from Ohio show you how to get bats out of your house or attic. Learn how to remove bats from your chimney, walls, basement, roof or garage. In Ohio, call 440-236-8114 for a home and attic inspection or to request bat removal and bat guano cleanup services.
How To Get Rid Of Bats In Ohio
YouTube Video Posted On November 1, 2021 Titled "How To Get Rid Of Bats In Ohio Using Exclusion Devices & By Sealing Your Home, Attic, Walls, Chimney"
In this video the bat control professionals at the Cottom's Wildlife Removal company of Ohio show you how to humanely get rid of bats by installing exclusion devices over entrances and how to seal up holes in your house, attic and roof.
Learn How To Keep Birds And Bats Out Of Attics And Gable Vents – Tightly Install Stainless Steel Mesh Screens To Keep Birds From Going In Through Small Holes
Birds are extremely beneficial and valuable to mankind due to the outstanding pest control and seed dispersal work they perform. However, at certain times and in certain locations, birds and bats can also become pests and a nuisance.
Learn about the methods that CRW bird control technicians, such as Mike Cottom Jr. and Mike Cottom Sr., use to eliminate or deter pest birds from landing, nesting and roosting. These methods are used for birds considered pests, such as geese, nuisance black birds, woodpeckers, feral pigeons, grackles, gulls, house sparrows and crows, here. CWR uses a wide variety of non-lethal techniques and humane exclusion devices to fix pigeon problems, minimize bird dropping health risks and correct bat infestation hazards.
These products include anti-roosting stainless steel bird spikes, electric bird shock systems and tracks, bird slides, 2″ mesh pigeon nets, bird wire systems, bird netting, transparent bird repellent gels, Scare Bird Garden Stakes, super sonic outdoor sound devices and visual bird deterrents. CWR bird control professionals in the United States never uses harmful polybutylene gels. Download an informative PDF guide to retail sources for products to resolve wildlife conflicts from The Humane Society of the United States, here.
To contact a highly trained bird control service that uses non-lethal, safe, humane, effective and proactive methods near you, call 440-236-8114 to schedule an inspection and to get a written estimate. CWR certified bird removal specialists are experts in safe and effective bat exclusion, pigeon control and bird removal methods used to get birds and bats out out of attics, chimneys, signs, warehouses, dryer vents, roofs, garages and soffits. The PMPs (Pest Management Professionals) at CRW are experts at using different exclusion tricks and repellent strategies to move and remove birds. Get information on professional bat removal and attic cleanup services in Ohio, here.
If you need a professional bird removal and animal control company in Ohio to get rid of birds and bird nests in your house or vents, call Cottom's Wildlife Removal company. To schedule an inspection, to request bat exclusion services or get costs for bird damage management services, bird dropping removal and sanitizing, contact the Cottom's Wildlife Removal company at 440-236-8114 in Cleveland or Northern Ohio, 614-300-2763 in Columbus or Central Ohio or 513-808-9530 in Cincinnati or Southern Ohio.
Learn How To Remove Bats In Ohio Using Bat Valves, One-Way Bat Doors, Bat Cones And Bat Exclusion Devices And By Sealing Your Home, Attic, Walls, Vents And Chimney
If you have bats in a building, learn how to safely exclude them, here. The idea behind the exclusion method is to create a one-way door the bats use to exit at sunset. However, they can't get back in when they return before sunrise to roost. If you had bats in your home over the summer, September and October are the best months for conducting a bat exclusion according to the Ohio Division of Wildlife.
Wildlife Damage Repair Services For Ohio Homeowners
Unfortunately, sometimes the removal of the animal does not remove the danger left by its presence in your home.  After wildlife, critters, animals, mice, rats, squirrels, raccoons, birds or bats have been removed, damage repair services are provided for Cleveland, Columbus, Cincinnati and Akron homeowners.
Feces and excrement, ringworm and other parasites create an ongoing health problem for your family and pets. Torn attic insulation can cost a fortune in energy costs and holes and cracks in your roof, eves, soffits, vents and chimney can leave your building vulnerable to more wildlife infestations. In addition, your deck, shed, and porches are often areas where wildlife hides. We will remove them and repair any damage to those places as well.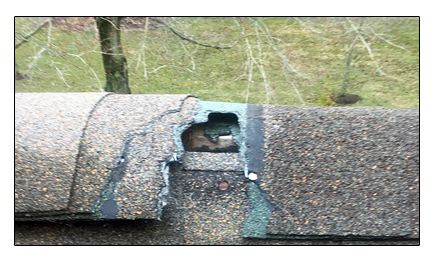 After Wildlife, Animals, Critters, Birds or Bats Have Been Removed
Following wildlife removal, we can inspect your home for any damage that occurred from your unwanted visitors. Once we identify any issues you may have, we can restore your home to its original condition. We are licensed, bonded and insured to provide the following repair and restoration services for residential and commercial properties:
Environmental Cleanup of Attics and Crawl Spaces
Removal of Soiled Insulation
Wildlife Damage Management
Installation of New Insulation
Attic Repair
Roof and Siding Repair
Eves, Soffits, Vents and Chimney Repair
Decks, Sheds and Porches Repair and Exclusion
Wildlife Damage Repair
Bat and Bird Damage Repair
Odor Control and Sanitizing
Wildlife Decontamination
Structural Repair
Garage Clean Outs
Animal Droppings and Feces Removal
Power Ventilator Replacement
How Much Does It Cost To Remove Birds From Vents In Ohio?
Prices to remove birds and bird nests from dryer vents and bathroom exhaust vents in Columbus, Cleveland, Cincinnati, Akron, Toledo, Zanesville, Canton, Youngstown, Findley, Marietta and other cities in Ohio start at $795 per vent. This fee includes cleaning out the vent and the installation of one cap.
In Ohio, call CWR at 440-236-8114 in Cleveland, 614-300-2763 in Columbus or 513-808-9530 in Cincinnati to schedule an inspection and to get a written quote for CRW to remove birds from vents.
About Insurance Coverage for Animal Removal and Building Repair
Homeowners insurance will frequently cover the cost of attic cleanup and decontamination. However, some insurance companies do not want to pay for damage done to your home by wildlife and will employ tricks to deny your claim. For instance:
The policy will exclude household damage done by "vermin" or "pests". The policy may not say it, but they will claim that bats and raccoons fall into those categories, which they do not!
The policy will exclude damage done by pollution. Again, the policy may not say it, but they will claim that fecal material left by raccoons and bats is pollution – seriously??.
The fact is, raccoon and bat infestation and contamination is a serious danger to your home, health and safety and you deserve to be compensated for any wildlife exclusion and repair work done to your home or building. Our experience dealing with insurance companies gives you an edge when trying to get your claim covered. We will actively fight for you by talking directly with your insurance company and providing you with any materials you need to prove your case…because "Cottom Cares!".
Contact Us for a Building Inspection or Wildlife Removal
Cottom's Wildlife Removal is a local, family-owned and operated company that has been responding to the animal removal and home repair and restoration needs of families throughout Northeastern Ohio since 1986. Let us know what you need and we'll be there… because "Cottom Cares!".
CWR Cleans Attics After Raccoons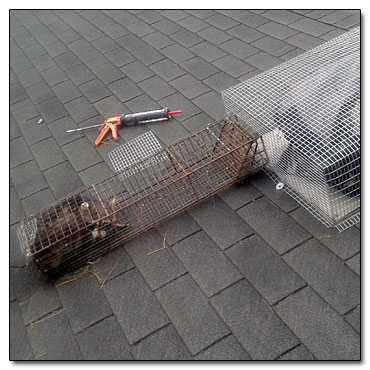 Although kids in Ohio think that raccoons look like cute cuddly bandits because of their signature black masks, adults know all to well that they are well adapted to urban living, are expert thieves and can be a nuisance – and a potential health hazard.
Before you try to clean an attic after a raccoon infestation, you have to first get rid of raccoons and keep them out. You can hire a professional raccoon removal and exclusion service such as the Cottom's Wildlife Removal company or do-it-yourself.
Please do not use an attic fogger, bug bomb or a smoke bomb to get rid of raccoons because it is not humane. The most humane way to get rid of raccoons in an attic or chimney is to use a one-way door and exclude them from returning.
Learn how you sanitize an attic after rodents, here. Get a quote for raccoon attic cleanup costs, here. Request raccoon cleanup services, here. Find out about attic cleanup and decontamination, here. Schedule a time to have your attic inspected for raccoon damage, here.
Schedule a time for attic cleanup services near Cleveland, Columbus or Cincinnati, Ohio, here. Find out how to clean up after a raccoon, here.
Watch a video from the Humane Society of the Unites States to learn how to humanely get raccoons out of an attic, here. Get tips on cleaning an attic after a raccoon, here (PDF).
The hollow smoky compartments in chimneys are similar to burned out hollow trees which are popular with pregnant raccoons. The raccoon removal and attic cleanup experts at the Cottom's Wildlife Company are proficient at removing raccoons from chimneys in Ohio homes. CWR raccoon removal specialists get raccoons out of roofs, attics, yards, chimneys, garages, walls, garbage and out from under decks in Cleveland, Columbus and Cincinnati.
The professionals at the Cottom's Wildlife Removal firm have been cleaning up attics after raccoons, removing bat guano from attics and getting rid of animal feces in attics in Ohio homes since 1986. CWR pest control technicians also provide rodent dropping cleanup, sanitizing and disinfecting services for Ohio homeowners.
After raccoons have invaded an attic, odor removal services are frequently requested by CWR customers. For animal feces removal and attic cleanup services in Columbus, Ohio please call CWR at 614-300-2763.
CWR wildlife damage management specialists safely repair attics, soffits, gutters, siding, shingles, roofs, chimney caps and vents for Ohio homeowners. Get more information about attic repair and decontamination services in Ohio, here.
Spray any urine, droppings, and nesting materials with either a bleach and water solution (1 parts bleach to 9 parts water) or a household disinfectant prepared according to the label instructions for dilution and disinfection time. Soak well. This will inactivate any virus. Use a paper towel or rag to pick up the materials and dispose of them. Read more here.
Raccoon Latrines: Identification and Clean-up – CDC [PDF]
Fill a bucket with hot, soapy water. Feces and material contaminated with raccoon feces should be removed (using a shovel or inverted plastic bag) and burned, buried, or bagged and placed in the trash to be sent to a landfill. Use a damp (but not wet) sponge to wipe the area. Read more here (PDF).
Bat Removal, Bat Attic And Home Inspections, Bat Guano Removal, Bat Proofing And Bat Exclusion Costs In Ohio
Costs for bat inspections, bat removal, bat feces cleanup, bat sanitizing, bat guano decontamination, bat cleanup and bat exclusion services in Ohio start at $399. Rates for bat exclusion and bat proofing in Ohio start at $1,495. Bat guano removal costs start at $895 in Ohio. August, September and October are ideal months to exclude bats from homes in Ohio.
Typical costs to remove bats from a home and to seal the entire house to prevent their return range from $2,000 to $5,000.
Costs to remove a single bat from a house in Ohio starts at $399. The average cost of bat removal and bat exclusion for a one story house is $1,495 to $3,000, $1,995 to $8,000 for a two story house and $2,995 to $40,000 for a commercial building or church. Bat guano removal, decontamination and sanitizing start at $895 in Ohio. The cost to remove bats in walls starts at $1,495. Costs to get bats out of attics start at $1,495. Costs to remove bat guano from walls starts at $895.
If you see signs of a bat infestation and you live in Columbus or Central Ohio, call a professional pest-control company such as Cottom's Wildlife Removal at 614-300-2763 for an assessment. Bat infestation assessments in Columbus and Central Ohio cost $399. If you live in Cleveland or Northern Ohio and have a problem with bats, call 440-236-8114. If you live in Cincinnati or Southern Ohio and need to get rid of bats, call 513-808-9530.  CWR pest control technicians will humanely remove the bats from the attic and seal it up to protect against future bat infestations.
Bats are normally removed by using a valve system that enables bats to fly out of the house but not come back into the residence. The valve system requires that all entry points are sealed prior to the installation of bat valves. Services also include an initial inspection, sealing of soffits, caulking of brick face gaps, screening of ridge vents, screening of louver vents, screening of roof vents, sealing of chimney gaps, installing and removing bat valves.
The bat exclusion experts at the Cottom's Wildlife Removal company pay close attention to detail when they are bat proofing a home in Ohio in order to ensure that the roof or attic is totally secured and sealed tightly. If you have bats in your house, roof or attic, find out what to do, here. Excluding a bat colony from a home, attic or roof in Ohio should never take place between May and August.
Bird Netting Installation, Bat Exclusion Netting Installation, Bird Spike Installation And Bird Control Services For U.S. Businesses
Cottom's Wildlife Removal & Environmental Service provides bird netting installation, bat netting installation, bird barrier installation, bat exclusion services, bird spike installation and bird control services to companies and homeowners throughout the United States. Our professional bird control product installers eliminate bird problems and get rid of roosting pigeons. We work with commercial, manufacturing and industrial firms from Los Angeles to NYC.
Request Humane Bat Removal, Bat Control And Bat Exclusion Services In Ohio To Get Rid Of Bats – From $399+
Who Do You Call To Pick Up A Dead Raccoon In Ohio? 
Bat Removal And Bat Control Services In Cleveland, Columbus And Cincinnati, Ohio
Hire The Best Bat Control Company In Ohio
It is recommended that Ohio homeowners call a specialty bat control company to inspect their home if they see a bat inside a living space.
CRW is a local (Ohio only) bat control service that does not exterminate bats or use live traps to catch bats. The wildlife professionals at CRW will not kill your bats. Rather, bats are safely removed from homes and buildings in Cleveland, Columbus, Toledo, Dayton, Canton, Mansfield, Hamilton, Springfield, Lancaster and Cincinnati, Ohio through the wise use of bat exclusion processes and devices.
CRW bat control "wizards" use multiple bat exclusion processes, one-way bat doors (bat valves), bat exclusion devices, funnels (cones), netting and tubes to get bats out.
The 6 bat removal masters (pictured here) that work at the Cottom's Wildlife Removal company certainly know the tricks to getting rid of bats in houses. One secret trick to get rid of a single bat in a living space is to open a window or door, eureka!
These 6 gentlemen are very well educated for performing bat exclusion, bat eviction, bat venting and bat poop cleanup services. Alex, Kyle, Nathan, Mike, Tyler and Jason know how to clean environments contaminated with bat droppings in residential and commercial structures. CRW bat control specialists know how to minimize the potential for transmission of white-nose syndrome (WNS) when handling bats. They take all the necessary precautions when handling bat waste. CRW bat control technicians can see the signs and damage caused by various species of bats. CWR bat control technicians use the best protective particulate respirator masks when removing bat droppings from outside houses, attics, walls and cars. Learn more about acceptable management practices for bat eviction and structural remediation, here.
Co-Existing With Bats In Ohio
Bats come out in Ohio and are active March through September. Some Ohio residents call the Cottom's Wildlife Removal company to ask if one bat in their house means they have more.
CWR bat control experts advise our clients that there is a good chance there are more bats in the walls or attic, if one is seen inside the house. Bats rarely fly in through open doors and their presence on a wall or ceiling is probably an indication of a minor or major bat infestation.
A thorough inspection is recommended to find out if there are more bats in the house.
Humans and bats can live in peace with each other. Bats are flying mammals that are found in nearly every habitat throughout Ohio.
Ohioans should not fear bats simply because they enter attic spaces, construction gaps and wall voids looking for shelter. Most bites occur happen when people try to grab a bat with their bare hands.
The Little brown bat is Ohio's most common species of bat. Two Ohio bat species live in houses and attics; the Big brown bat and the Little brown bat.
In Ohio, bats normally hibernate from late October to early April in caves, houses, walls, barns, churches, bridges, abandoned mines, cracks in large rock outcroppings or attics and buildings.
Bats in Cleveland, Ohio include the Eastern Red Bat, the Big brown bat, the Northern Long-Eared bat, the Little brown bat and the Tri-colored Bat.
The Hoary bat is the largest bat found in Ohio and most widespread American bat. The Hoary bat can weigh up to 35 grams.
In Ohio however, the Little brown bat population size has declined dramatically due to habitat loss and a deadly disease (fungus) known as White-nose Syndrome (WNS).
The deadly white-nose syndrome has been found on bats in Cuyahoga and Geauga County parks in Ohio.
Some colonies of brown bats removed in Ohio by licensed wildlife control specialists at CWR may total a dozen or more.
Bats are mammals that use adapted forelimbs as wings to fly and they are more maneuverable than birds.
The Ohio Division of Natural Resources classifies bats as a nuisance species. Some of the most common species of bats that the Cottom's Wildlife Removal company gets out of attics and homes in Ohio are colonial bats such as Big brown bats, Little brown bats and Mexican free-tailed bats.
According to Barbara French, a biologist with Bat Conservation International, many people have a few bats in their attic and never know it. But a large colony of bats can become a noise or odor nuisance. Bats should not be allowed to enter interior living quarters.
About CWR's Bat Proofing And Bat Exclusion Services In Ohio
Bat exclusion involves using netting or tubes at entry points, which allows bats to drop down and fly away but which prevent re-entry. Exclusion devices are left in place for a week, so that the bats give up. After the bats are gone, plugging, sealing and caulking work is done.
To keep bats out, the Cottom's Wildlife Removal company seals cracks and openings with heavy-duty bat control screen mesh, aluminum flashing, sheet metal, expandable foam, caulk, stainless steel hardware cloth, chimney caps, flue guards, adhesive sealants, 3/8″ polyethylene knotted mesh, bat netting and other bat exclusion products.
Ohio Squirrel Trapping, Removal, Exclusion And Control Company
CWR Gets Squirrels Out Of  Houses, Attics, Roofs, Yards, Soffits, Gardens, Sheds, Outbuildings, Rental Properties, Apartments And Garages In Ohio
The Cottom's Wildlife Removal company uses live trapping to get squirrels out of homes, attics, yards, eves, soffits, chimneys, roofs, sheds, garages, gardens and lofts on behalf of Ohio homeowners and businesses. The CWR squirrel control and prevention service area includes Cleveland, Columbus, Cincinnati, Akron and other Ohio cities.
To keep squirrels out of your attic you need to be as tenacious as they are. The experts at CWR recommend that you devise a good strategy to deal with the little varmints. Consider removing bird feeders, secure your garbage cans, cut back tree limbs near your roof, set trapping cages in your attic and install a EVICTOR strobe light in your attic – or simply have the Cottom's Wildlife Removal company do the work.
Humane Squirrel Control And Exclusion Options
If you want be as humane as possible to avoid hurting squirrels, you can wait until after the squirrels have left during the day, and then seal up your roof and attic with metal flashing to prevent them from re-opening access points into your attic.
If your are going to try to become a master of DIY squirrel exclusion, be sure to secure your ladder before attempting to squirrel proof your roof. Sometimes, not every time, but sometimes, this job is best left to the professionals at CRW.
CWR uses professional squirrel trapping supplies, tools, heavy duty protective gear and modern squirrel removal equipment such as humane live traps, Safeguard squirrel traps and excluders, small game snare traps and WCS special squirrel cage traps.
CWR squirrel control experts use effective natural and chemical squirrel repellents, squirrel traps for gutters, ladders, chimney caps, squirrel control wire mesh, hammers, owl decoys, tunnel traps, screwdrivers, electronic squirrel control products, electric garden fencing, ultrasonic pest repellers and excluders for squirrels. One of the CWR's favorite squirrel traps is a version of a Tomahawk live trap with one trap door and an easy release door.
After we trap, catch and remove the pesky squirrels, we seal up their entry points to keep other squirrels from getting in. CWR pest control technicians know how to keep annoying squirrels away naturally and how to get rid of Eastern Fox Squirrels around the yard. We are also experts at getting rid of flying squirrels and how to get rid of squirrels from attics. We remove squirrel poop, rodent droppings and also disinfect and sanitize attics that squirrels have compromised.
Humane Wildlife Solutions In The Buckeye State Capital
Humane Wildlife Removal Services In Columbus, Ohio
Expert Wildlife Trapping & Animal Removal Services For Cleveland And Northern Ohio Homeowners And Businesses – Call 440-236-8114 24/7
Call 440-236-8114 day or night to schedule an inspection and to talk with a licensed and certified wildlife control expert. CWR pest control technicians are experts at raccoon, bat, skunk, squirrel, bird and mice trapping, removal and prevention in Cleveland, Ohio.
Ohio Wildlife Field Guides And Backyard Wildlife [Download PDFs From The Ohio Department Of Natural Resources]
This list of mammals of Ohio includes a total of 70 mammal species recorded in the state of Ohio. Of these, three (the American black bear, Indiana bat, and Allegheny woodrat) are listed as endangered in the state; four (the brown rat, black rat, house mouse, and wild boar) are introduced; two (the gray bat and Mexican free-tailed bat) are considered accidental; and eight (the American bison, elk, fisher cougar, Canada lynx, gray wolf, American marten, and wolverine) have been extirpated from the state. Read more here.
Raccoons In Ohio [From The Ohio Department Of Health]
Raccoons can be found throughout the state and in all habitat types, with the majority being found in northwestern and central Ohio along rivers and streams bordering farmland habitats. They have also moved into suburban and urban areas and can live almost any place where there is food for them to eat and a den to serve as shelter. Many of them live, temporarily at least, in drain tiles and sewer systems. Raccoons defecate in communal sites called latrines. They are nocturnal and are up and about during the dark hours of the night. Even though raccoons do not really hibernate, they can sleep for days, and even weeks at a time, during the cold winter months. Read more here.